In lieu of the April Beauty Box 5, I opted for the 24ClearIt kit that they were offering. I received it today and I'm ready to see if this is a solution that will work for me! I've tried a bunch of products before and various things have worked better than others, but none have truly calmed my skin for that long. Part of it might be that I moved on to other products. I've never been very good at committing to one set of skincare. I just like variety too much!
Beauty Box 5 is $12 per box (or as discounted as $99 for an entire year, with an option in between) and comes with 5 cosmetic products. Boxes are sent monthly with no option to skip. You also have the option of buying it as a gift your box to a friend. They offer a referral program that earns you points towards products or boxes. This was a special promotional box in partnership with 24ClearIt.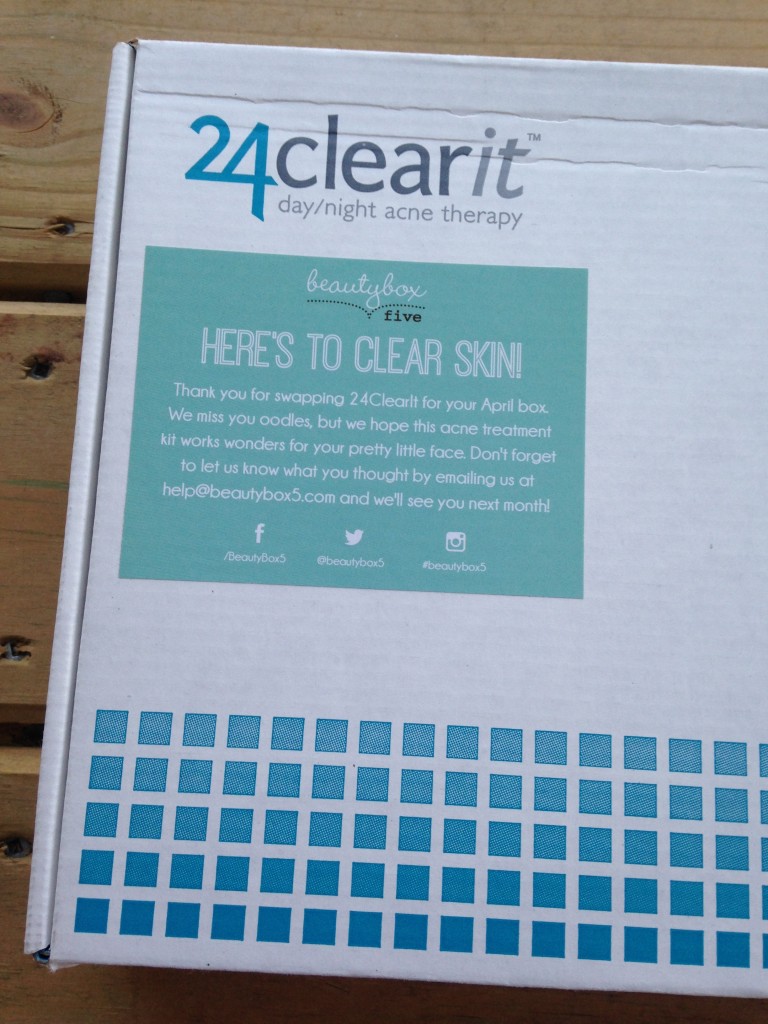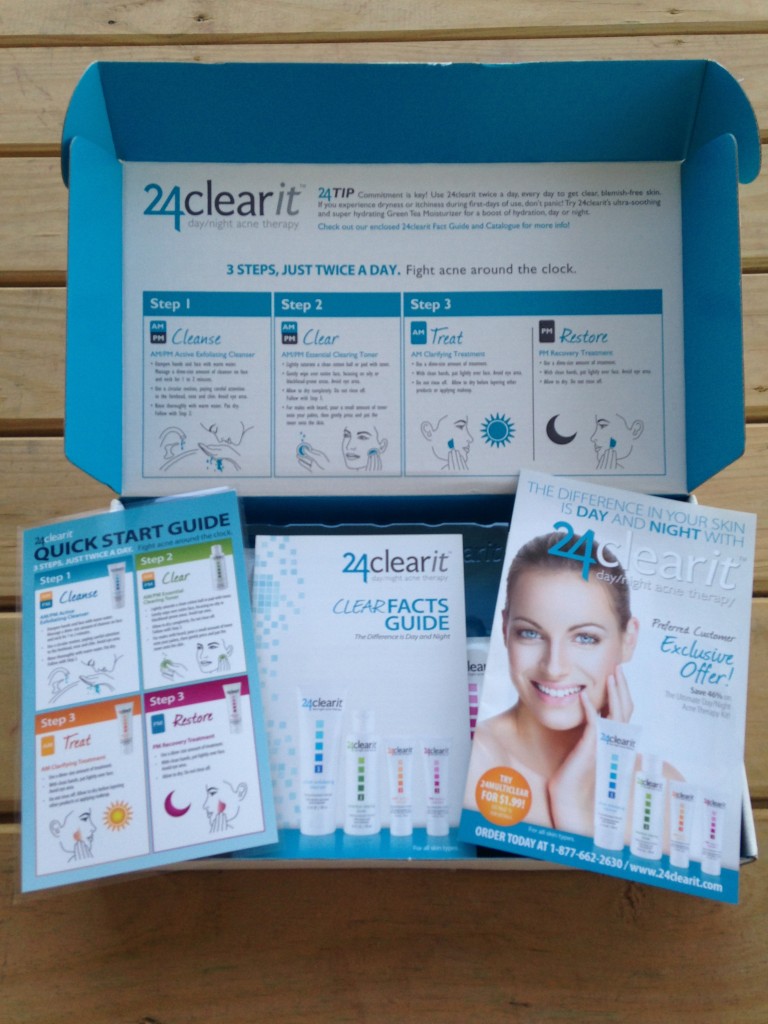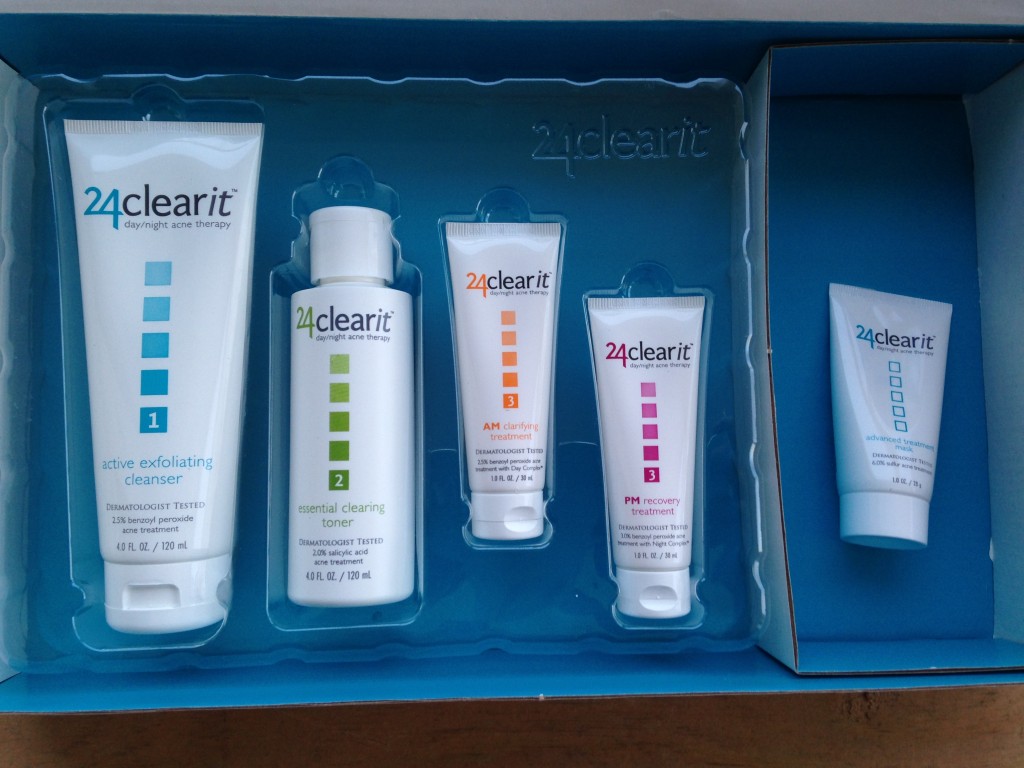 Step 1: Cleanse. Active exfoliating cleanser to be used in AM and PM. This is a more liquidy cleanser than I expected, so I accidentally squeezed out more than I wanted to. I like the scrubbing feeling of the beads – just enough without feeling too rough on my skin or too weak to do any exfoliating. It had the slightest scent that was vaguely medicinal. I massaged it in until it started to get sticky from all the water evaporating.
Step 1a: Target. Advanced treatment mask to be used as spot treatment or full mask. A few times a week, there's the option to add the mask to the regimen. It is very thick and smells a bit of the sulfur that is in it. I tried a little spot of it and it tingled a bit. It sure feels like it can help zap away trouble spots. I'm going to have to see how the entire face mask feels and I'll probably only do it once a week.
Step 2: Clear. Essential clearing toner to be used in AM and PM. The toner was very watery as expected and smelled quite nice. Once again just a very light scent and it felt very refreshing on my skin. I patted it over my face and let it dry. It felt really good!
Step 3 AM: Treat. Clarifying treatment to be used in AM. I tried this for the first time at night, so I just tested a little bit of it to see what it was like. It felt tingly and I think this is the harshest of the products and might have the potential of drying out my skin. We'll see when I apply a full face of it tomorrow morning. It definitely awakens the skin and I feel like bacteria is being killed off right then and there.
Step 3 PM: Restore. Recovery treatment to be used in PM. This is a really nice lotion that is far more soothing and healing than the daytime one. I can see how it would be perfect to restore the skin while you sleep. My skin felt wonderful after this and completely hydrated for the night. I felt no need for any other products, which I like.
So based on first impressions, I am liking this line of products. I took a picture of my skin before and I'll compare it to how things are looking in a week or two. At the least, these products feel good on my face, which is nice. Only time will tell how effective they are for their purported use. I'm really glad I decided to try this and skip the standard box Beauty Box 5 sent out for April!
[This post contains affiliate links. Signing up through them helps support my subscription and I'd be ever so grateful. 🙂 All opinions are my own and I received no compensation for this review. I just purchased this box and wanted to share what I got!]
« Prev:Homegrown Collective March 2014 review
Photo A Day Challenge March 2014:Next »