Learn more about 365great here.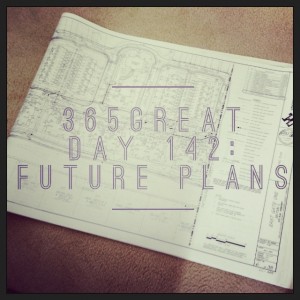 Ah, the anticipation of what's to come! It gives you something to dream about, to hope for, and to think about. One of the main things on my mind these days is that ever-enticing move-in date, when Panda and I will have our brand new condo to call home! Here I took a picture of some construction plans for the site, which has yet to be built but today I saw they started the initial stages of laying the foundation; so exciting!! When you make plans, it gives you something to make decisions around and it often triggers tasks you can do, like buying or selling things, arranging and rearranging your schedule, and perhaps preparing to usher out the old to make way for the new. Sometimes it's just another part of your day, but sometimes it's a life-changing event. Whatever the case, our ability to think to the future and run scenarios in our imaginations is a pretty unique skill. So here's to the future! Let's make it great.
« Prev:Our new condo, almost a done deal!
Yuzen January 2013 edition:Next »