Learn more about 365great here.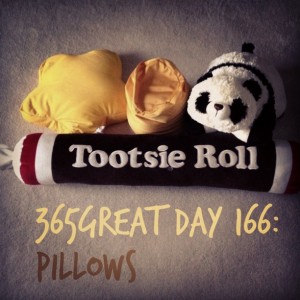 I've got a bit of a love affair with pillows. I love them in all shapes, sizes, fabrics, and uses! I mentioned body pillows before, which are awesome for their huggability, but really any type is good in my book. I have super fun moshi ones like the star and round one here, not very practical but too cute to pass up ones like the Tootise Roll one, and functional ones like a sweet kitty pillow with built-in speaker for listening to music. I like smooth ones and fuzzy ones and coarse ones and stretchy ones. I use them for my head or to hug or keep my lap warm or to pad my butt. They're such a versatile product! You can find them on beds and couches (and in my case, strewn all over the house). I love when my bed is just covered in them so I can grab whatever suits me at any moment. They're like little clouds of awesome that you can use to be more comfortable or just to decorate a space. For such a simple product, that's great!
« Prev:Window or aisle?
Escape Monthly August: Napa Valley Box Review:Next »