Learn more about 365great here.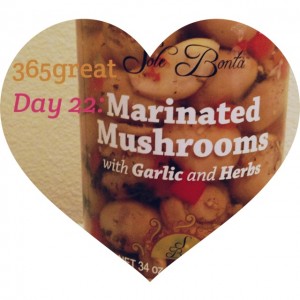 I'm a sucker for these things. Pickled, marinated, brined (is that even correct?) – when it comes to veggies soaked in a solution, I'm obsessed. One of my absolute favorites (other than pickles) are marinated mushrooms. I first discovered these at Costco back in my teen years and I looooved them. Unfortunately, it seems that my taste doesn't suit most other people, so eventually they stopped carrying it. I tried in vain for years to find another place that sold the kind I like, until finally I stumbled across the salad bar at Ralph's. I was ecstatic to find that they were pretty similar to my favorite kind. Unfortunately, the price of getting mushrooms from the salad bar by weight was just too much for normal consumption.
Then, about two weeks ago, I was in a Costco on the east coast when I stumbled across jars of marinated mushrooms again! It's been like 8 years since I've seen them there and I was thrilled. They were the perfect flavor and consistency. Perfect! I practically inhaled that first jar and then returned for more and more. I even had Panda help bring me over a few jars since they don't have them at my local Costco here on the west coast. For someone who loves sour things, this is the perfect amount of sour and salty and chewy. Plus, unlike pickles, when I eat these on an empty stomach, I don't feel queasy. Maybe it's because the mushrooms are rather meaty and filling? Whatever the case, finally being able to buy one of my all-time favorite foods again is amazing. Marinated mushrooms are tasty on their own or in a salad and to my taste buds, they're just plain great.
« Prev:Grounded jellies
On My Mind, episode 2:Next »