Learn more about 365great here.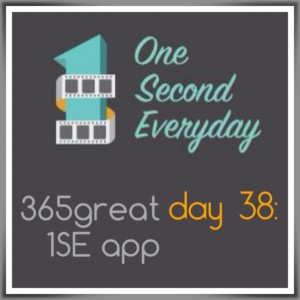 I've officially completed a full month's worth of 1SE clips! I found out about this fun project through Kickstarter, where I backed it and got to download it from the App Store when it launched. I was a bit late to the game (oops) and didn't redeem my copy for quite awhile, but I finally got around to it and I've been having a blast! It's so entertaining to watch little 1-second clips of days gone by and remember what was happening in that moment. For the most part, it only holds meaning for me, but it's so meaningful.
If you've ever done a photo a day sort of project, you sort of know what I'm talking about. But the added dimensions of video make it even more powerful and it's a fabulous way to look back on your life. You've seriously got to try it! Now you don't have to rely on still visuals solely to share your story and record those memories. You can incorporate motion and sound, which are very enriching. I've had video clips that I chose purely for the sound that it had captured. What a fun, simple way to capture snippets of your life. And the app makes it super easy to clip and compile. It's great!!
« Prev:Target Earth Day Haul
Zoya Earth Day Nail Polish Exchange:Next »