Learn more about 365great here.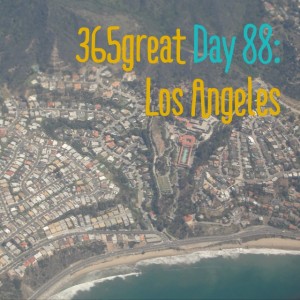 It was just over a decade ago that I moved to the greater Los Angeles area and began to learn more about this place. As it turns out, it's such a fitting place for me, full of diverse cuisine, entertainment, and people with a laidback vibe. I've never been interested in city life but with a city so spread out, it doesn't feel like I'm stuck some giant metropolis. I love all the little neighbors you can find yourself going through, all the hidden gems of places to be discovered, and the constant change and growth all around. Sure, traffic and parking suck and things can be pretty far from each other, but I find I actually enjoy spending time in the car. It's going to be weird to leave this place and not be able to go to the beach or mountains on a whim, but I'm sure I'll be back. Panda's roots are here and my family's latest roots seem to be settling here as well. It's a beautiful city with something for everyone! That sort of broad appeal is part of what makes LA great.
« Prev:Gogobot Tron Party!
Blissmobox: Namaste box:Next »