Something great, every day.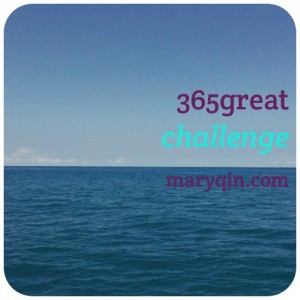 Whether it's a fresh idea, a wonderful company/brand, or an awesome experience – I'm challenging myself to my own version of a 365 photo project by posting about some of the wonderful things I come across every single day. As I mentioned in my recent post, great things are abound and I'd love to share what I find to be wonderful things and thoughts. Some of it might blow you away and some of it might just make you muse. A lot of it will probably be as simple as appreciating the little things in life!
Whatever the case, I'll aim to not only share that great thing of the day, but pair it with an image. After all, people love pictures, so what better way to share ideas than using both the power of words and images?
I invite you to join me if you're just as passionate about greatness in our world (and in particular, sharing it). Use whichever medium of sharing you like best, but put those wonderful thoughts out in the world and let's all learn from each other. If you want to share on social media forums, use the hashtag #365great so we can find your "sharings" easily. Find my postings across these sites:
And if you decide to join in, I'd be more than happy to connect through the Facebook page, create a collaborative Pinterest board, or interact on other sites. Just let me know and I'll create it!
Here's a running list of all the things I find great:
MARCH
03.15.13 Day 1 – Fleksy [typing without looking!]
03.16.13 Day 2 – Yuzen [bringing you zen in a box :)]
03.17.13 Day 3 – TED [sharing ideas worth spreading]
03.18.13 Day 4 – Squishable [giant balls of squishy love]
03.19.13 Day 5 – BzzAgent [a hassle-free sampling program]
03.20.13 Day 6 – shea-infused socks [novel, cute, and soft footwear]
03.21.13 Day 7 – Girl Scout Cookies [delicious treats & a lesson in business]
03.22.13 Day 8 – cats! [my furry favorites]
03.23.13 Day 9 – touchscreen gloves [saving you from frostbite]
03.24.13 Day 10 – aromatherapy [tapping into the power of smell]
03.25.13 Day 11 – snow [a gorgeous and magical bit of weather]
03.26.13 Day 12 – Coursera [bringing education online for free via MOOCs]
03.27.13 Day 13 – notebooks [helping you capture inspiration as it strikes]
03.28.13 Day 14 – sea monkeys [cheap and entertaining low-maintenance pets]
03.29.13 Day 15 – Daily Grommet [delightful finds carefully curated for you]
03.30.13 Day 16 – massage oils [pampering skin hydration w/o greasy residue]
03.31.13 Day 17 – photo challenges [opening up a world of creativity]
APRIL
04.01.13 Day 18 – dust plugs [pretty and practical accessories for your device]
04.02.13 Day 19 – cupcake in a jar [delicious, compact, and oh so fun]
04.03.13 Day 20 – packages [doesn't the thought just make you smile?]
04.04.13 Day 21 – bb cream [turning 5 beauty steps into 1]
04.05.13 Day 22 – marinated mushrooms [tart morsels of delight]
04.06.13 Day 23 – handmade [personalized & made with care]
04.07.13 Day 24 – Korean BBQ [tasty all-you-can-eat]
04.08.13 Day 25 – foaming cleansers [making cleaning your skin fun]
04.09.13 Day 26 – scented pens [colorful, playful, and oh-so-wonderful-smelling]
04.10.13 Day 27 – micro-entrepreneurism [empowering anyone to work flexibly]
04.11.13 Day 28 – eos [uniquely-shaped natural skincare products]
04.12.13 Day 29 – Teatulia [eco-conscious, socially responsible tea]
04.13.13 Day 30 – kaolin clay [soothing, gentle impurity & oil absorber]
04.14.13 Day 31 – freshly baked [mouthwateringly wonderful and warm]
04.15.13 Day 32 – body pillows [amazing to snuggle with for a toasty time]
04.16.13 Day 33 – dry erase boards [reusable office tool great for lists]
04.17.13 Day 34 – spring [a lovely season of renewal]
04.18.13 Day 35 – LUSH [fresh & delicious-looking skincare]
04.19.13 Day 36 – plasma balls [sweet science in action!]
04.20.13 Day 37 – terrariums [mini living sculptures of nature]
04.21.13 Day 38 – 1 Second Everyday [awesome app to record a second of each day]
04.22.13 Day 39 – nature [bringing beauty and peace to our daily lives]
04.23.13 Day 40 – TBD [tune in tomorrow!]
« Prev:Kitty snores
365great Day 1: Fleksy:Next »