The Ipsy mystery bag I got with my ipsyPoints finally arrived and it was ok for me. I'm not super impressed, but I definitely appreciate what I got and the value for the points.
Ipsy is $10 per glam bag and comes with 5 or so beauty/skincare products. Bags are sent monthly with no option to skip. There's usually a waitlist to get the subscription. They offer a referral program that earns you points towards free products like this bag!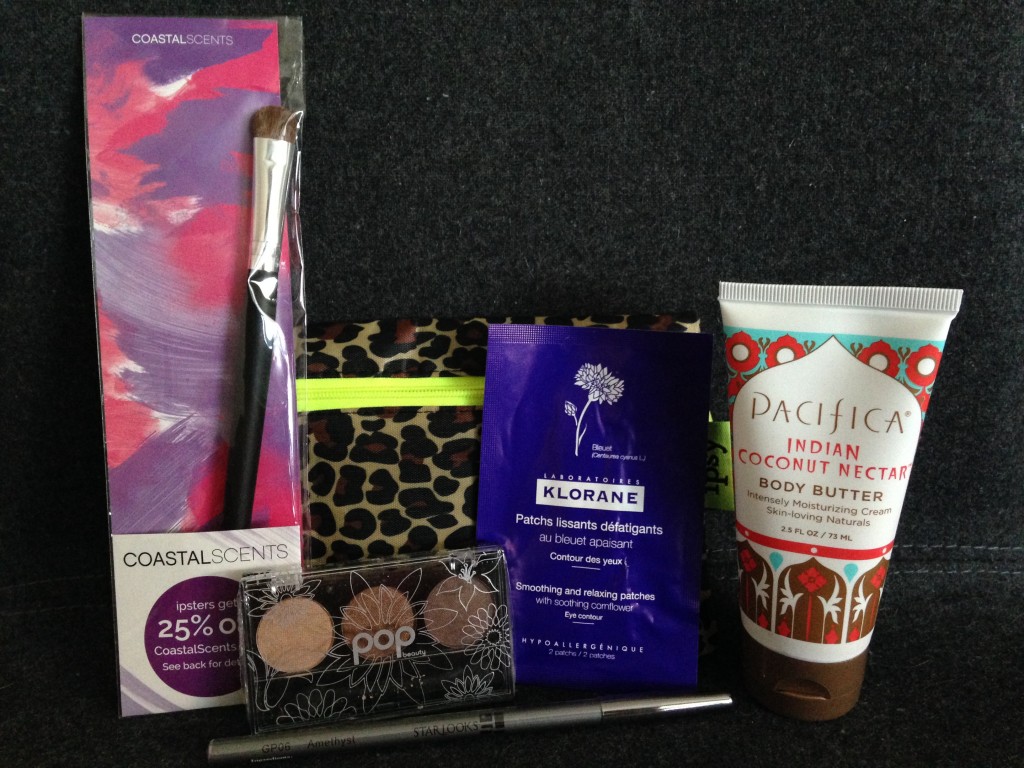 Coastal Scents Medium Shadow Brush – As a fan of tools, this was a nice item to receive, even if I don't know how/when to use it. I'll try it out with some different products and see how I prefer to use it. I would have given this choice an A+ had it not been for the fact that the info card it comes with is clearly meant for when this was sent out to some folks earlier this year. The discount code on the back expired May 6th, though I wonder if they kept it active?
Pop Beauty Eye Shadow Trio in Naturally Bare – Totally going up for trade. Eye shadow palettes will never get used up in this girl's stash, so I'll see if anybody else out there would like to get it. The colors are nude enough that it wouldn't look super obvious if I did use them, but why go through the effort when I'd rather not put stuff on my eyes?
Klorane Smoothing and relaxing eye patches – I like this brand for its gentleness. I just know these will not cause irritation and I can trust them on my eyes no matter how sensitive. The next time I am not well-rested, these will be put to the test. I look forward to it!
Starlooks eyeliner in Amethyst – I'm not surprised that there's a repeat item for me here, but I'm glad it's just one. I wasn't sure I'd even use the first one I got, but I ended up caving because I love purple and amethyst so much. Every now and then I'll add a little sparkle to my eyes with this eye pencil, using it like a very sheer eye shadow. It's going to take me a lifetime to use up just one though, so this shall go up for trade eventually.
Pacifica Indian Coconut Nectar Body Butter – Yes! I have a mild obsession with Pacifica, but I also refuse to buy their stuff just yet, so anything I get from subscriptions is appreciated. While there are plenty of other scents I would like to try more, I love how this one reminds me of summer, vacation, and relaxation. Who wouldn't want that in a bottle? The mailbox got really hot the day this bag arrived and the bottle was super pliable, but it's ok now and I hope the formula wasn't affected.
I certainly wasn't thrilled about the bag they chose to use, so that'll go up for trade. I like the one I have enough to use it, but I really don't care for a second. Overall I'm pleased with the value from the bag but I'm glad to have unsubscribed. One thing I didn't like is that they made me confirm I wanted to unsubscribe no less than 4 times! And was it the fourth or fifth time that they made me receive an email and click a link in there to confirm again?! What an awful experience to end on. Irregardless, they just haven't been hitting the mark enough, so it's time to let other brands divert my attention. Stay tuned to my eDivv shop for these trades to eventually get added.
[This post contains affiliate links. Signing up through them helps support my subscription and I'd be ever so grateful. 🙂 All opinions are my own and I received no compensation for this review. I just earned this bag with points and wanted to share what I got!]