Time for the March Beauty Box 5, with the theme of spring cleaning. The focus of this one is to achieve clean, gorgeous skin and I'm loving the items included!
Beauty Box 5 is $12 per box (or as discounted as $99 for an entire year, with an option in between) and comes with 5 cosmetic products. Boxes are sent monthly with no option to skip. You also have the option of buying it as a gift your box to a friend. They offer a referral program that earns you points towards products or boxes.
Jane's Pick All Natural Soap: They didn't mark the variation on the sample pack, but based on the pictures on the site, it looks like I got Kind (orange, tangerine, vanilla). It's a sweeter scent than I would have imagined but I like the lightness of the scent it leaves behind. It foamed up quite well and didn't dry out my hands! That's a win in my book.
Tree Hut Shea Body Butter: I got this in a blissmobox awhile ago and I love it! So happy to get another one, since I was just running out of it. The Coconut Lime scent is fabulously refreshing and the texture is amazingly bouncy in a way no other lotion is. I love how it absorbs in the skin and is not greasy at all. Plus, it's supposed to have anti-aging properties to keep my skin in tip top shape.
Bellapierre Cosmetics Makeup Base: I'm not really sure how to use this since I'm not a makeup user, but I think it can help lighten the redness of my breakouts. I tried a bit and even though it looked a lot lighter than my skin tone, I think it blended in quite well. Could be good to use before I apply my BB cream, which I've found rubs off during the day and leaves my face looking redder.
H2O Plus Hand and Nail Cream: I love this brand and this hand cream smells so good. It also absorbs really well and doesn't have any greasiness. I like that this is for hands and nails, so I don't need to worry about a separate nail or cuticle cream. It feels great on my hands and keeps them nice and soft. I hope they sell travel sizes, because I'm going to want to bring this around with me!
Swissco Dual-Sided Facial Pad: Yes! These types of facial pads are a new staple for my beauty routine. I currently have one on the shower and one by the sink, but I'm delighted to have another one as they wear out and I want to replace them. I'm starting to be quite a fan of the brand in general, after the exfoliating gloves we got in the Jan box and now this facial pad.
What an awesome box this month! I love skincare products and each of these will be great for my skin. They did a wonderful job with the theme and including quality products that I would absolutely get more of. Which product stands out to you? If you sign up for Beauty Box 5 by 3/31/14, you can even opt to swap the April box for a 60-day 24ClearIt kit (valued at $59.95). It'll come with five items as outlined below and I'm totally opting for it. Anything to try to get rid of my acne!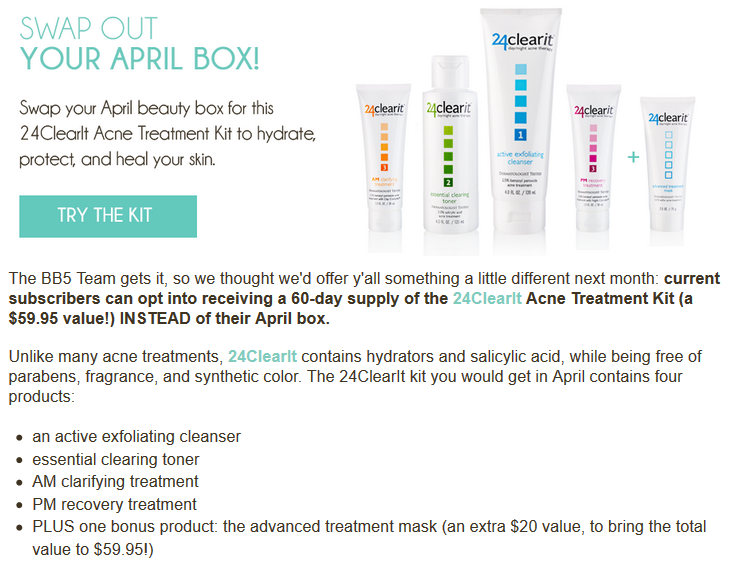 [This post contains affiliate links. Signing up through them helps support my subscription and I'd be ever so grateful. 🙂 All opinions are my own and I received no compensation for this review. I just purchased this box and wanted to share what I got!]
« Prev:365great Day 365: perseverance
Ipsy March 2014: The Destination Beauty review:Next »