After much anticipation, I've finally gotten to enjoy my very first blissmobox!  This is the July box and I chose the Blissful Bites option to get my snack on.
blissmobox is just under $25 per month with shipping (or as discounted as just under $120 for 6 months) and comes with eco-friendly products in themes like beauty, snacks, home, pets, and more. Each month you choose from two or three themes, or skip if none of them appeal to you. They do not offer a referral program.
Inside, I found seven great items: 479° Popcorn, Beanitos chips, Crunchmaster crackers, Betty Lou's cereal bar, Braga Farms pistachios, Giddy Up granola, and Panda licorice.  It's a nice mix of sweet and salty, crunchy and chewy, all with plenty of flavor and goodness to boot.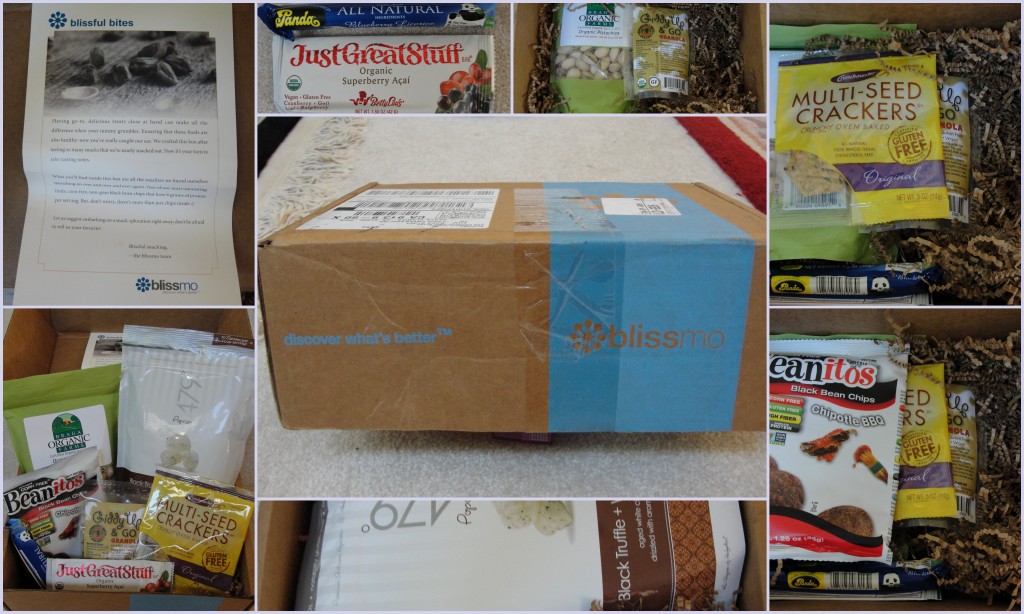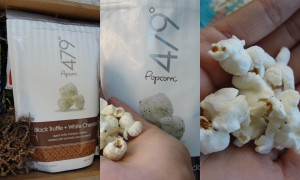 479° Popcorn, Black Truffle & White Cheddar – I'm actually not a huge fan of popcorn, so it's a feat that I actually liked this one. The flavor hits you after you eat some and inhale… it's very rich and a bit overwhelming, but strangely addicting. I've never really cared for truffles but this gives me just enough of the flavor without making me queasy.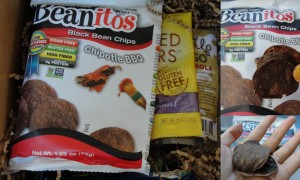 Beanitos black bean chips, Chipotle BBQ – These are so much like corn chips I'd never miss the old stuff. Great taste and crunch factor, though the chipotle BBQ flavor was a bit spicy for my sensitive taste. Still, I enjoyed them and would eat them despite the stomachache.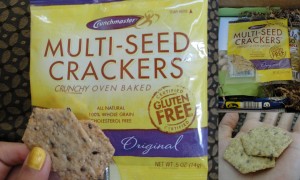 Crunchmaster multi-seed crackers, Original – Talk about extremely crunchy! These rice crackers offer a satisfying crackle as you eat them. They are tasty on their own, and probably awesome with dip.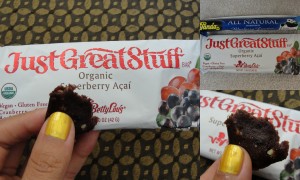 Betty Lou's JustGreatStuff cereal bar, Superberry Açaí – Moist and luscious, with bits of fruit to chew on and a gentle sweetness. These are so much better than other cereal or energy bars! If I needed an on-the-go snack I'd totally have to get these.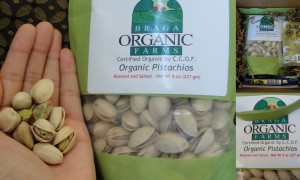 Braga Farms organic pistachios, roast & salted – I've never been particular to pistachios so I don't lean either way with these. They taste much like other pistachios I've had and they're organic, so that gives them bonus points!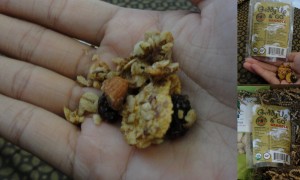 Giddy Up & GO granola, Notoriously Nutty – Wow! I have never actually been excited to eat granola, but one bite of this and I was shocked into a smile. I think it's the cinnamon that gives it a delicious sweetness, coupled with the slightly soft chewiness that makes this so good. This isn't the dried-out, washed-up granola you may be used to.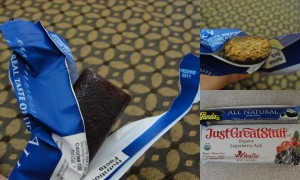 Panda licorice, Blueberry – I took a bite and was surprised that this was a rather dry treat. I despise normal black licorice so I was reluctant to try this, but then I love blueberry-flavored things, so I gave it a shot. It has a nice mild flavor and kind of reminds me of a blueberry fruit strip or soft granola bar. There is a slight lingering taste of licorice but nothing too strong.
If you'd like more info on these brands, you can click below to enlarge the photo and read more.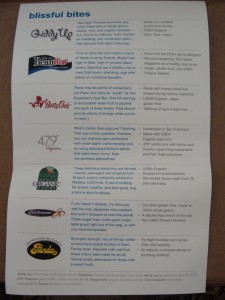 « Prev:Hanging with dolphins
Cat's life: summer lounging:Next »