Happy birthday to my mom! It's nice to have it around Thanksgiving, since that often means seeing her on or near her birthday. Before the holiday weekend, I received my most recent box. Check it out!
Escape Monthly is just under $40 per box (with code for 20% off your subscription – see end of post) and comes with a variety of food, home, skincare items themed around a city/region. Each box comes with a guide for that area. Boxes are sent monthly with no option to skip. They offer a referral commission program.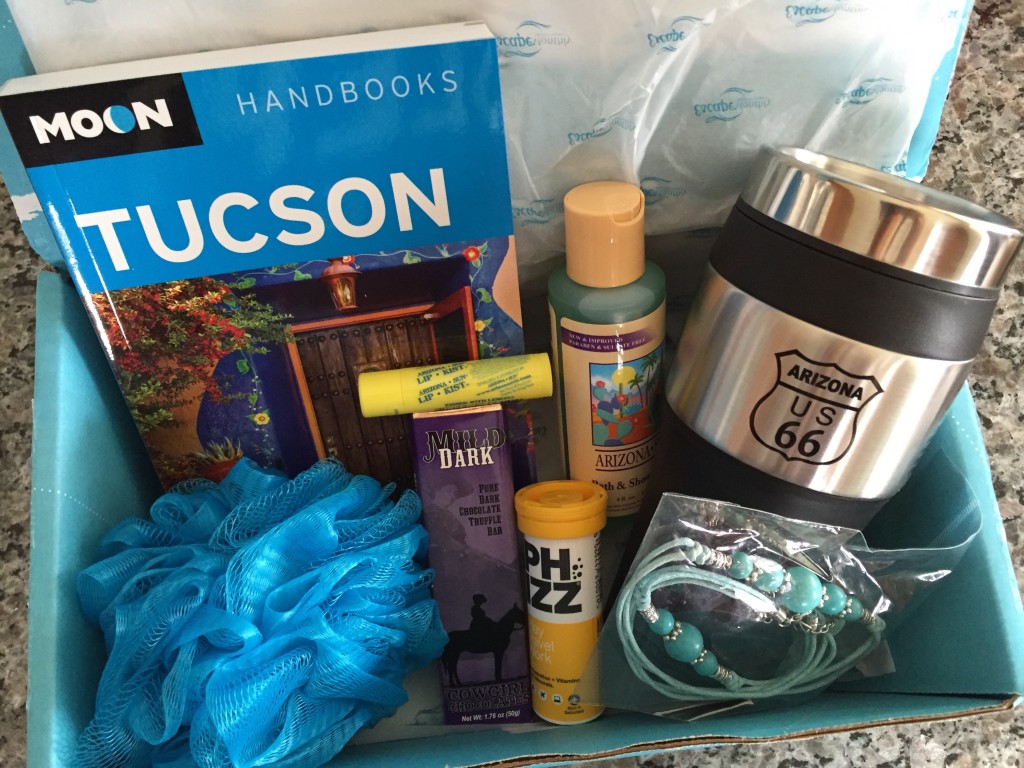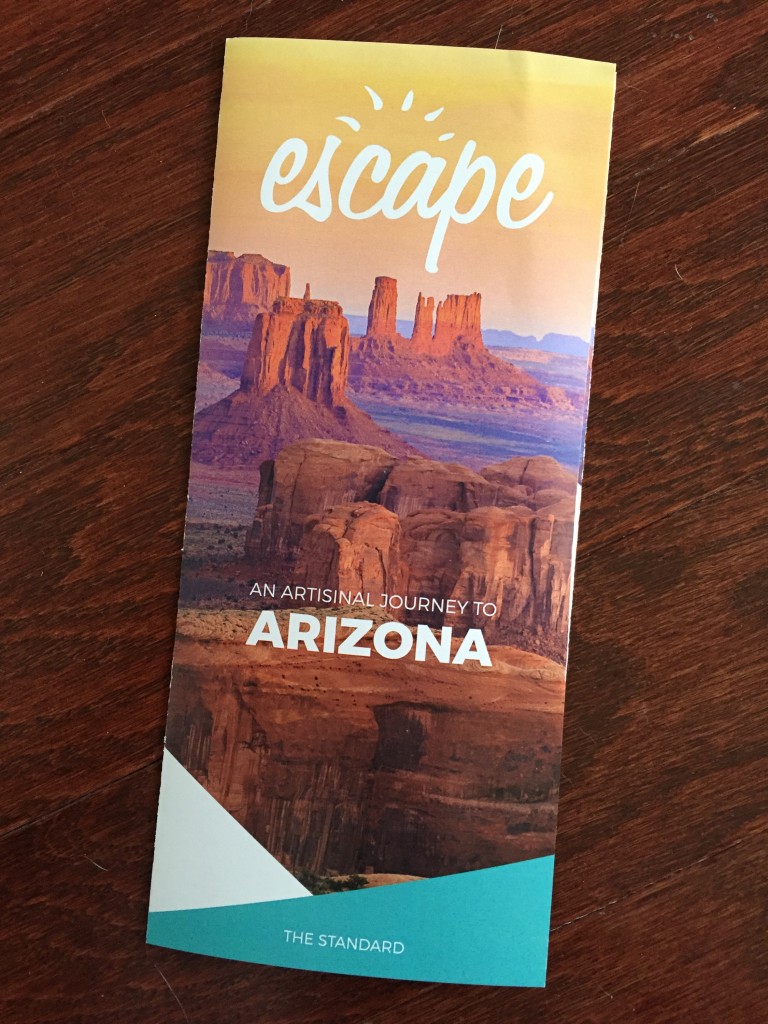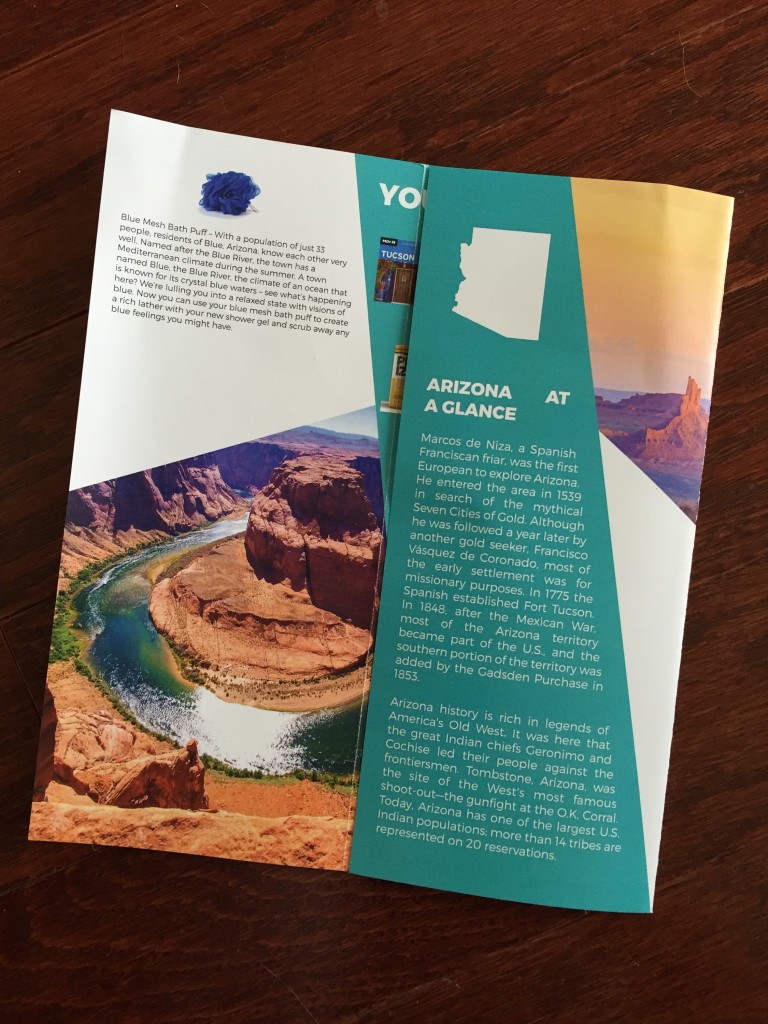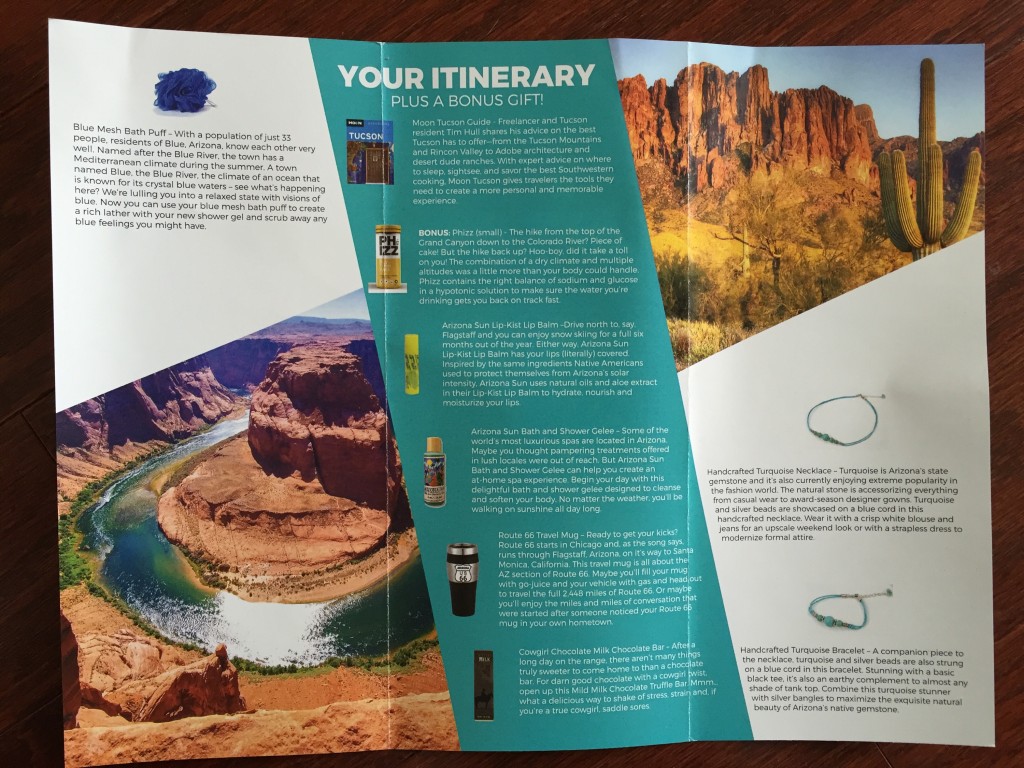 (click to enlarge and read full messaging)
At first glance, there are some cool items here and I immediately gravitated towards the mug. Normally I would have liked the bath puff type thing but that was overshadowed by something I find even more useful!
Here's what came in the box:
Moon Handbooks guide to Tucson – I've only briefly stopped by Arizona before and never been to Tucson, so I should add it to my list of places to visit. At some point I expect to live in SoCal again, so then it wouldn't be too bad of a drive to go out there.
Arizona Sun Lip-Kist lip balm – Haha, I like that this is "kissed with lemon" and the tube looks like it. I'll save this in my growing collection of lip balms. It feels like something I'd want to use in the summer!
Arizona Sun bath and shower gel – I like that this is paraben and sulfate free, though the green color is odd. Since I don't use shower gel much (more of a soap kind of girl), I'll see if the husband wants to use it. I got a whiff of it and it had a very unique scent I couldn't quite pin down. Aloe, maybe?
Route 66 travel mug – It is a surprise that this is my favorite item? It shouldn't be. I just love things I can use that also look nice. This will be perfect in the coming winter months, so I can bring some hot water with me in the mornings.
blue mesh bath puff – Won't this go well with the shower gel? This will come in useful when Panda needs a replacement. It's quite dense so I'm sure it will work up a very good lather. Their little description about all things blue was a fun way to tie it all together.
Cowgirl Chocolate dark chocolate truffle bar – I'm always down for more chocolate! Lately I've gotten some really good ones from boxes, like the one from the last Escape Monthly box. I'm excited to eat this one too.
Phizz – I've never tried a fizzy tablet before, but I really should have had this before traveling for Thanksgiving. The stress of the travel and the change in climate must have gotten to my body, because I had a cold sore breakout. Ick. So now I will have one and hope for a speedy recovery! Next time I'll need to remember to take it before traveling. I'm surprised that the pill looked rather pink, but then it dissolved into a dark orange color, sort of like orange soda. The taste was sort of like a watered down Gatorade.
turquoise necklace – I doubt I will wear this since I don't really use much jewelry, so I will probably trade this or gift it to someone. I do like that it's hardcrafted and showcasing Arizona's state gem.
My wish for an Asian destination didn't come true this time, but I did like learning a bit more about Arizona. Maybe I'll be inspired to drive Route 66 there someday! Which products from this Arizona Escape Monthly box do you like most? If you want to sign up, be sure to sign up for their newsletter to get a code for 20% off the lifetime of your subscription.
[This post contains affiliate links. Signing up through them helps support my subscription and I'd be ever so grateful. 🙂 All opinions are my own and I received no compensation for this review. I just purchased this box and wanted to share what I got!]