Today I got followed by @nanyate on Twitter and I was intrigued enough to go to her blog because of an offer for free SoyJoy for your office!  Turns out she's one of five bloggers competing at SoyJoy's GI Joy challenge.  I'll admit, I was tempted by her offer of a free customized WordPress theme!  Nonetheless, I love to help people out, so I went to vote for her and posted on Twitter about it.  The person who helps her generate the most votes will earn her prize.  I don't know how she can track it, but hey, no harm in trying, right?  So everyone, go vote for her!  Her name is Ivy and she's the girl shown doing the half squat that the SoyJoy commercials have been using.
Ok, now that the backstory is out of the way, let me get to the point.  I am a huge fan of "about" pages, so of course, what else did I do after being entertained by the SoyJoy challenge she wrote about but go check her story out?  Turns out she has a fabulously-written and immensely cute section dedicated to who she is.  Not only do you get the basics of her life like her educational background, but she also has five "Ivy the _____" sections detailing herself in different roles.  It was from here that I learned of this term third culture kid, which apparently means someone who moved abroad with their parents and took both their culture of origin and their culture of assimilation to create a kind of mesh of cultures, or a third culture.  As such, they tend to consider themselves more of citizens of the world than of any particular country.  As I was reading through the description, I kept thinking to myself, "Gosh, that sounds like my life."  Yet, I felt like something was off and that I shouldn't fit the bill, even though I moved with my parents and my culture is very much a confused mix of both cultural influences.
Initially, I thought that maybe it was because these people moved later in life, like after they had started school in their birth country, but from the description, plenty of people could have moved as toddlers and still be considered TCKs.  So why, then did I feel like I shouldn't belong?  Well, it turns out that I came across one line that made is all clear to me: "TCKs are distinguished from other immigrants by the fact that TCKs do not expect to settle down permanently in the places where they live."  Ah ha!  I knew there was a tangible difference in being a first/second generation American and being a TCK!  And it's a critical difference – I plan on spending the rest of my life with my home base in my adopted country whereas they plan on returning to their country of origin, so their immigration is always temporary, transient.  So in the end, I am an immigrant but they are essentially visitors, passing through (even if that takes many years).  We'll both adopt certain parts of the cultures that we come from and live in, but in different ways and for different purposes.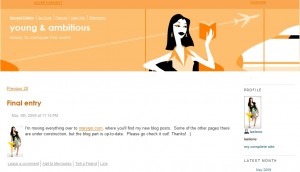 Well, in reading about all of that, it led me to the idea of being a cosmopolite – someone who is cosmopolitan.  I've never really paid attention to the word, probably because of the magazine that takes its name, which I find to be too focused on looks and being superficial.  I never thought of it as a useful way to convey being "at home in all parts of the world," so I guess it was meant for the meaning of "conversant with many spheres of interest."  Mostly I think they were just going with the image of being "sophisticated and cultured" without actually really going for a well-traveled woman.  Whatever the case, this is the first time I've actually given a second thought to the term and I find that I connect with the description quite well (except for the sophisticated part, perhaps… I don't know if I can claim that much).  I feel like I am made up of many components from around the world, can feel comfortable in all parts of the world, and can connect with many spheres of interest.  This is exactly the look and feel I was going for in my most recent LiveJournal blog – a jetsetter who is elegant and sophisticated.  Well-cultured, well-mannered, and well-read.  So thank you Ivy for leading me to give this term a chance, this word that so describes what I'm striving for.
« Prev:Haircut
Spirituality and atheism:Next »