Who could say no to Japan? I totally had to see what kawaii things might come in this box. I totally thought there'd be those funky little erasers shaped like sushi or other food. Alas, maybe next time. While waiting for this, I got an email that Escape Monthly had changed their billing and I needed to re-subscribe. To entice me, they offered 30% off for life… I decided to go with it, though I seriously debated letting that be a rather natural cutoff with this box. But I like it enough to keep it at the lower price point.
Escape Monthly is just under $40 per box (with code for 20% off your subscription – see end of post) and comes with a variety of food, home, skincare items themed around a city/region. Each box comes with a guide for that area. Boxes are sent monthly with no option to skip. They offer a referral commission program.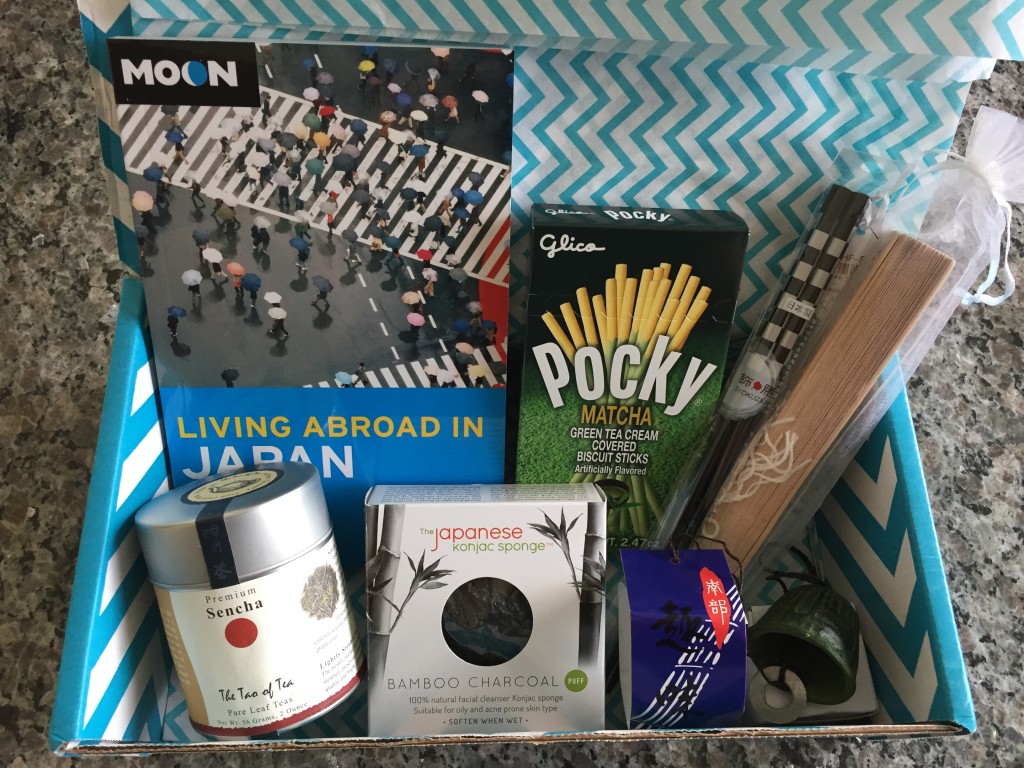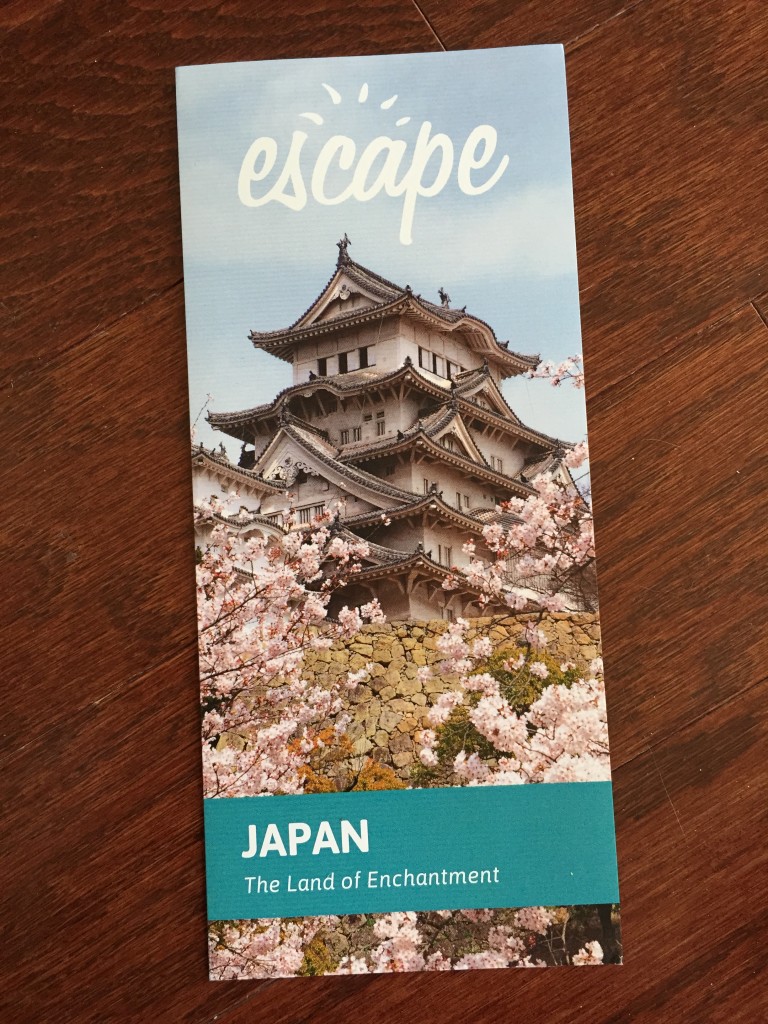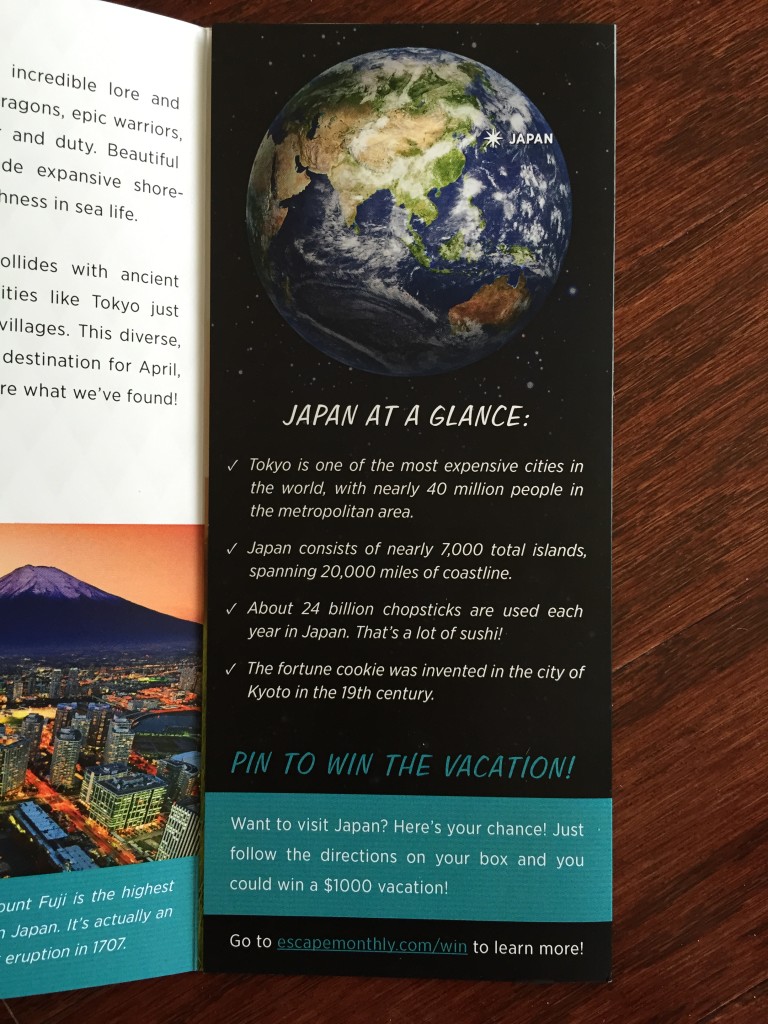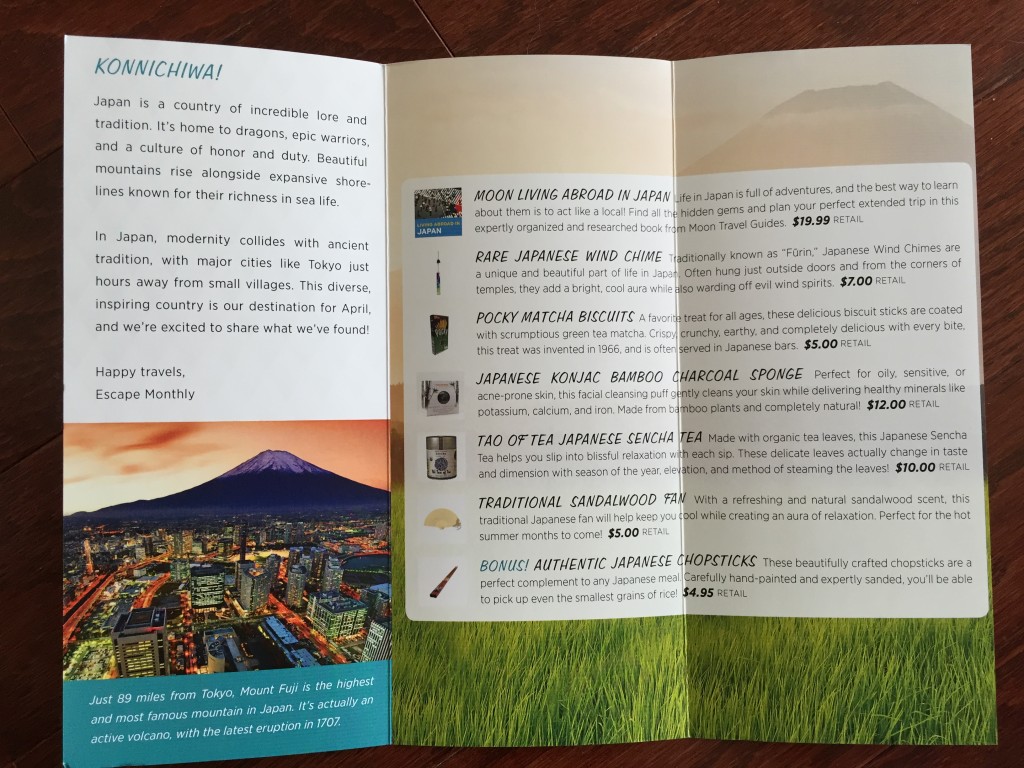 (click to enlarge and read full messaging)
It's great to see a mix of items so I have things for the home, personal care, kitchen, and of course my tummy. Some things reminded me of home and others were new to me.
Here's what came in the box:
Moon Handbooks guide to Living Abroad in Japan – While I've been through the airport two or three times, I've never truly visited Japan. I even stayed at an airport hotel when I was a young teen, being escorted by airport personnel since I was traveling solo. I just never went further than that and other than a van driving on the other side of the road, some smoking Japanese airport workers watching strange game shows, and a hotel I no longer recall, I haven't gotten to experience Japan. I do look forward to it though, and I'm sure Panda and I will make our way there in our coming trips so I'll see what this booklet has to offer then.
The Tao of Tea Japanese Sencha tea – I love the packaging of this tea. This brand is new to me, though I think I've seen it before. The tea is well-preserved in a tin that doesn't let in light and has an inner lid for extra sealing power. The scent is a nice, rich green tea. Just the type of thing I can bring to work and sip on all day long.
The Japanese Konjac Sponge bamboo charcoal – I still don't quite understand konjac sponges, but this is already my third. The first I got in the UK at a Boots, the second I got from Julep (and am currently using), and funny enough, I received my fourth in my latest Petit Vour box today! So I am now quite well-stocked on these and really hope that they help my acne-prone skin. It definitely feels like a good oil absorber and it's so gentle on skin. I love that it's eco-friendly too.
Glico Pocky Matcha biscuit sticks – I love Pocky and matcha green tea! So of course it makes sense that I love matcha Pocky too. I wish they would have gone for something a little harder to find, since Japanese candies and treats are quite plentiful. While this flavor isn't super easy to find, many Asian markets do carry it. I guess it's a mostly safe bet for those completely new to them though, whereas some things might be unusual enough that people wouldn't want to try it.
Syokuzen chopsticks – I could always use a pair of chopsticks. I'm thinking of taking this pair to work, since I feel bad with all the disposable ones that I end up using when I carry out for lunch. These are nice simple chopsticks with a minimal design and thin points that help with picking up small pieces of food.
sandalwood fan – I've had many of these in my childhood and I never knew the scent was sandalwood. It totally makes me think of China and my grandma. Such a soothing smell to enjoy. The intricate carvings on the side allow some air to flow through and it offers a really cool design. I've had ones like this and some with painted images too. Maybe I'll lay around and fan myself this summer!
Japanese wind chime – This is a hefty little bell that I believe is made of cast iron. It makes a nice tinkling sound that I think I will try to train the cats to respond to for feeding time. Or maybe I'll hang it on our porch somewhere and let it do its thing.
Culturally, there's enough overlap that it feels much like a Chinese box to me and I'm comfortable with that. Plenty of good memories! Which items in the Japan Escape Monthly box would you want? If you want to sign up, try one of these codes (not sure which ones are still active): YOURESCAPE or JAPAN for 20% off the lifetime of your subscription or GIFTESCAPE for 25% off.
Next month is themed Rocky Mountain and I'm excited for nature-y stuff. I haven't been, so that should be fun!
[This post contains affiliate links. Signing up through them helps support my subscription and I'd be ever so grateful. 🙂 All opinions are my own and I received no compensation for this review. I just purchased this box and wanted to share what I got!]
« Prev:The Madagascar hissing cockroach
Tide PODS Plus Febreze review:Next »