Escape Monthly has really gotten good at putting together their boxes. I am always looking forward to what new products I'll learn about. This was another box heavy on the food items, which is perfectly fine with me. I'm happy to have more snacks and drinks to enjoy!
Escape Monthly is just under $40 per box (with code for 20% off your subscription – see end of post) and comes with a variety of food, home, skincare items themed around a city. Each box comes with a Moon Handbooks guide for that region. Boxes are sent monthly with no option to skip. They offer a lovely recurring referral commission program.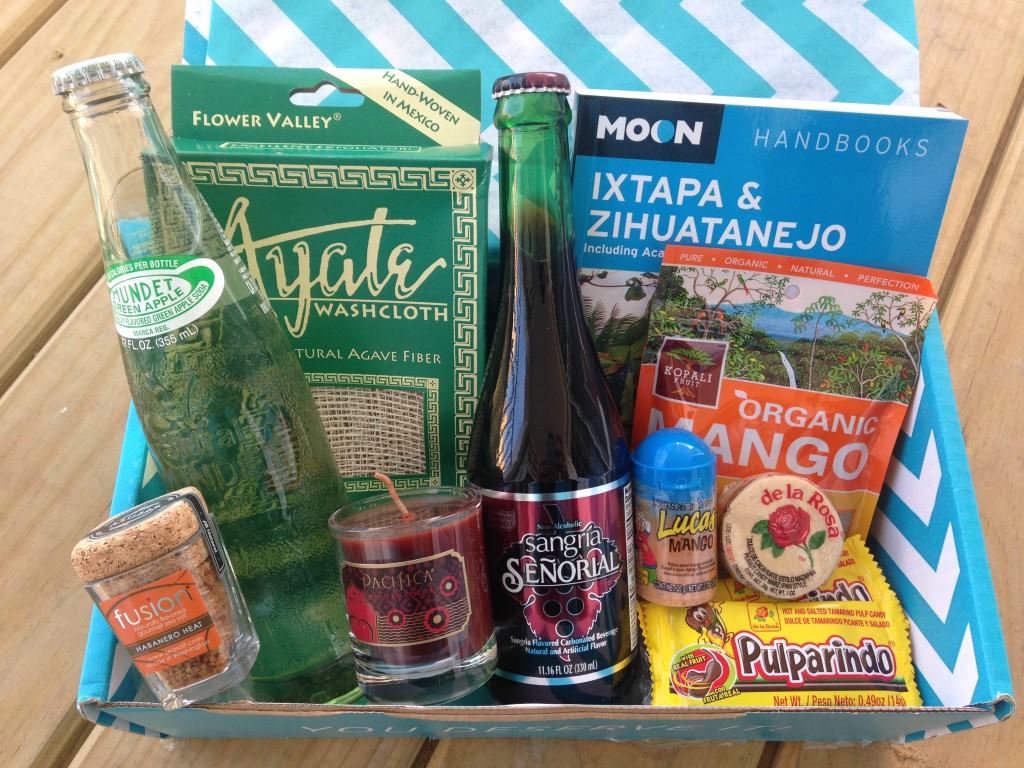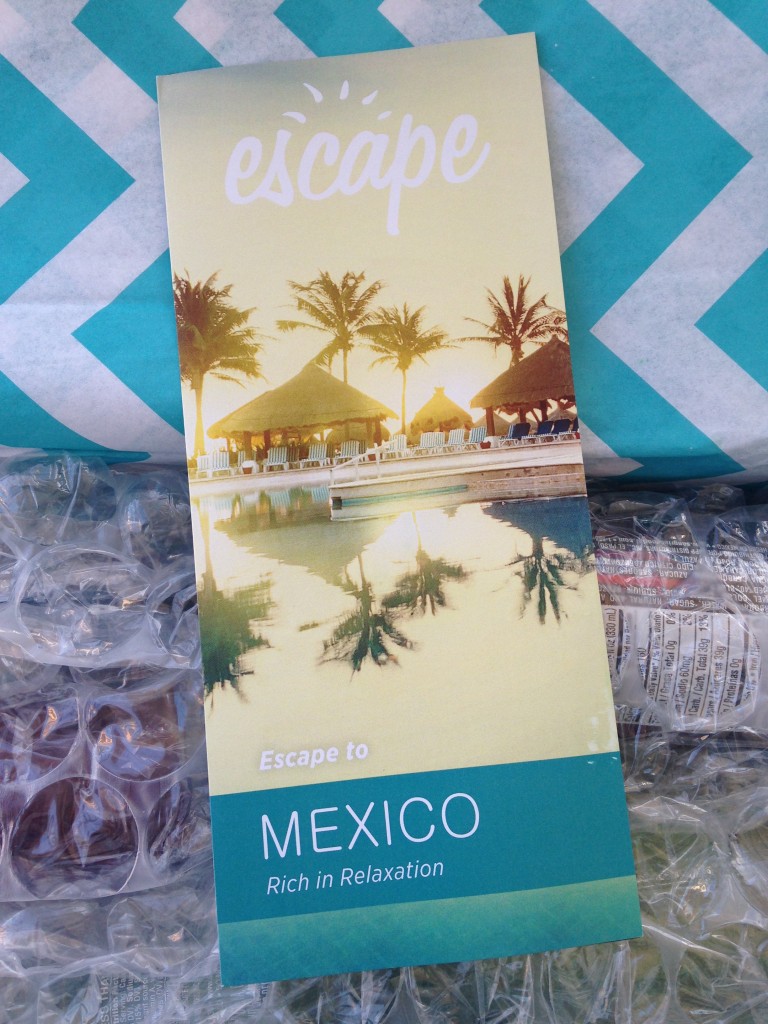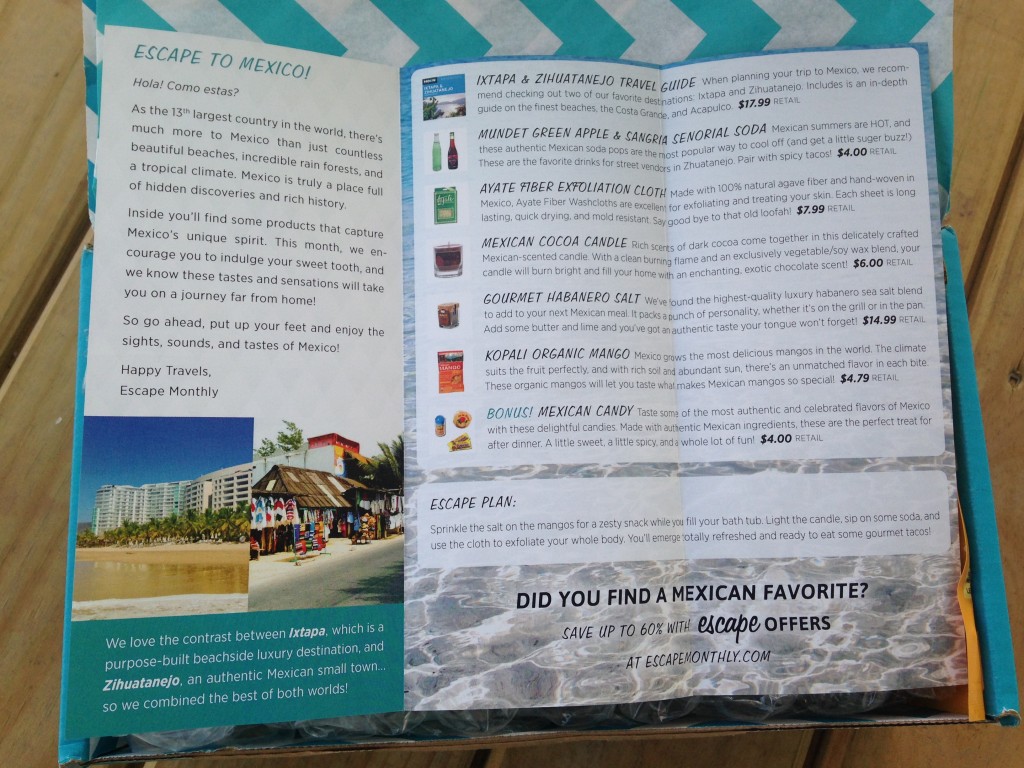 (click to enlarge and read full messaging)
Everything came carefully wrapped in bubble wrap since there were so many glass items this time! They were all well-protected and came in perfect condition. I've already tasted about half the items and I can't stop sniffing the candle. 😉
Here's what came in the box:
Moon Handbooks guide to Ixtapa & Zihuatanejo – I've never heard of these areas of Mexico and I'm totally intrigued. There are so many cool things to explore and I love the contrast of more local flair and culture with the touristy areas for vacationing. I'm glad they didn't just go for Mexico City or Cancun or something, but chose a more exotic and lesser-known locale to share.
Ayate Agave Fiber Washcloth – The moment you get this wet the first time, it does a fun shrinking act. I was concerned about the holes being so large, but they totally shrink down once wet and make a perfect handcloth for exfoliating your body. I was surprised at how nice it felt – I kind of expected it to be a little scratchy. Love this and I think I might need to stock up on a few.
Mundet Green Apple & Sangria Senorial sodas – The green apple soda seemed safest, so I tried it first. It's a nice sweet drink just as you'd expect green apple to be. It had a sort of aftertaste/smell that I couldn't quite place. Overall still a tasty drink. At first glance, I thought I had gotten some sort of wine with the sangria, but it's non-alcoholic and just happens to be in a wine bottle sort of shape. It's much sweeter and I don't think I could finish the entire thing in one sitting.
Fusion Habanero Heat sea salt – This packaging is just too cute. This is the same type of salt as the Hawaiian-inspired one I got back in the Hawaii box and I hope more keep coming because I'd totally love a collection. I must think of some dish I can cook up using this salt. Maybe I'll just add it to some chicken and see how that tastes.
Pacifica Mexican Cocoa candle – I've never had a Pacifica candle before and I'm thrilled. This smells fantastic – rich and chocolatey with a hint of spice! What a totally appropriate scent to have wafting through the house when I want to think of our neighbors to the south. I will enjoy this for a bit before I start burning it. It's fun to sniff here and there.
Kopali Fruit Organic Mango – I'm not a mango fan so I'll be giving these to Panda to eat, or coworkers if he's not interested. I did get this brand back in a Yuzen box nearly two years ago (my first intro to mulberries) and I like it, so I'd be willing to try their other fruits.
Lucas Mango powder, de la Rosa Pulparindo & de la Rosa marzipan peanut candy – Such playful candies! I'm skipping the mango powder due to the flavor, but I had the two de la Rosa products and they really made me think of this Mexican market in my area back in SoCal. I've definitely seen them around and now I've tried them too. The Pulparindo is an interesting gritty sort of snack with salty and spicy bits. It definitely isn't something I'm used to but I do like to nibble on it. The marzipan candy isn't peanutty like Western peanut candy and I appreciate that. This is a crumbly treat I would actually like to have despite not being a huge fan of peanuts.
This box was nice and warm in the flavors and sense it gave off, just like what I think of down in Mexico. The non-edible items are right up my alley and many of the snacks were nice to try. What items stood out to you in this Mexican Escape Monthly box? If you want to sign up, try one of these codes (not sure which ones are still active): YOURESCAPE for 20% off the lifetime of your subscription or GIFTESCAPE for 25% off.
Next month we're returning stateside to California and I'm really looking forward to what things they can show me right in my own backyard. They've already announced one product from Juice Beauty, which is a brand I enjoy using. Looking good!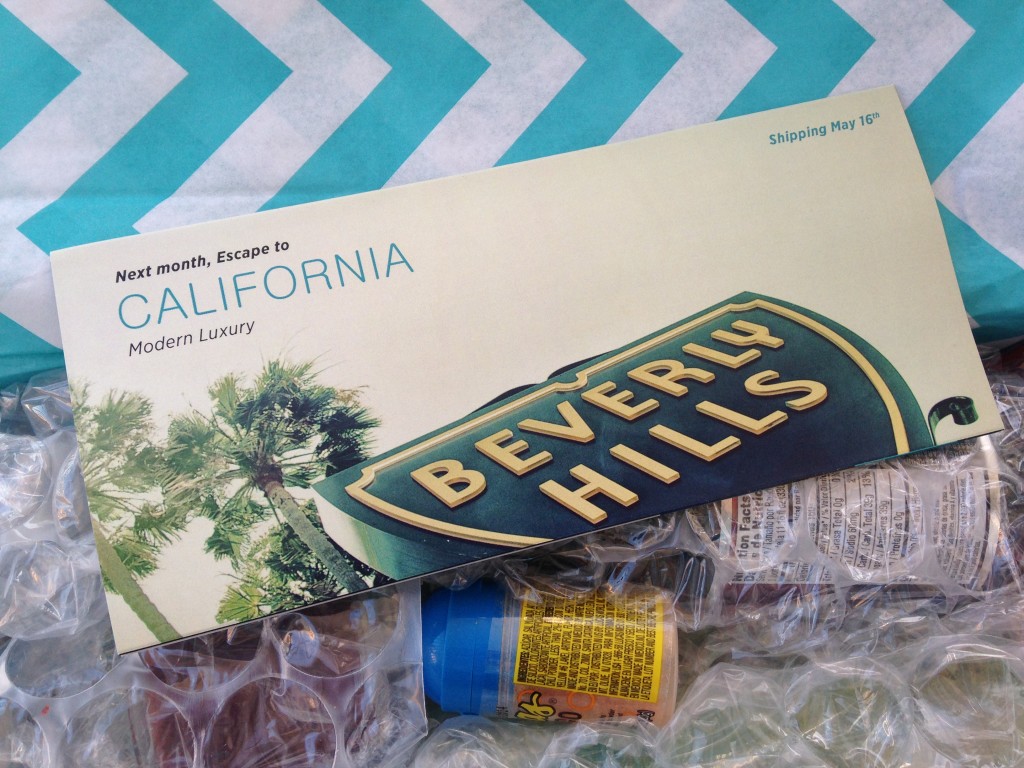 [This post contains affiliate links. Signing up through them helps support my subscription and I'd be ever so grateful. 🙂 All opinions are my own and I received no compensation for this review. I just purchased this box and wanted to share what I got!]
« Prev:The perfect storm
Julep May 2014: The Fresh Twist Collection review:Next »