Today the first Escape Monthly box of the year arrived in the midst of snowstorm Janus!
Escape Monthly is just under $40 per box (with code for 20% off your subscription – see end of post) and comes with a variety of food, home, skincare items themed around a city. Each box comes with a Moon Handbooks guide for that region. Boxes are sent monthly with no option to skip. They offer a lovely recurring referral commission program.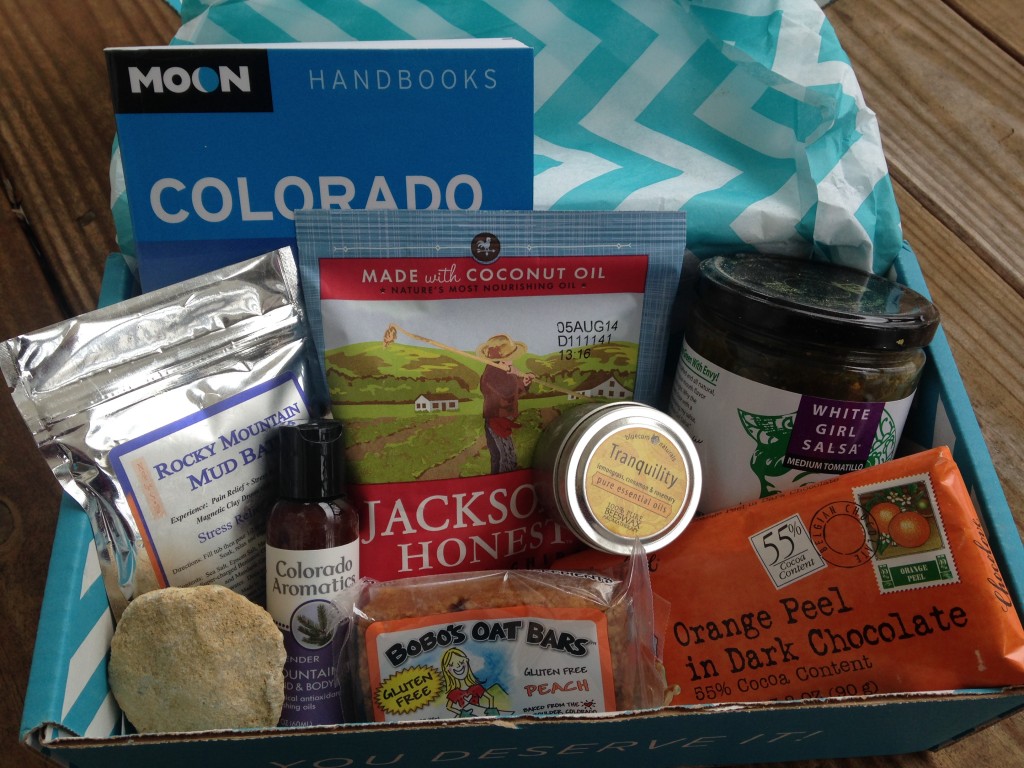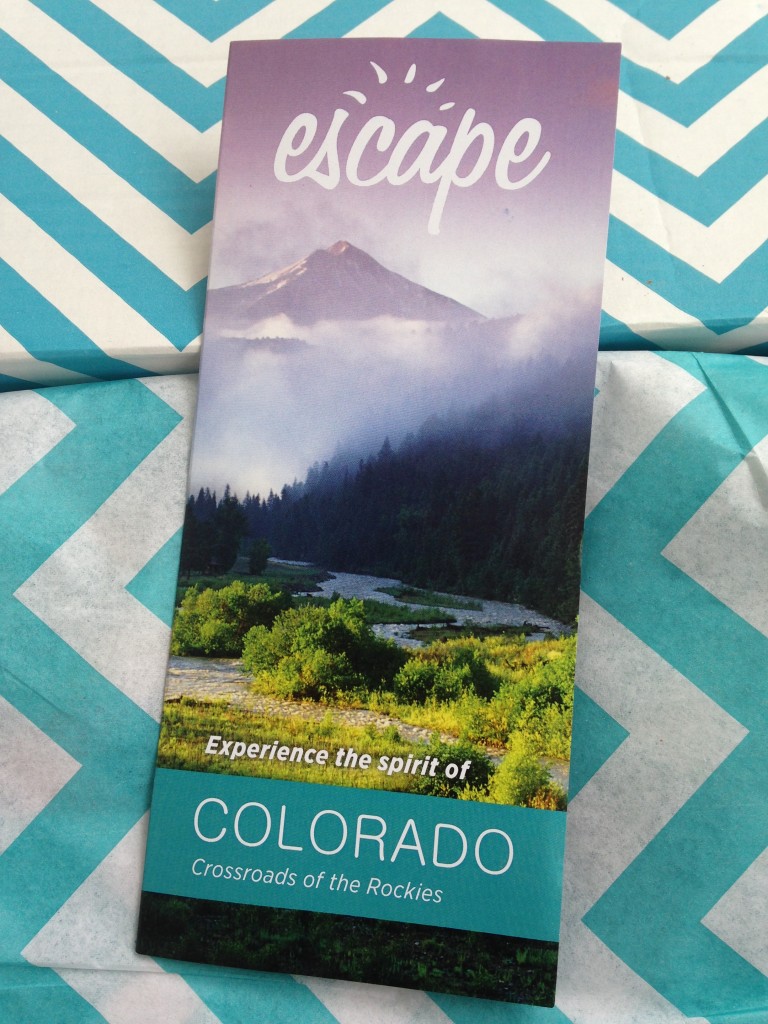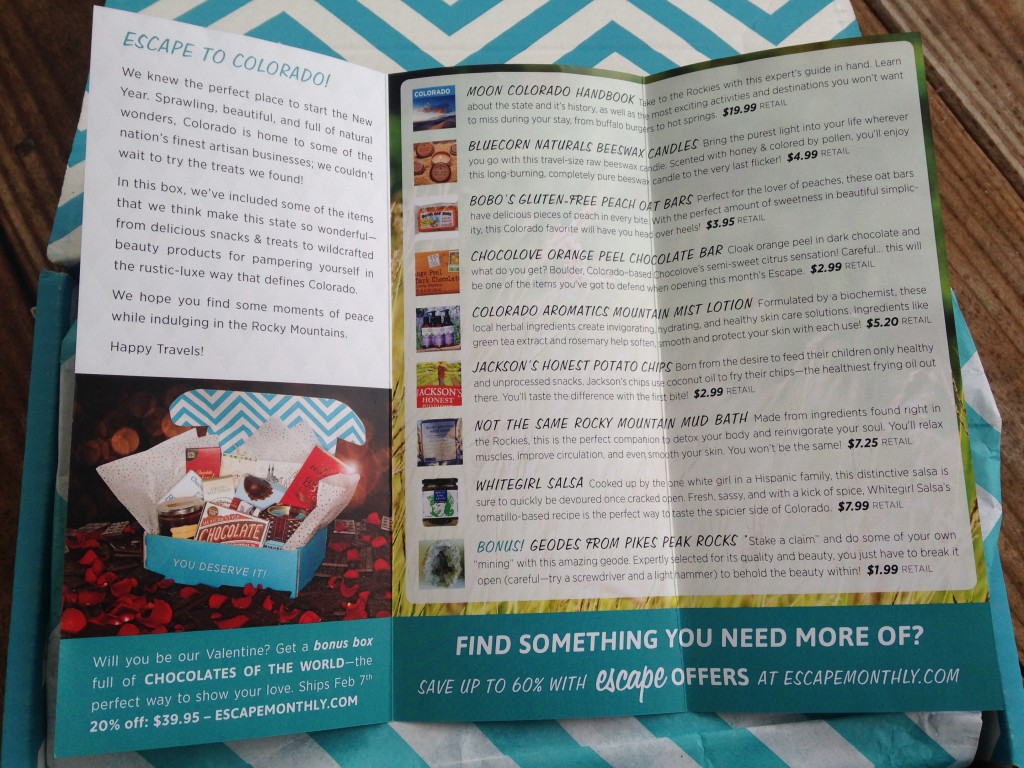 (click to enlarge and read full messaging)
Since Panda recently went to Colorado, I had him review this with me. He nodded approval at the locally-sourced products and noted that a lot seem to be centered around Boulder. I hadn't paid attention to that, but yes three of the items come from companies there. We liked the sampling of products that captured many aspects of the area.
Here's what came in the box:
Moon Handbooks guide to Colorado – I'm getting quite the collection of these guides. This one will come in particularly handy when I either visit Colorado again or move there someday! It's one of the few states I haven't lived that I definitely would like to relocate to for a few years. I love the thought of fresh, crisp air and all that lovely outdoorsiness. They seem to have a whole lot of healthy choice brands that are gentler on the environment and our bodies.
Not the Same Rocky Mountain Mud Bath in Stress Relief Blend – My next bath is sooo going to be muddy! I've never had a mud bath before, so this is exciting and I can't wait to try it. It's a heavy pack of powder and the clay in it is supposed to draw out toxins. I'm sure I'll enjoy this relieving, detoxing blend. Once I see how messy it may or may not be, I'll decide if I'd get more. I certainly love the idea and look forward to trying it.
Jackson's Honest Potato Chips in Sea Salt – I haven't tried a chip made with coconut oil before, so that's new. These chips feel more solid and have a strong crunch without hurting the roof of my mouth when I bite down. I like the taste, but because of the… heaviness of each chip, I don't think I'd eat much at a time. That seems to be a good thing since I feel more satisfied with less product.
bluecorn naturals beeswax aromatherapy candle in Tranquility – This lovely little candle is a wonderful blend of lemongrass, cinnamon, and rosemary. It's so unique to see lemongrass and cinnamon together and I love it! I couldn't stop sniffing this candle and I look forward to burning it. It certainly is relaxing and nice to clear the mind with just based off the scent. I'll break this in when we get into the new condo.
White Girl Salsa Medium Tomatillo – The most unexpected of the bunch, I've got to say. I don't think I'd ever associate salsa with Colorado, but I am amused by this product and hey, it's made in Colorado! I think the tomatillo flavor is perfect for so many things and I've got to get some chips to eat this with. I'd also love to put it on some fried eggs or even cook some meat with it as suggested on the label. I'll browse the recipes on their website and figure something out!
Chocolove Orange Peel in Dark Chocolate bar – Mmm, rich dark chocolate with crunchy bits of orange peel make this bar delectable. Their branding fits the theme of mail/a postcard very well and I'd be absolutely thrilled to receive this in lieu of a letter! It is so delicious and smooth and crisp. The chocolate is very firm and takes a bit of strength to break. It's fantastic and I'd definitely get one if I saw it in a store.
Bobo's Oat Bars in Peach – Oh I just love the peach smell of this. Lightly fragrant and sweet in a subtle way. I've never been huge into oats, so it was quite dense for me and I could only eat a little corner. That bar would last me a good six rounds! It's very tasty and just the sort of thing I'd bring on a road trip, hike, or other activity where I want something to sustain me. I don't see myself eating this as a normal snack.
Colorado Aromatics Lavender Mountain Mist Hand & Body Lotion – How perfect that there was a lotion just as the cold hits us again and I started to run low on my supply at work. If you like lavender at all, you will love this. What a wonderful scent that is so soothing and relaxing. It definitely has aromatherapy qualities and I can see it being the perfect lotion to use for a massage. Treat yourself by rubbing it in and savoring that scent, letting it calm you.
Pike's Peak geode – The bonus item this month is adorable!! I'm afraid to break my rock so I'm going to keep it whole for a little while. I'm so curious what it'll look like inside though! I hope it developed well on the inside. I wonder if I can find a rock outside to practice on or if I just need to go for it with this one. I want a nice break into two pieces, but I can see myself shattering it. Well, we happen to have screwdrivers at the new office due to all that furniture-building, so maybe I'll bring it in to work next week!
The theme of this box could very well have been finding peace because so many of these items promote relaxation and simple enjoyment. I feel very well pampered and I'm pleased with that. What do you think of this Colorado Escape Monthly box? If you want to sign up, try one of these codes (not sure which ones are still active): COLORADOESCAPE or YOURESCAPE for 20% off the lifetime of your subscription or GIFTESCAPE for 25% off.
For February the city we get to explore is New York, which should offer a ton of options.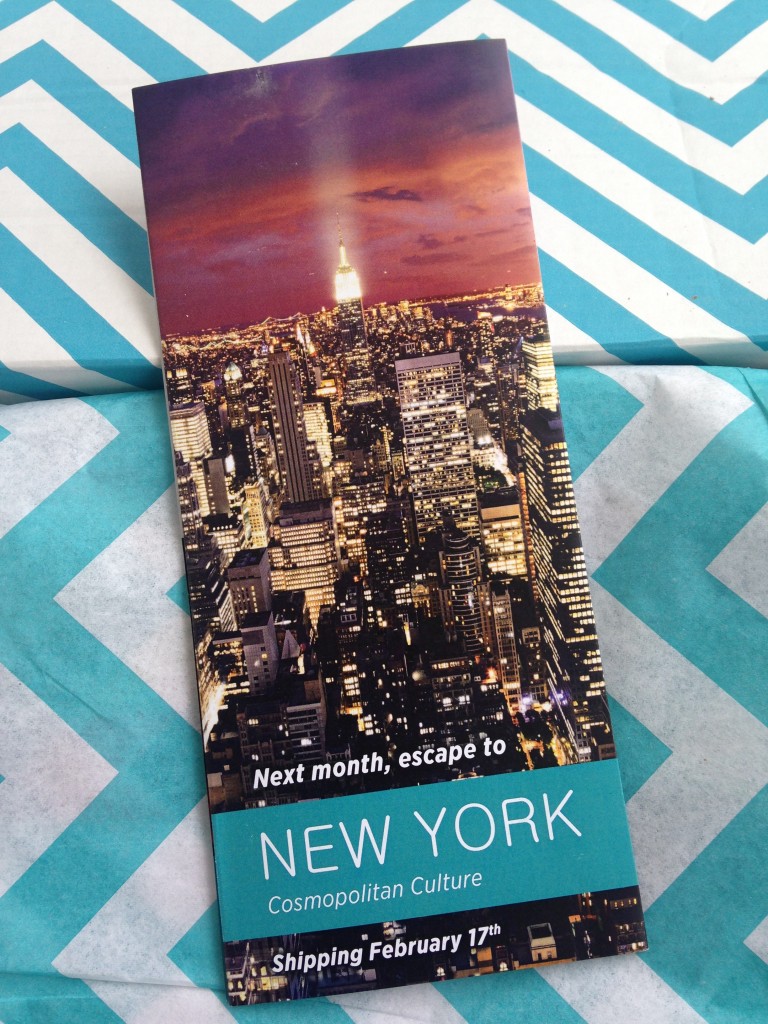 [This post contains affiliate links. Signing up through them helps support my subscription and I'd be ever so grateful. 🙂 All opinions are my own and I received no compensation for this review. I just purchased this box and wanted to share what I got!]
« Prev:365great Day 312: boots
365great Day 313: Wrapp:Next »