As soon as Blizzard 2016 was finally cleared enough for the mailman to return, I got this package! I wonder if it had been waiting at the post office the whole time.
Escape Monthly is just under $40 per box (with code for 20% off your subscription – see end of post) and comes with a variety of food, home, skincare items themed around a city/region. Each box comes with a guide for that area. Boxes are sent monthly with no option to skip. They offer a referral commission program.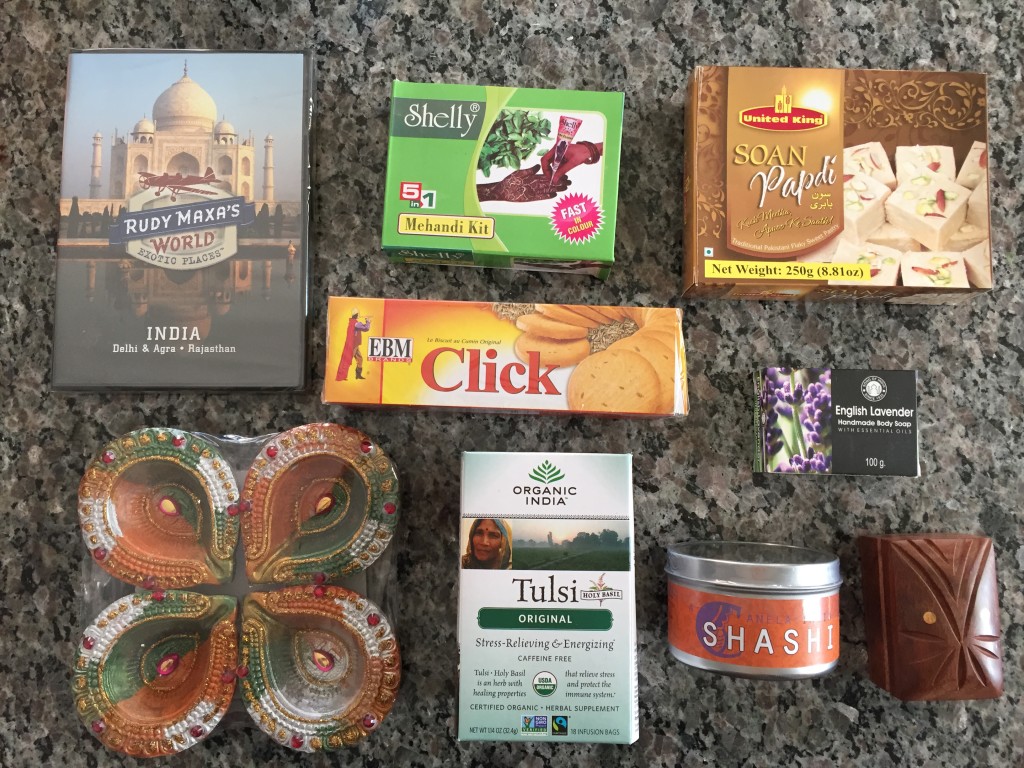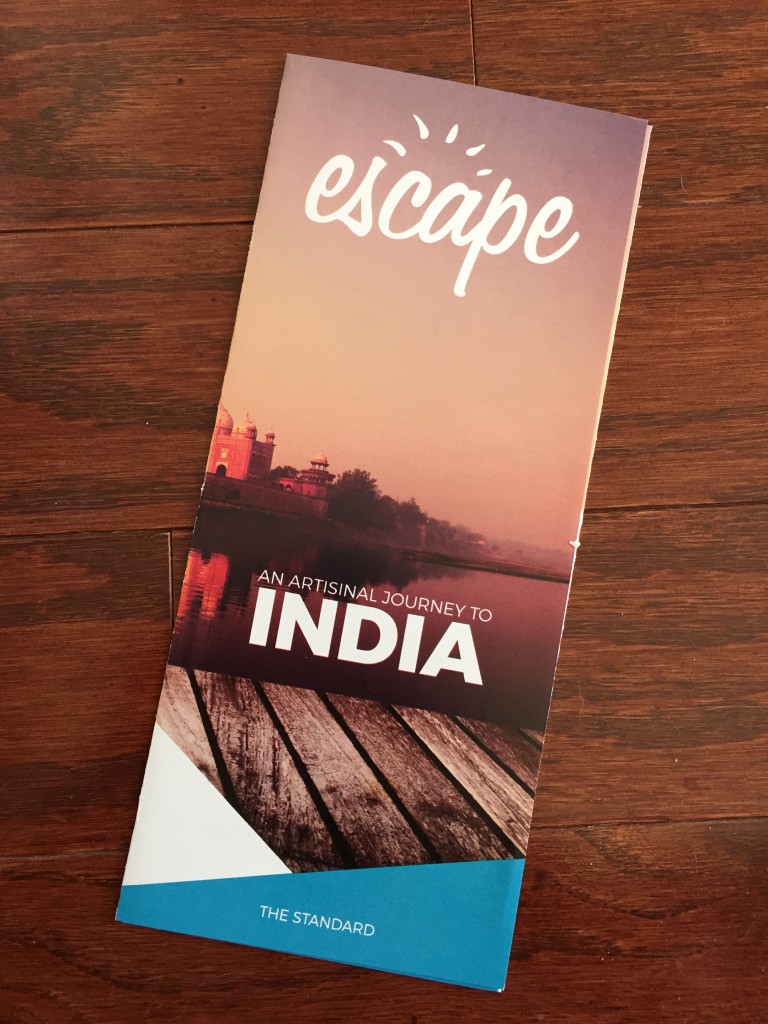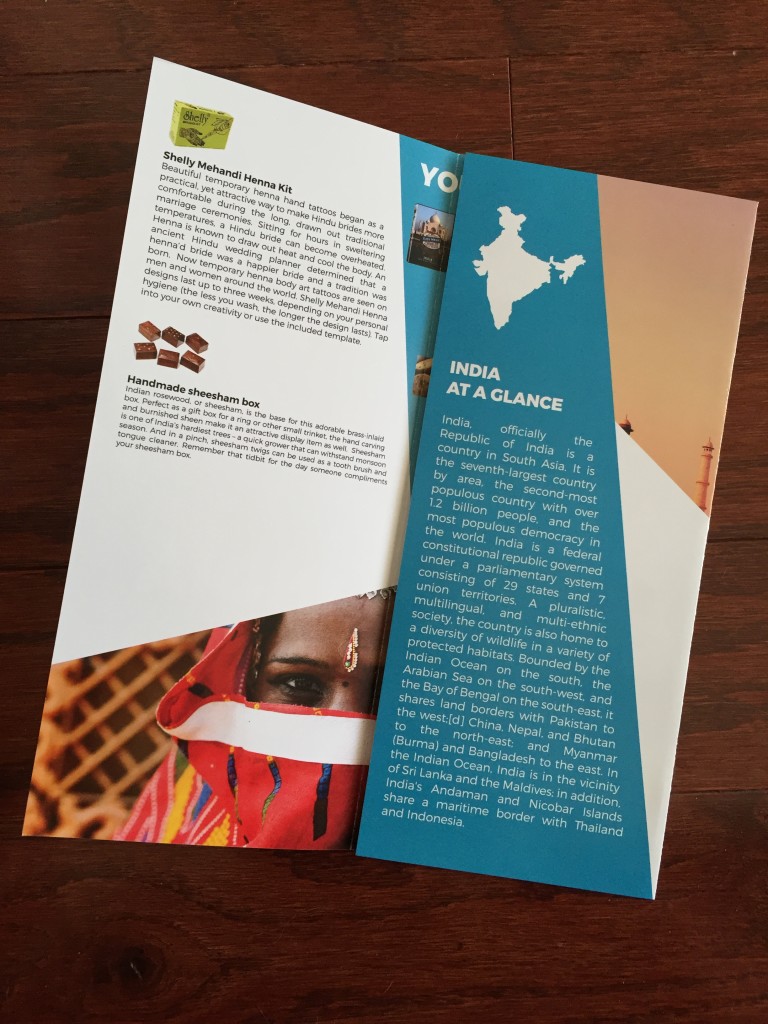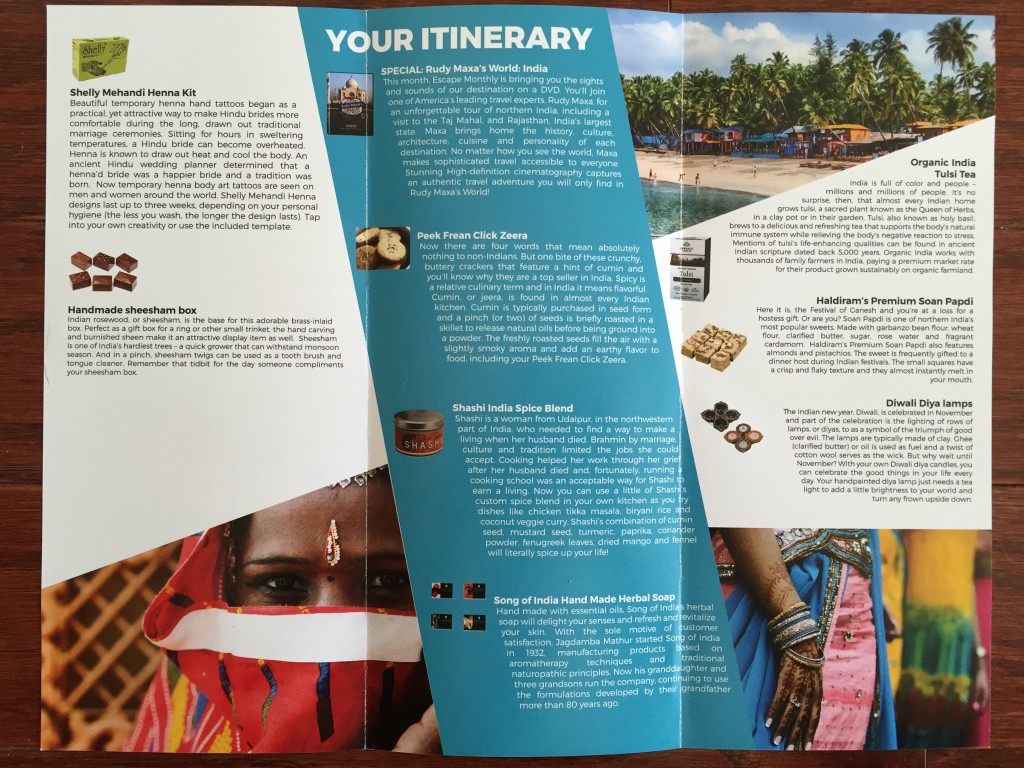 (click to enlarge and read full messaging)
How cool! I'm already making good use of the sheesham box and I love the Diwali lamps. It's great that this box has no overlap with the other one from India.
Here's what came in the box:
Rudy Maxa's World: India DVD – What a cool way to learn about India beyond a guide book. I'm glad they chose to go this route since seeing and hearing what India is like will be much more telling than reading about it.
Shelly Mehandi henna kit – How fun is this?! Don't we all want to try doing our own henna tattoos? I know I certainly have. This cute kit includes the powder, which you mix with water and then squeeze in the provided cone (like those pastry ones people use for frosting). Mine came with a stencil of a gecko/lizard type creature, which will be fun to trace onto myself. I'm totally inviting someone over to have a little henna party.
EBM Brands Click cumin biscuits – Whoa, this is so interesting. These dry, crispy cookies have bits of cumin that give it an earthy flavor. It's sweet yet not all at once and a totally unique flavor. Quite cool! My brain is still not sure what to make of it.
United King Soan Papdi pastry – This came in a container that made me think of someone's lunch box in Asia. I thought there'd be squares in the box, but then I opened it and it seemed to be one giant chunk. I wasn't quite sure how to get a piece out, so I just started scooping! This pastry is sooo delicious and yes, very very flaky. Like falls apart as I try to scoop it up. That kind of melting in your mouth is pretty sweet.
Song of India English Lavender soap – Is there a difference between English lavender and other lavender? This one smells more soapy than the lavender ones I'm used to. It's clear and reminds me of this glycerin soap I have. Happy to add it to my queue of soaps to use!
Diwali lamps – Ok, these just look like a party. All you've got to do is put in tea lights and enjoy! I love the colorfulness and atmosphere they provide. Now I just need to bulk purchase tea lights…
Organic India Tulsi tea – I enjoy a tulsi tea when I want something sweeter and caffeine-free. This came at just the right time, since I've been sick and I could use a boost. I've probably had three of the tea bags brewed multiple times already.
Acanela Shashi India spice blend – We've been working to cook more, so spices will be a great thing to have to add to dishes. Sometimes salt and pepper get boring and just aren't what you want. I'm going to keep these fresh and sealed until we're ready to figure out what dishes to use them on.
handmade sheesham box – This is the perfect box to store some of my jewelry bedside. I now keep my rings and small earrings in here for safekeeping next to the bed. It's so simple and looks great anywhere.
They haven't announced the next location yet, so we'll see what it is when it arrives. Which products from this India Escape Monthly box do you like most? If you want to sign up, be sure to sign up for their newsletter to get a code for 20% off the lifetime of your subscription.
[This post contains affiliate links. Signing up through them helps support my subscription and I'd be ever so grateful. 🙂 All opinions are my own and I received no compensation for this review. I just purchased this box and wanted to share what I got!]
« Prev:How to: Create A Facebook Page
Prospurly January 2016 review:Next »