Tempted as I was to get the bonus box with even more goodies from India, I didn't want to spend any more money. I'm certainly pleased with this box, which felt pretty authentic and got the seal of approval from one of my Indian friends for products that she'd enjoy. If you sprang for the luxe box that was offered for India, do let me know when you review it! I'd love to see what else they found.
Escape Monthly is just under $40 per box (with code for 20% off your subscription – see end of post) and comes with a variety of food, home, skincare items themed around a city. Each box comes with a Moon Handbooks guide for that region. Boxes are sent monthly with no option to skip. They offer a lovely recurring referral commission program.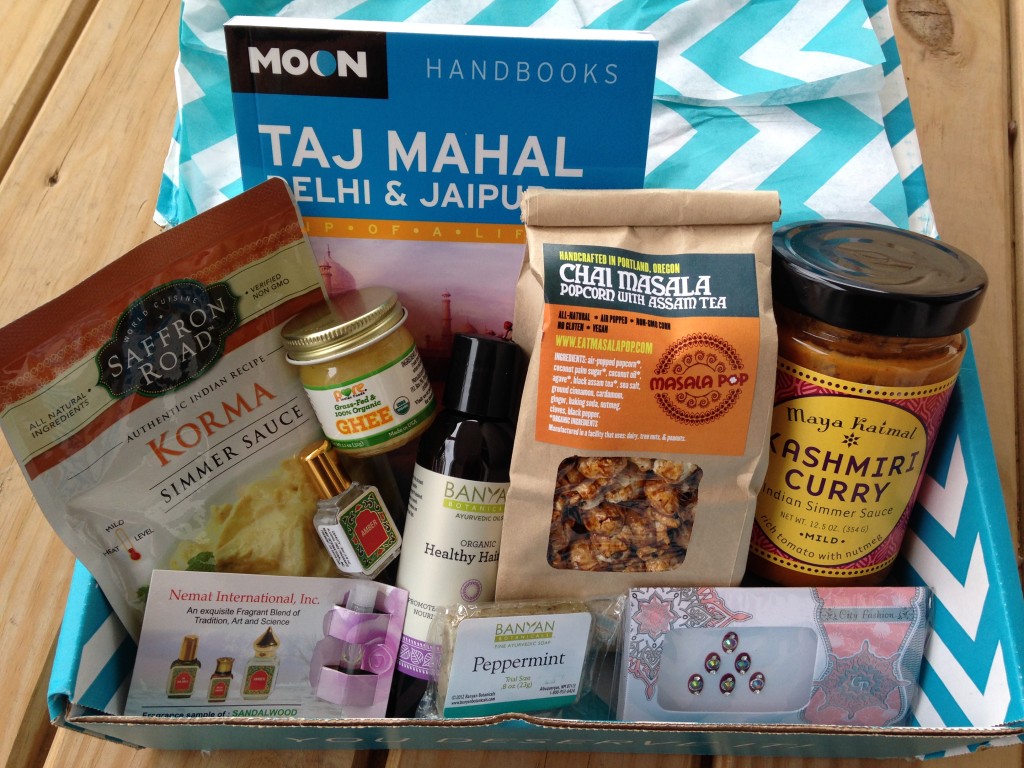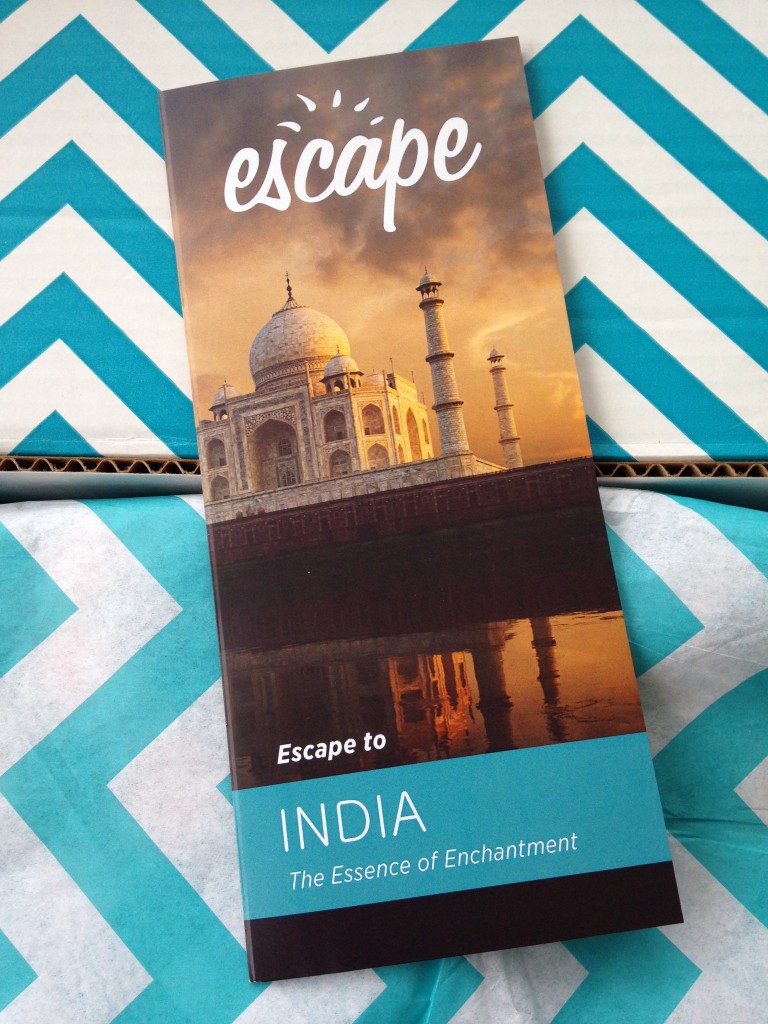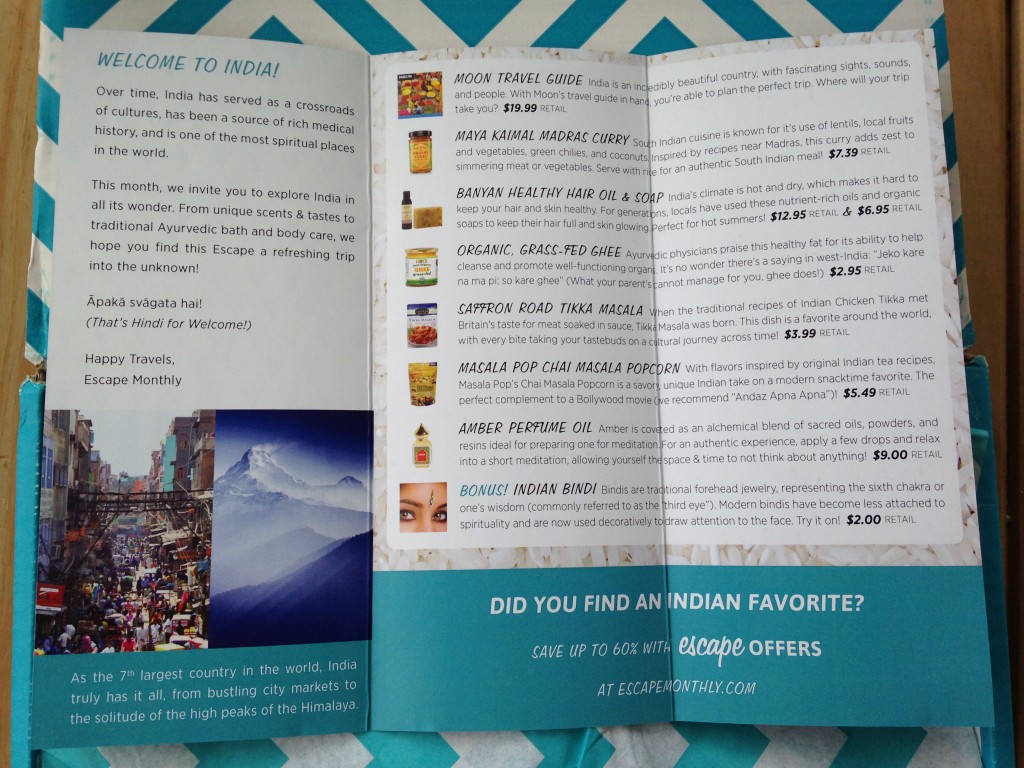 (click to enlarge and read full messaging)
This box even smelled of Indian influences. Must be the sandalwood.
Here's what came in the box:
Moon Handbooks guide to Taj Mahal Delhi & Jaipur– I've never been to India, so when I get a chance, this will certainly be very useful. I've got to admit, I've never been super attracted to going there because of the heat I imagine in the region. I just see myself being beaten by the sun the whole time, trudging along. Is India really as hot as I think? I'll have to see…
Saffron Road Korma simmer sauce – I got this brand before, but a different sauce flavor, so I'm looking forward to trying both. My info sheet talks about the Tikka Masala flavor, which I actually have. My box came with the korma instead, which is completely new to me. My friend tells me it's fabulous though. This will be an easy way to cook some meat with tons of flavor!
Pure Indian Foods organic ghee – I've never heard of ghee before, but it smells so rich! Just like caramel or toffee. I don't usually cook with butter, so I'll have to find some recipes that call for it and try this fun product that's apparently quite healthy for you.
Nemat International Amber & Sandalwood fragrances – This small tube of sandalwood packs a punch! It totally reminds me of Asia and even kind of makes me think of my grandmother. I love getting a whiff of that. The amber scent is so light that I can hardly smell a thing. They recommend meditating with it, which I totally need to try.
Banyan Botanicals Organic Healthy Hair Oil – Hmm, I'm totally reminded of food when I smell this oil. Kind of strange, but not a big deal! It's a really nice oil that isn't all greasy feeling and I'm hoping it not only makes my hair appear healthier, but promotes hair growth. I would like to try growing out my hair, but I always get impatient when it's a couple inches past my shoulder because it gets dry.
Banyan Botanicals Peppermint soap – Ooo, this peppermint soap is the perfect thing to refresh and cool down your body with. I loved inhaling the minty scent and I know that it'll tingle a little when I use it. I'm very sensitive to the cooling sensation of mint. Just what I like to think of on hot, muggy days.
Masala Pop Chai Masala popcorn – Whoa, what a unique taste. I like that this popcorn has a nice strong flavor yet it's not too sweet. A popcorn made with tea? So cool. While I'm still not big into popcorn, this one is a lovely change from the usual kettle corn you might find.
Maya Kaimal Kashmiri Curry – Another great sauce to try! Now cooking can be as easy as chopping up some meat and veggies and pouring in this sauce. I like that it's tomato-based and I'm very curious how the whole nutmeg flavor plays in. I totally have to saute some eggplant and try it with this. I'm inspired to get back to home-cooked meals more often.
Gouri Puja bindis – What gorgeous little bindis! I am coordinating with my coworker to come in with bindis together one of these days. They're so fun and beautiful and the perfect bonus item in the box this month. Love it!
This was truly a box where I felt like I escaped to India and learned about the country. I'm into everything offered too! How do you like this India Escape Monthly box? If you want to sign up, try one of these codes (not sure which ones are still active): INDIAESCAPE or PARISESCAPE for 20% off the lifetime of your subscription or GIFTESCAPE for 25% off.
Next month in August, we're going to Paris!!! I can't wait for that, since I've had an unofficial love affair with France since middle school.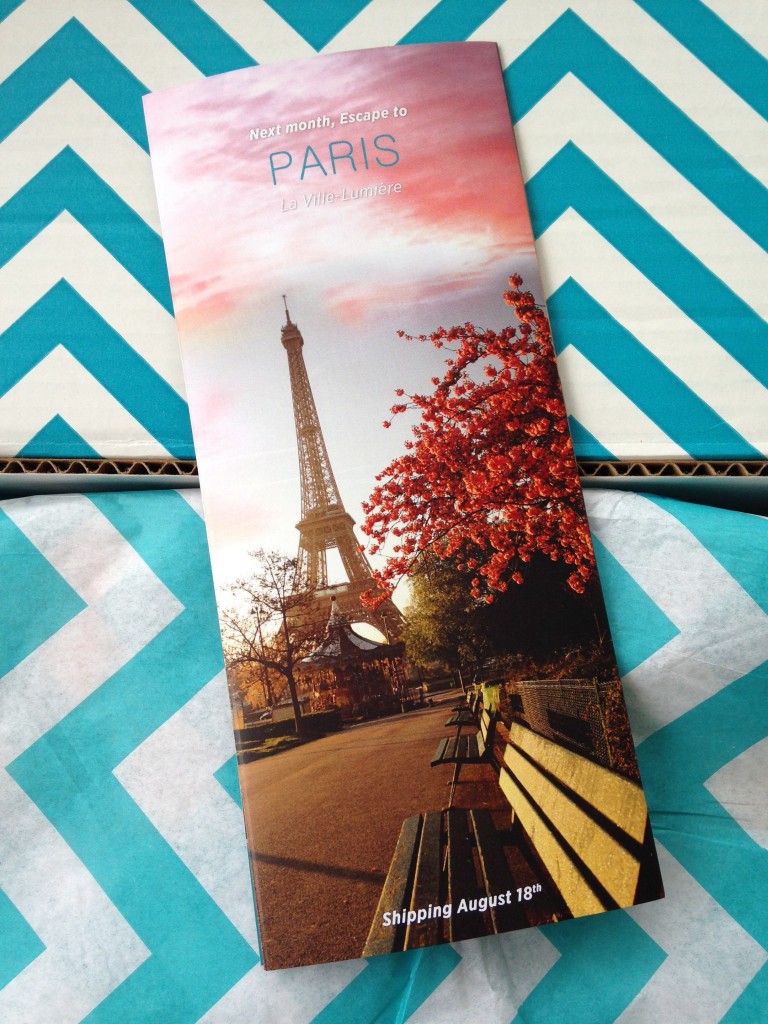 [This post contains affiliate links. Signing up through them helps support my subscription and I'd be ever so grateful. 🙂 All opinions are my own and I received no compensation for this review. I just purchased this box and wanted to share what I got!]
« Prev:Treatsie July 2014 review
A fun day at work:Next »