The timing of this box was pretty funny, since it's themed for my most recent home state and I happened to get it right before I went home for a visit. Got California on my mind! I feel like the value was a bit lower than they could have gone for, but I liked the variety of items, as usual.
Escape Monthly is just under $40 per box (with code for 20% off your subscription – see end of post) and comes with a variety of food, home, skincare items themed around a city. Each box comes with a Moon Handbooks guide for that region. Boxes are sent monthly with no option to skip. They offer a lovely recurring referral commission program.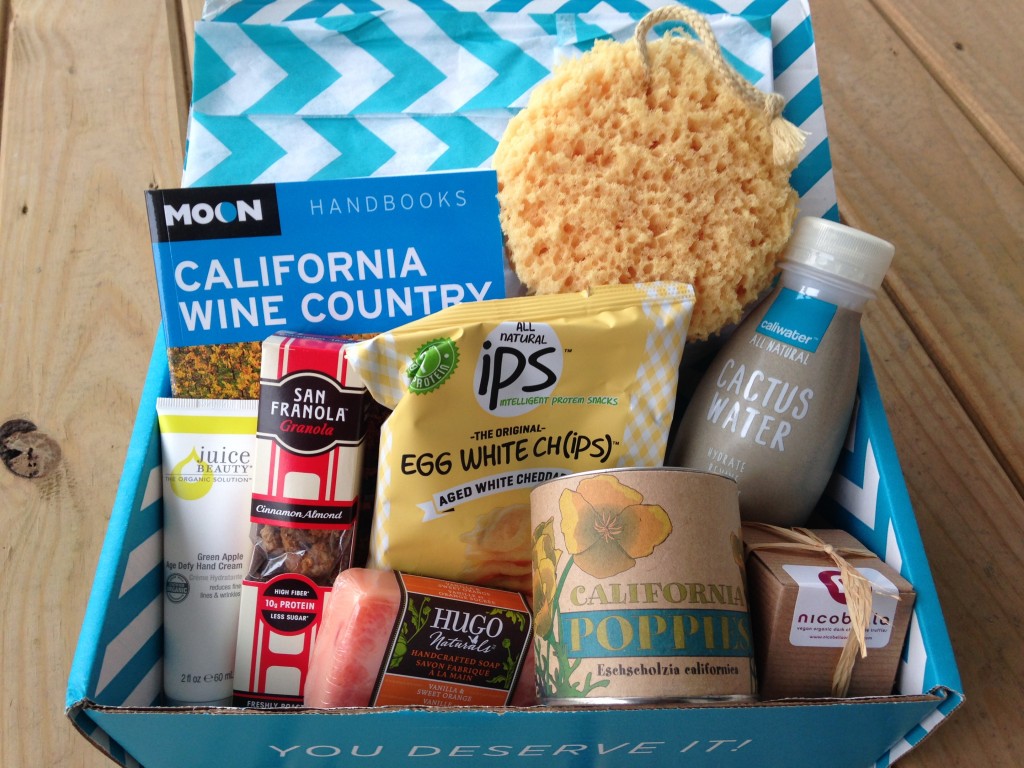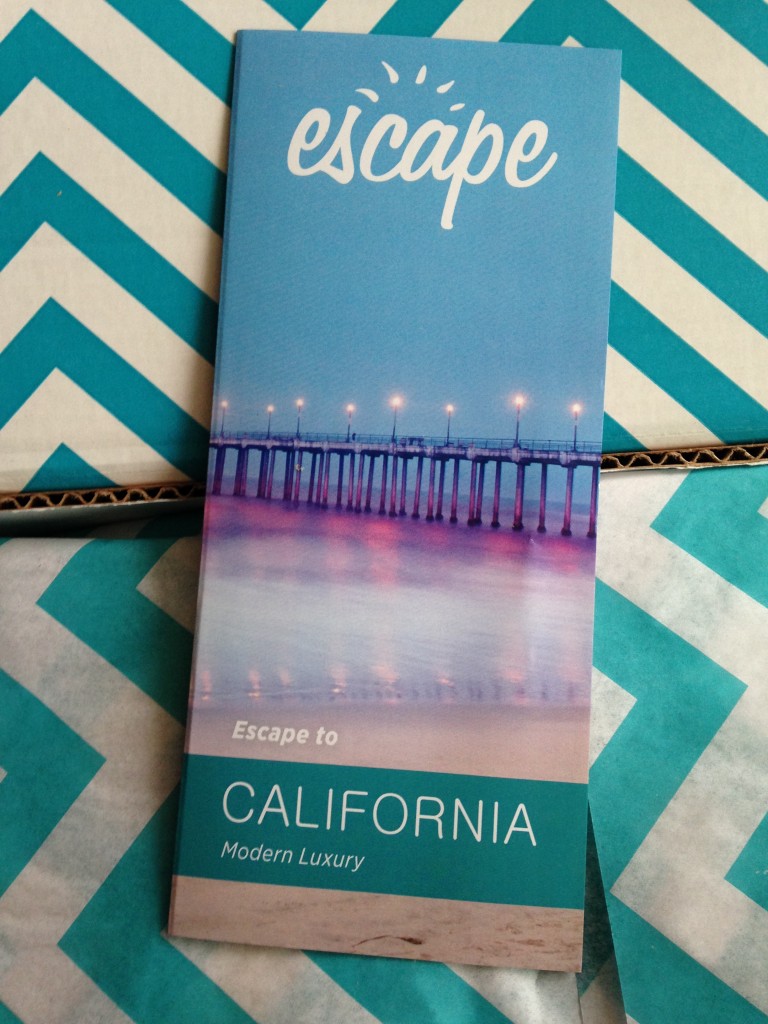 (click to enlarge and read full messaging)
I was really happy to get another beauty tool, since I always get excited about them. I've tried most of the food by now so I've got most of the box covered!
Here's what came in the box:
Moon Handbooks guide to California Wine Country – Ok so the very first Escape Monthly was for California wine country, so I really think they should have chosen a different focus for this month's handbook. A more general look at the state or a focus on NorCal or SoCal would have been nice. It'll be interesting to compare this with the first book we got to see how much new information it contains.
sea sponge – This item made me very happy. I'm a sucker for things like this and the sponge is so soft and comfortable! What a wonderful way to exfoliate gently. It's enough to get the job done without being too rough on skin. I'll be adding this to my shower to use with body wash.
Juice Beauty Green Apple Age Defy Hand Cream – I must admit I haven't tried this yet, but I like this brand and I'm confident I will enjoy this lotion. I've been going through tubes of lotion since I like to lather up after each hand wash and since I drink water non-stop at work, I am going to the restroom quite a bit too. This will be great to add to my collection!
San Franola Cinnamon Almond granola – Not super into granola, but I will get some yogurt to put this on since I really should eat breakfast more. Mine appeared a bit crumbly, but still has big bits. Seems like the box is one serving size.
Ips All Natural Egg White Ch(ips) in Aged White Cheddar – What a strange concept that tastes quite good! I like the idea of egg whites in chip form since I like egg whites, but it's a hassle to cook them. With this, I can get more protein without having to heat up the stove. The white cheddar is nicely mild, not at all overwhelming like some cheeses. They are sort of like puffed chips, which is not my favorite texture, but I gobbled them up nonetheless.
caliwater Cactus Water – Erm, I'm not a fan of this. I wonder if it's just the bottle I got, but it tasted sour and stale to me. I had three sips before I decided to put it away. I mean, I can still take a few sips at a time, but no way I'd drink a whole bottle in one sitting. Just not my type of thing I guess. Too bad, because I could use a drink that is super hydrating!
Hugo Naturals Vanilla & Sweet Orange soap – Well, I just got one of these in my summer Yuzen box so this one will go up for trade eventually. I love the scent, which is sweet and inviting and I'm sure a bar this size would last me ages! This is a brand I like, though I wish I'd get another one of their scents to try since everything has been the vanilla & sweet orange so far.
California Poppies – As always, the bonus item is something special that I'm glad I got. I need to get a planter so I can plant these beauties and some of the shamrock seeds from the Ireland box. There are a ton of seeds, so I'm going to save a stash for next year as well!
nicobella vegan organic dark chocolate truffles – I couldn't tell what flavors I got, but one of them was sour, which was weird. Got to say these aren't the best truffles I've had so I wouldn't purchase, but I do like the packaging and branding so I'm curious about their other products.
There was quite a bit of fluctuation with this, with some hits and misses. Maybe I have extra high standards for this box because it's meant to represent California, but it wasn't one of the best boxes I've received. What did you think of the products in this California Escape Monthly box? If you want to sign up, try one of these codes (not sure which ones are still active): CALIESCAPE for 20% off the lifetime of your subscription or GIFTESCAPE for 25% off.
For June, it's inland to Las Vegas! I don't know what is from that area, so this will be fascinating. So far they offered a sneak peek of a calming mist, so I wonder if the focus will be more on relaxation than the party side of things. We'll see!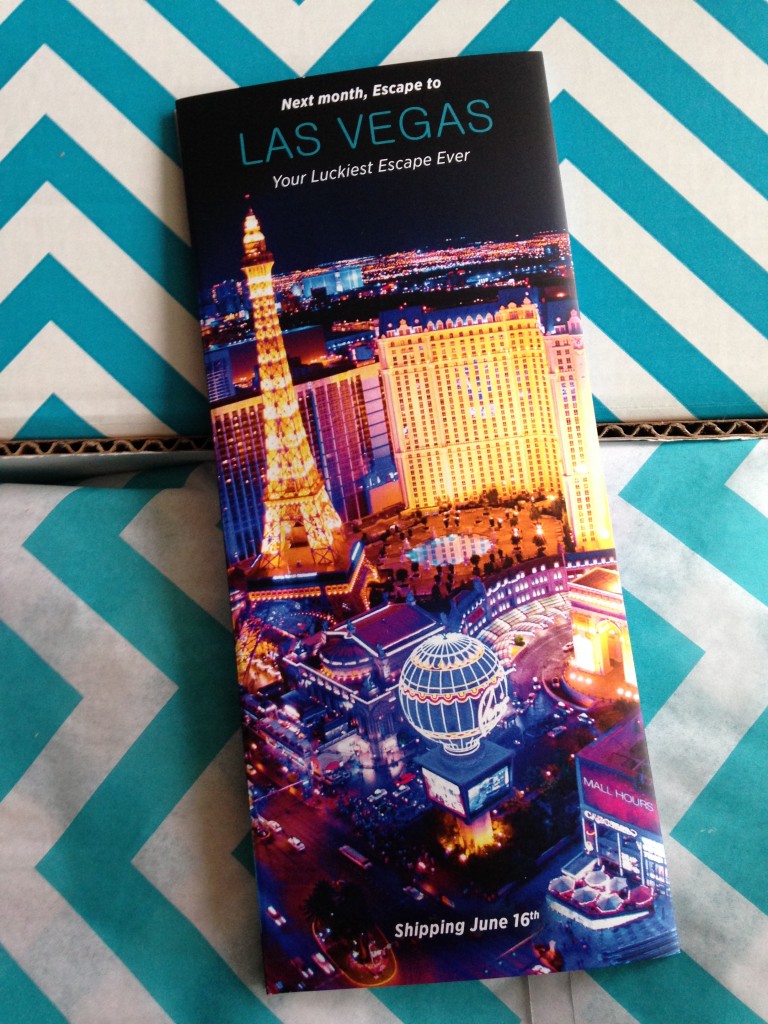 [This post contains affiliate links. Signing up through them helps support my subscription and I'd be ever so grateful. 🙂 All opinions are my own and I received no compensation for this review. I just purchased this box and wanted to share what I got!]
« Prev:Chick-fil-a Military Appreciation Night
Cat cuddling:Next »