This is the first true repeat theme that they've done, so of course I was curious to see how much overlap it would have with the previous box. I personally don't feel this was as good as the first box and especially having received that one, this was rather disappointing. Even just looking at it without considering what I had previously, I didn't feel like the value and variety were there. I guess I prefer boxes with more smaller items versus a larger-ticket item or some medium ones. I'm starting to carefully evaluate the value I perceive I'm gaining from these boxes to decide how much longer I'll stay with them. Another box or two that are under par might make me end my subscription, but for now I'm really intrigued with the possibilities for next month's box.
Escape Monthly is just under $40 per box (with code for 20% off your subscription – see end of post) and comes with a variety of food, home, skincare items themed around a city/region. Each box comes with a guide for that area. Boxes are sent monthly with no option to skip. They offer a referral commission program.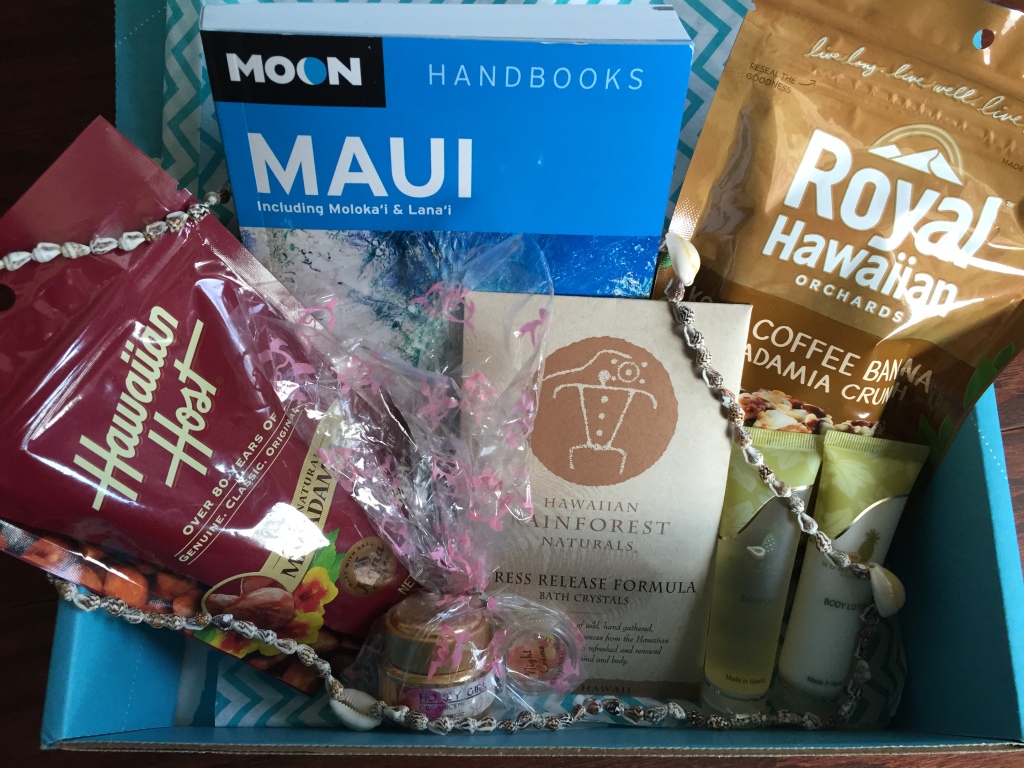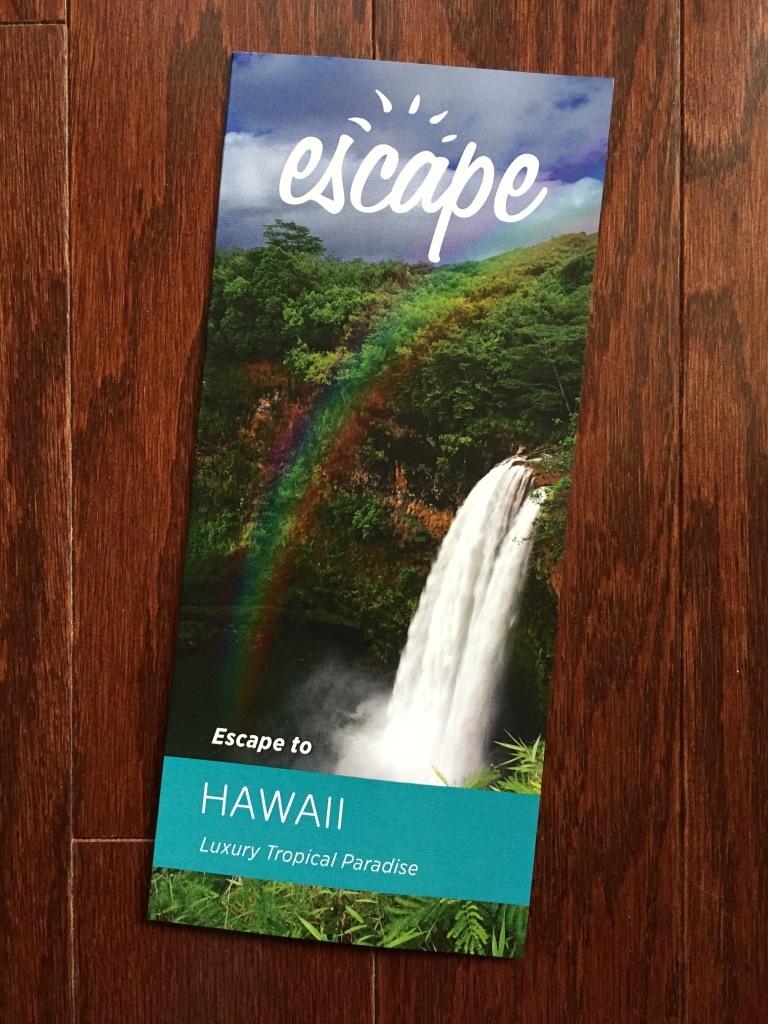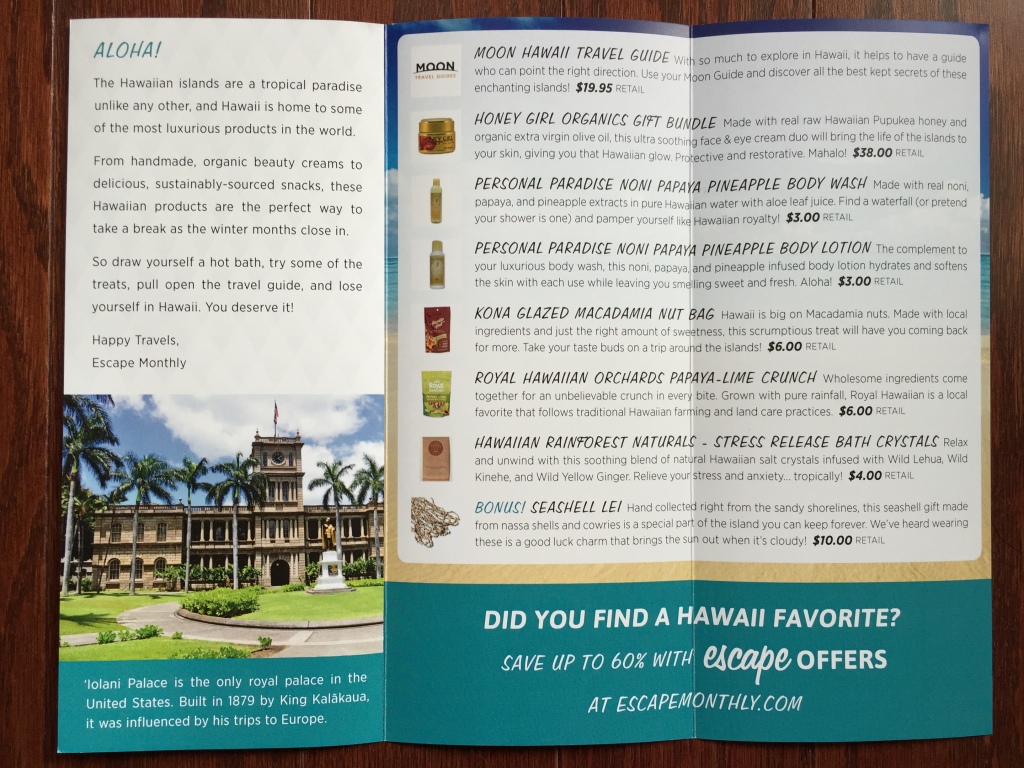 (click to enlarge and read full messaging)
Everything here was new to me, so that was great for introducing me to different items. I like that some of them went full out with the British look while others are just products you might go for any day as you shop around.
Here's what came in the box:
Moon Handbooks guide to Maui – Well, at the least it's good that they didn't send the same guidebook. Last time I got the Big Island and this time I have Maui, which are perfect since so far I've only been to Oahu. With all that new territory still waiting for me to explore, both of the guidebooks I have will be useful.
Hawaiian Host Kona Glazed Macadamia nuts – As always, I'm not into nuts (though macadamia nuts are at least tolerable and even enjoyable at times). What really kills this for me is the coffee flavoring, so I've passed it on to Panda for him to eat. I doubt another flavor would have persuaded me otherwise anyway though.
Hawaiian Rainforest Naturals Stress Release Bath Crystals – This was the only entirely new brand to show up and I think it's pretty cool. I love bath stuff, so this will be great for my next bath when I'm looking to soak away the stress. This pouch is gently sweet and almost reminiscent of baby powder. I find it wonderful that the ingredients are responsibly sourced from the Hawaiian rainforest and I'd love to go there on my next trip. I'm curious what flower essences went into this one, which would have been a nice thing to outline along with the directions for use.
Royal Hawaiian Orchards Kona Coffee Banana Macadamia Crunch – Again with the coffee flavor! I think with one, that should have been enough for this box and they should have included a different flavor. I would have been fine with receiving the same flavor I did with the last box (papaya lime) since that was pretty unique and tasty. Unfortunately, I can't stand coffee flavored stuff, so this has been put in Panda's pile as well. Pity.
Honey Girl Organics Face & Eye Creme and Night Creme – This is the exact same thing from the last box. I wish they'd included any other products from this line, since I would have been happy to try those, but I don't want repeats of the same items! I sure hope someone would want to trade for this. I've barely even used the first set since I have so many other products I'm using too.
Personal Paradise Noni Papaya Pineapple shampoo – We received this brand in the last box, but I like that we get to try their shampoo this time. I like how they have very tropically-inspired scents and I'm looking forward to how my hair will smell after this one. I like the packaging for this brand and I like the lotion that I got in the other box, which I've already used up. Now this is how to repeat a brand across different boxes.
Personal Paradise Noni Papaya Pineapple body lotion – This lotion is definitely a lighter scent than the coconut lime one I got in the original Hawaii box, but I like it as well. It's so refreshing and the lotion is a great consistency. It absorbs into my skin really well and softens my hands right away! I'll totally be using this until it's completely empty too, just like the other tube I had. I'm glad I get to try another one of their lovely scents.
seashell lei  – The bonus item was again a lei, though a different design. I like the use of some cowry shells to change up the pattern and I'll add this to my growing collection of seashell leis from Hawaii.
Well, it was an ok box, but I was to feel more excited about what I'm getting. I think something with koa wood would have been cool, like the bookmark I'd bought on my recent trip to Hawaii. What's your impression of this Hawaii Escape Monthly box? If you want to sign up, try one of these codes (not sure which ones are still active): MYESCAPE or YULETIDE for 20% off the lifetime of your subscription or GIFTESCAPE for 25% off.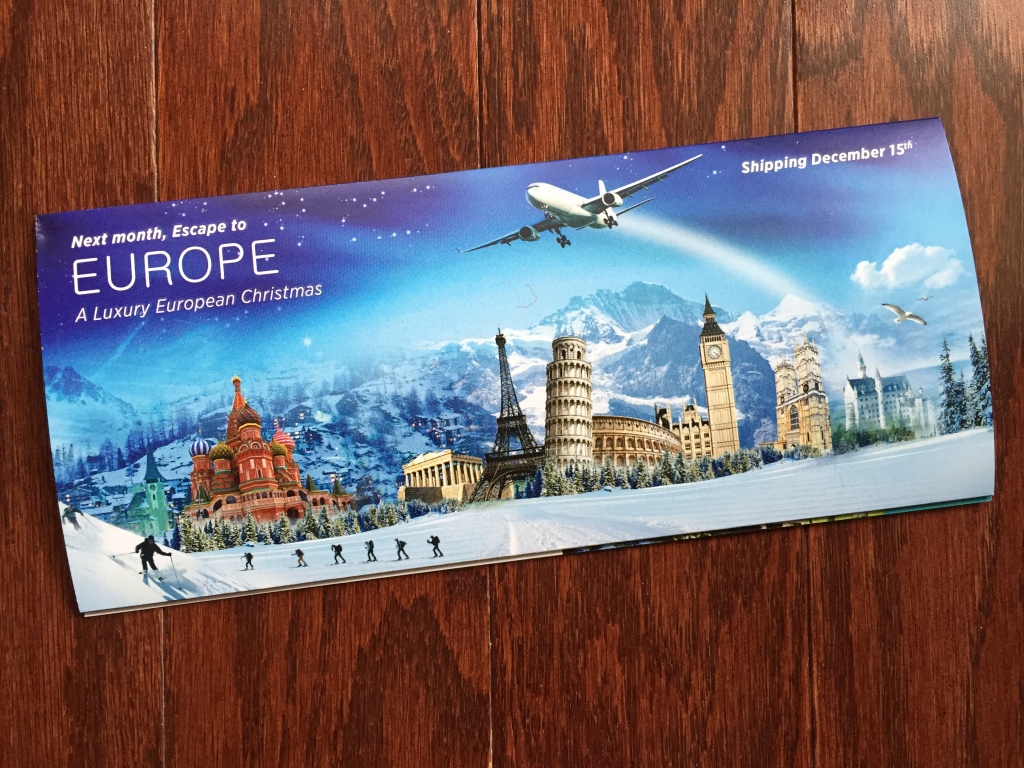 To round up the year is a more general theme, with all sorts of possibilities! I look forward to some European delights. This will help me decide if I should actively consider cancelling this subscription or if I should continue on for awhile. Bring on the good stuff!
[This post contains affiliate links. Signing up through them helps support my subscription and I'd be ever so grateful. 🙂 All opinions are my own and I received no compensation for this review. I just purchased this box and wanted to share what I got!]
« Prev:Black Friday (on Thanksgiving) for a First-Timer
Treatsie November 2014 review:Next »