Vermont is one of those states that I keep meaning to go to, but have yet to make the trip yet. I can't help but think of the Vermont Teddy Bear Company, which I heard a ton of ads for on the radio back in the early 2000s when I was living in New York. I'm pretty clueless about what they have to offer, so this month's Escape Monthly box is a great one for me to explore something new!
Escape Monthly is just under $40 per box (with code for 20% off your subscription – see end of post) and comes with a variety of food, home, skincare items themed around a city. Each box comes with a Moon Handbooks guide for that region. Boxes are sent monthly with no option to skip. They offer a lovely recurring referral commission program.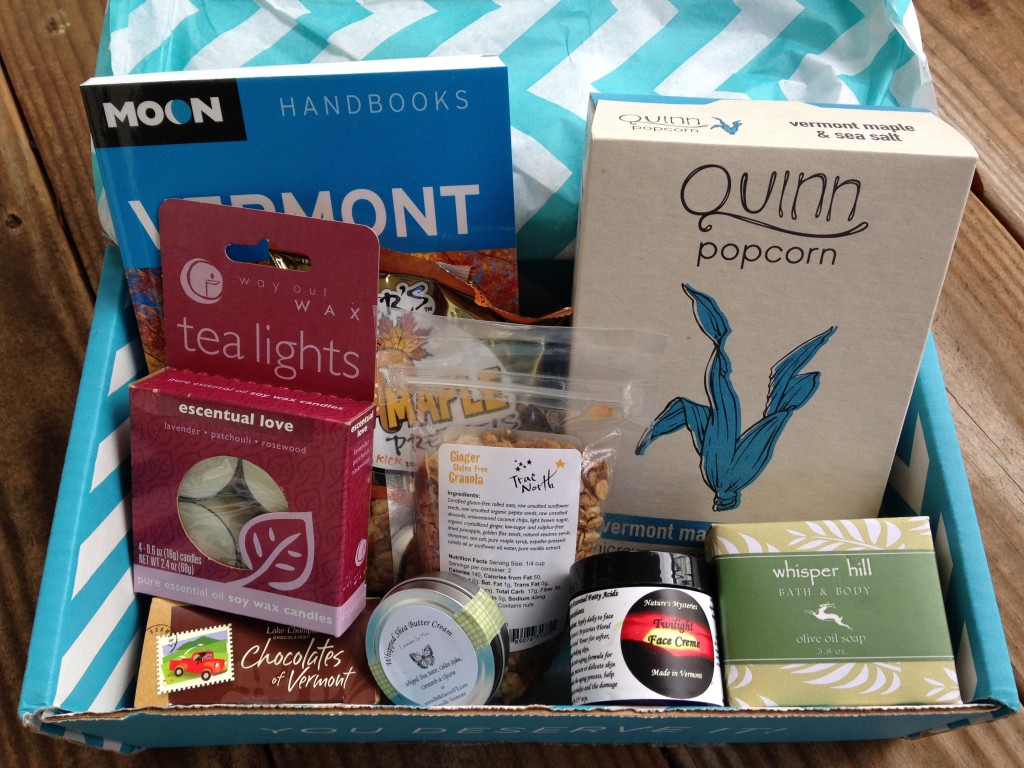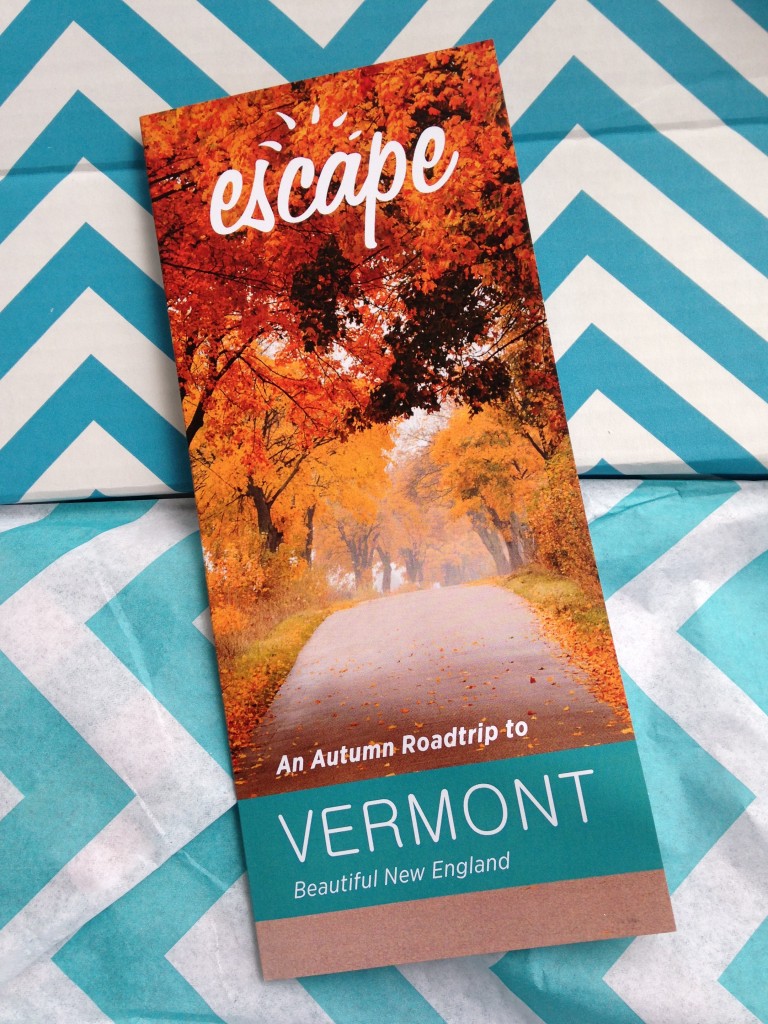 (click to enlarge and read full messaging)
I must admit, when I first opened the box I was kind of disappointed that there were only nine items, but once I started digging in, I was pretty pleased with what they included. I think part of it is because there was no tool type item this time, whether a brush or scrubber or what have you – I really enjoy getting those items! Despite that, I was pretty impressed with the products in this box, which were all quite eco-friendly. I'm liking Vermont!
Here's what came in the box:
Moon Handbooks guide to Vermont – As always, the knowledge packrat in me enjoys getting these so I can learn a ton about Vermont. Now the issue is actually getting around to reading them… I figure I'll get around to it whenever we plan a trip to the area. Until then, I'm getting a nice collection of these handbooks to reference.
Way Out Wax Escentual Love Tea Lights – These little tea lights are scented with lavender, patchouli, and rosewood for a soothing scent that reminds me of many of the items in the Whole Body section of Whole Foods. This type of smell also reminds me of the calm of yoga, which is perfect for relaxing with. I love that they are made with soy wax with the simplest ingredients you could imagine. I can definitely feel good about burning these!
Distler's Maple Pretzels – I'm a fan of mixing salty snacks with some sweetness, so these are a nice snack for me. Usually pretzels are too dry and salty for me, but the sweetness of these is perfect for counteracting some of that feeling. I still can't eat too much at once since they're very crunchy and I can feel them grinding, but I enjoyed them! If I see them in a store, I'd likely get another pack.
True North Ginger Gluten-free Granola snack pack – Mmm, yum! I like this granola a lot. It has a lot more variety of seeds and other bits and the flavor is nice and strong. It's not too hard and dry like some other granolas so I could definitely eat this frequently. I'd love to get some yogurt to also eat with this – then I'd feel so healthy!
Quinn Popcorn in Vermont Maple & Sea Salt – I'm not usually a popcorn fan, but this flavor does sound intriguing. It's been ages since I've microwaved a bag of popcorn and I want to save these for a night in when I want a nice hot snack. I'm starting to learn that this whole Vermont maple must be a popular thing. I usually think of Maine when I hear about maple!
Whisper Hill Olive Oil Soap in Bergamot – This is a good-sized soap with a really nice scent. I have a ton of soaps so I won't open this one just yet. I like the concept of olive oil soap though and bergamot's a lovely scent. I can imagine this being one of those super lathery soaps that makes using them super fun.
Nature's Mysteries Twilight Face Creme – Ooo, this is super rich and hydrating. Exactly what my skin needs in this chilly weather! It's not as thick as I thought it might be, but boy does it apply and absorb well. It's vegan and contains no synthetic ingredients, which is wonderful. I'm definitely adding this to my face routine so my skin doesn't get dried out from the winter air.
Belle Savon Lavender & Mint Whipped Shea Butter Cream – This shea butter is sooo creamy and it smells fab. I love the combination of lavender and peppermint for a refreshing sweet scent. It smells so good I want to just gobble it up. My hands will be thanking me when I apply this! I'll have to check out their line of other products. I know I'm going to want more!
Lake Champlain Chocolates of Vermont – What adorable chocolates. Each comes with a fun design, whether shaped like a mountain or pressed with a maple leaf design. I enjoyed them all but have a particular weak spot for the Maple Crunch's toffee bit inside dark chocolate. The other flavors are Honey Caramel (gooey caramel in dark chocolate), Evergreen Mint (peppermint crunch in dark chocolate), and Green Mountain (roasted almonds and dried fruit in milk chocolate).
Do you like this month's Escape Monthly box? Do you think it represents Vermont well? Get Escape Monthly for yourself! Sign up here and try one of these codes (not sure which ones are still active): ESCAPENOW for 20% off the lifetime of your subscription, ITALIANESCAPE for 20% off, GIFTESCAPE for 25% off.
Next month, we get to go outside the US for the first time!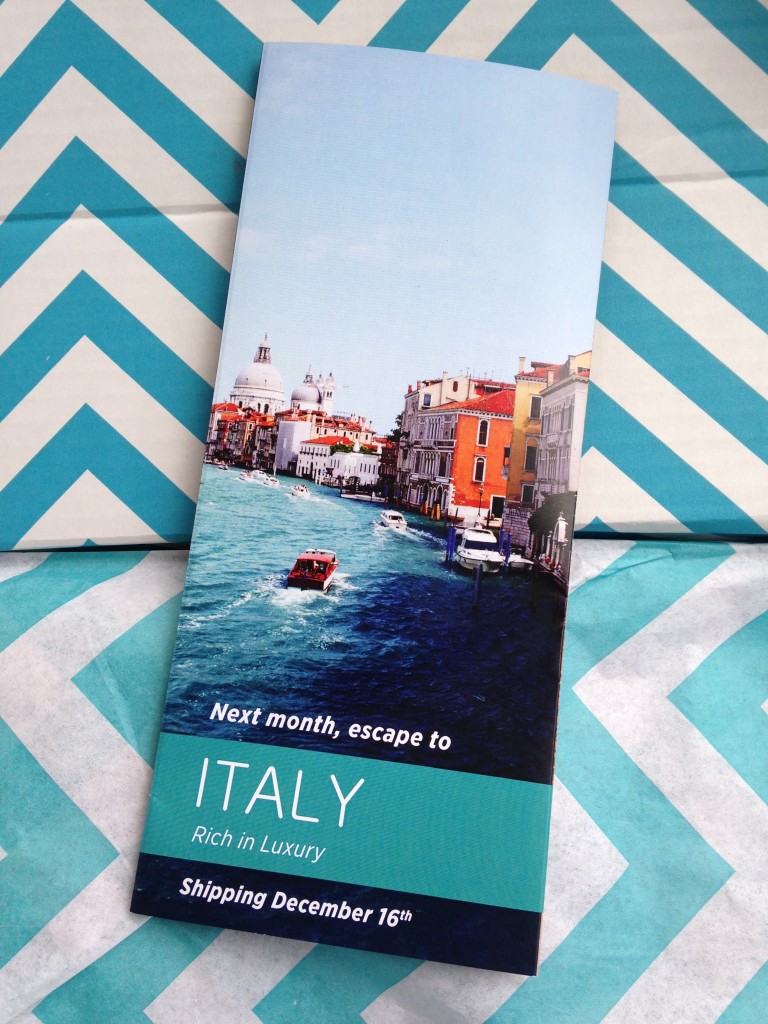 [This post contains affiliate links. Signing up through them helps support my subscription and I'd be ever so grateful. 🙂 All opinions are my own and I received no compensation for this review. I just purchased this box and wanted to share what I got!]
« Prev:365great Day 254: Trism
365great Day 255: ATVing:Next »