Ah, as the weather cools down, it's a great time to think of warmer escapes. This month's Escape Monthly theme is Hawaii and it's a nice way to get your mind off the coming winter months. Too bad I didn't win the trip as well, but Panda and I might just vacation there again next year anyway!
Escape Monthly is just under $40 per box (with code for 20% off your subscription – see end of post) and comes with a variety of food, home, skincare items themed around a city. Each box comes with a Moon Handbooks guide for that region. Boxes are sent monthly with no option to skip. They offer a lovely recurring referral commission program.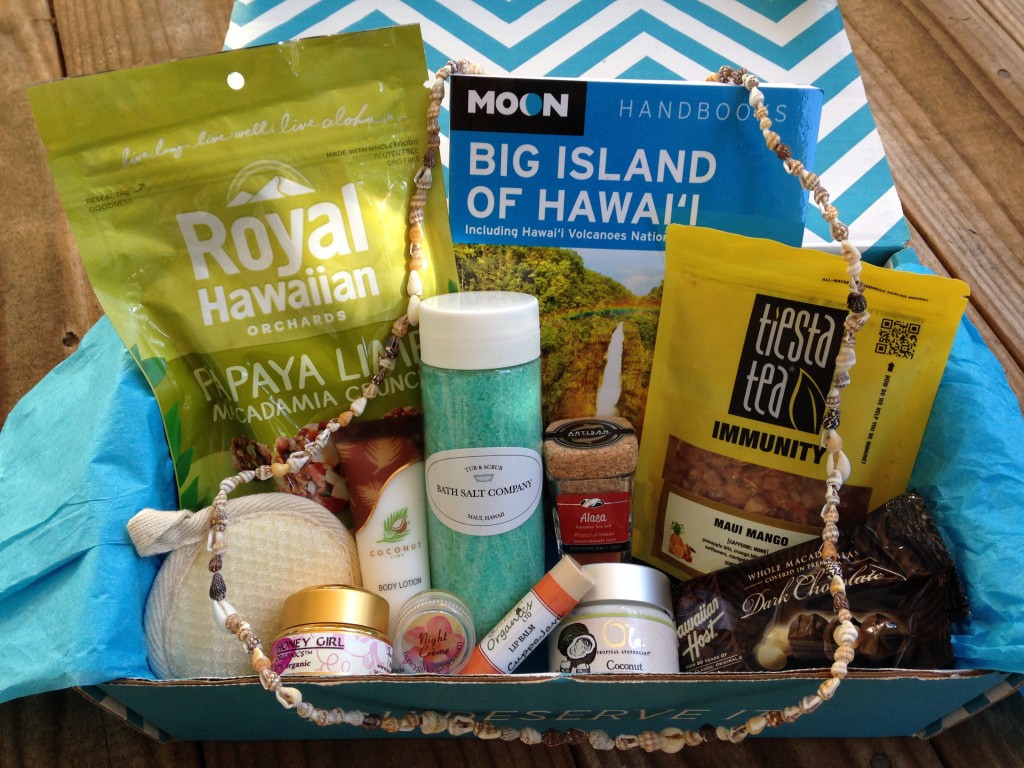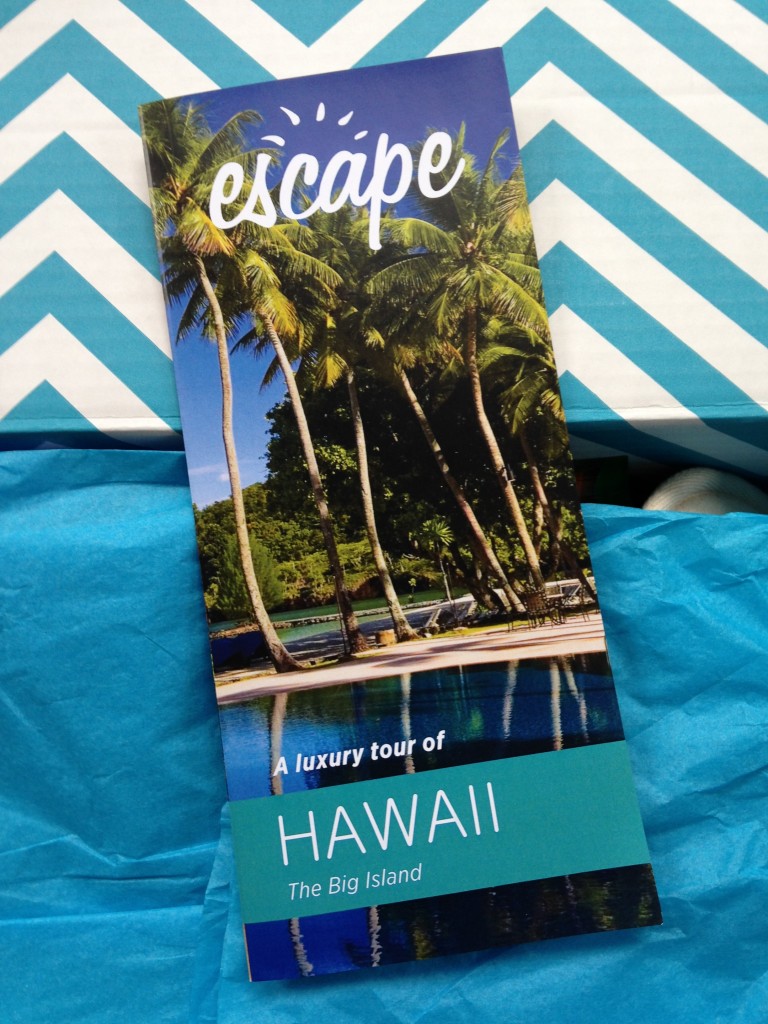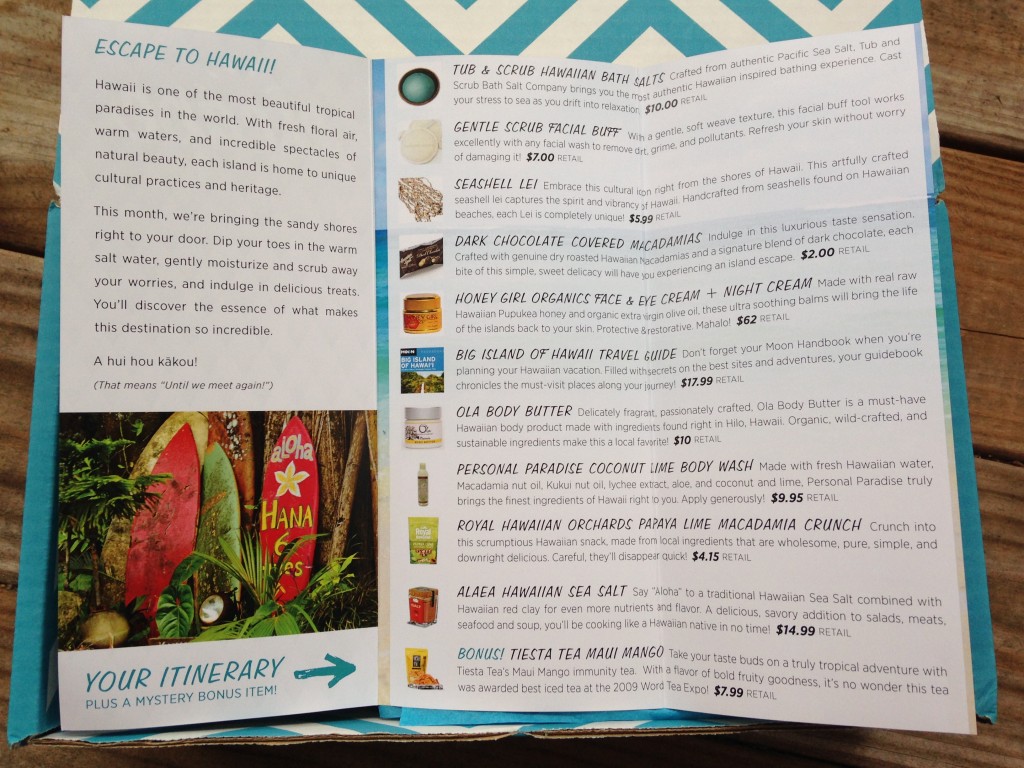 (click to enlarge and read full messaging)
I think we can all agree that Hawaii is a pretty fantastic place. Those who have been want to return and those who haven't have it on their bucket list! Luckily, I've been twice in my life and had great memories both times. This box covered some great items made locally and definitely highlighted more tropical flavors. I like the range of products included! Totally feeling that island vibe.
Here's what came in the box:
Moon Handbooks guide to Big Island of Hawai'i – This is perfect for a future trip, since so far I've only ever been to Oahu and the next trip to Hawaii will definitely be to another island. When I decide to go check out the Big Island, I'll be well-prepared. There's some great information in here and I love that there's a section for honeymooners so Panda and I know what we can do for a romantic vacation.
Royal Hawaiian Orchards Papaya Lime Macadamia Crunch – I generally find some tropical fruits like mango and papaya to be too strong for me, so I was skeptical of this snack even though it looks fab. After tasting it, I can't say that I'd want more but it was interesting to try. The lime did help quell some of the papaya but overall the flavor mashing was still too strong for me. Plus, they're nutty and I'm not much of a nut fan as it is.
gentle scrub facial buff – Oftentimes, these fun products are one of my favorite items in the box and this is no exception. I totally need a facial buff pad like this to help work away my acne scars and help prevent buildup for future breakouts. Absolutely love it and I'll be using it the shower when I wash my face.
Personal Paradise Coconut Lime body lotion – This lotion smells wonderful and absorbs well. I'm totally going to be using it after I wash my hands. It absolutely reminds me of being out in Hawaii and I enjoy the scent that wafts up after I apply it.
Tub & Scrub Hawaiian bath salts in Oregon Rain – Haha, was it purposeful that they went with the Oregon Rain scent? I wonder if that's a coincidence or if they meant to tie it in to the previous box's theme. Whatever the case, it smells refreshing and soothing all at once. I'm drawing up a bath right now to go try it out! Can't wait. 🙂
Alaea Hawaiian Sea Salt – Freakin' adorable packaging makes this cool already. It's so cute I almost can't bear to open it… but I will eventually. I'll try it out next time we cook and then I've got to find a way to repurpose the jar once I've used it up. I'm a sucker for good packaging.
Tiesta Tea Immunity Maui Mango – This is actually a tisane rather than a true tea, since all ingredients are just fruit and flower parts, with no actual caffeine content. It looks really fun but I'm hesitant to open it to try since it has mango and I'm just not into that flavor. However, the pineapple and orange might mask much of that flavor so I'm curious how it'd taste. I'll probably try it eventually.
seashell lei – This is a cute little necklace that will be decoration somewhere. I don't have much use for it, but I'll keep it around and bring it out for any tropical themed needs in the future.
Honey Girl Organics Face & Eye Creme and Night Creme – I totally saw these when I was out in Hawaii and was super curious about the brand! I'm really glad I get to try them out now. The face & eye creme is really rich and thick. I'd probably use it more at night. The night creme is fascinating… it kind of melts with your body heat and seems greasy but is like this layer of softness. It feels really healing!
Ostara Organics lip balm in Cuppa Java – Well, since this is supposed to be a coffee scent, I'm going to save it for someone else. I don't drink coffee and I'm not a fan of the smell, but there certainly are plenty of people who do like it. In fact, maybe I can give this to Panda since he needs to use more lip balm especially as the winter approaches.
Ola body butter in Coconut – I didn't want to break the seal on this one just yet, but I'm totally using it this winter. It seems like the perfect product to keep my skin hydrated in the bitter cold. I love the size too, which is easily portable and will last me for quite a few uses. Funny how a tropical thing can be so fitting for very non-tropical conditions.
Hawaiian Host Dark Chocolate Covered Macadamias – Mmm, yummy! This is a nice snack with rich flavors, just enough sweetness, and a wonderful crunch. It's a great way of highlighting macadamia nuts in a delicious treat. I'd totally eat more of these.
So what do you think of this Escape Monthly box? Have you been to Hawaii before? If you want Escape Monthly for yourself, sign up, and try one of these codes (not sure which ones are still active): ESCAPENOW for 20% off the lifetime of your subscription, TROPICALESCAPE for 20% off, GIFTESCAPE for 25% off.
And a preview of next month: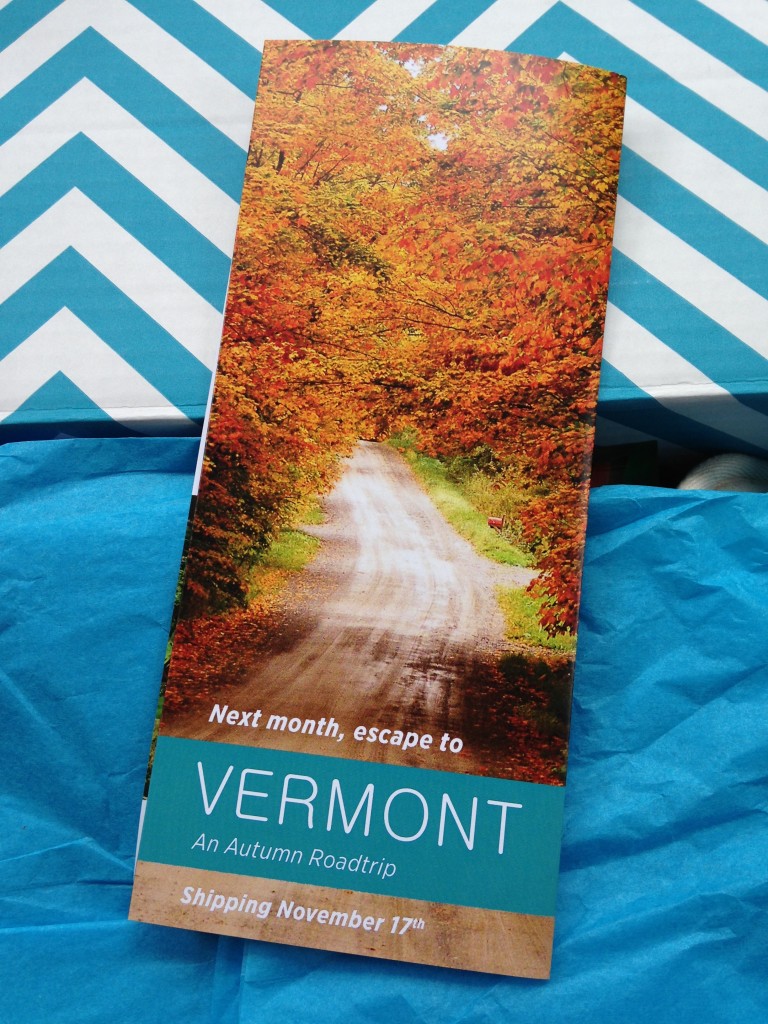 [This post contains affiliate links. Signing up through them helps support my subscription and I'd be ever so grateful. 🙂 All opinions are my own and I received no compensation for this review. I just won this box and wanted to share what I got!]

« Prev:365great Day 226: caramel
365great Day 227: Venus flytraps:Next »