What an insane weekend! It was the first time that we first year MBAs didn't have class on Friday and boy did we take advantage of that.
Thursday afternoon it started off wonderfully lax as I sat in the courtyard chatting with classmates after class. I went home about three hours later and worked on my first cover letter for an internship application. Around 7:30, I went out to a bar that many of my classmates were at and socialized until nearly 10. At that point, I was ready to leave and eat dinner! Three of us went across the street to try to get food, but they had just closed the kitchen, so we walked over to a pizza place instead.
It was so nice to actually be able to go out and spend time getting to know classmates, some of whom I hardly ever see since they're not in my cohort. The next day, I got to sleep in, which was fabulous. My roommate was going down to the pool, so I went along and brought my computer so I could edit my cover letter based on feedback from a mentor. In the afternoon, I went on campus to meet with a second year to get more tips on how to tweak my cover letter. To round things out, I asked one more mentor for insights and then I felt pretty ready.
By then, it was time to head off to Fusion BBQ, which was a mix of foods from black, Latino, and Asian cultures. We hung out at Echo Park chatting and eating for nearly 4 hours and I completely forgot to get a picture of the food spread. At 10 or so, we headed off to part two in K-Town, stopping by two places to meet up with others. I thought that I was going to head home as they left around midnight to go to the Line Hotel, but then we ran into more classmates outside and I decided to go along with them.
At the hotel, they got tables so we sat there as some people danced nearby. It was extremely hot, everyone was crowded in, and the floor was sticky. Felt like your typical nightclub. I was standing outside when they started to close the place down not long after 1:30 and they almost didn't let us back in to get our valuables! I don't think I'll be going back there again, especially after the insane charge for the table.
I was giving a couple of people rides home, but at the first stop we decided to just go hang out in the apartment for a bit. The four of us went up and woke up the guy's roommate, who hadn't made it to the festivities. We hung out there chatting for over two hours before calling it a night. I was starting to crash and absolutely knackered from the evening I thought would end by midnight. At 5, I happily climbed into bed for a few hours' sleep.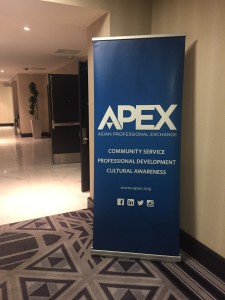 Saturday morning I had to get up at 10 to attend a professional event at the Sheraton (APEX Leadership Conference: Reinvent Redefine Rediscover). I walked over and made it there on time to meet a couple of cool people who help run APEX. The first session of the day was either Personal Branding or Global Networks. I went to the Personal Branding one, mostly because I was curious about hearing from a female speaker. I wish I had gone to the other one since much of what we talked about was exactly what I've been learning in business school, but I did meet two wonderful ladies, so I'm grateful for that.
After lunch, we broke up into other sessions and I chose the Negotiating one (there was one about Managing Up in the other room). It was a really great session run by Lisa Gates of She Negotiates and I felt like it helped me figure out my value proposition a bit better. I even got a chance to speak in front of the room and share a bit of my story! We then spoke with the person sitting next to us and as coincidence would have it, my partner turned out to be a rising YouTuber, Kevin Yee. You should check out his YouTube channel! He's super chill and a great person, so I'm glad we sat next to each other. He even interviewed me briefly for his vlog. 🙂
I wasn't as interested in the final sessions, plus I wanted to catch part of the tailgate, so I left around 3 to walk back to my apartment and drive down to campus. At the tailgate, I met some older alum who graduated over a decade ago. One was having a blast making crazy tower creations out of empty cups! I then hung out with a bunch of folks from the first and second year classes and as the tailgate ended, we made our way to one person's apartment to watch the game. I was there until about 9. Since the Trojans were beating the Sun Devils by quite a bit, I didn't stay for the end of the game. After so much being out, I was ready to go home and chill!
Key lessons from yesterday:
Talk to people you sit next to. You might just make some friends!
Skateboarding with a pencil skirt works just fine; cartwheeling with a pencil skirt does NOT work.
Now it's time to get back down to business and write up my next cover letter, prepare notes for the marketing final, and study data for the quiz on Tuesday… #mbalife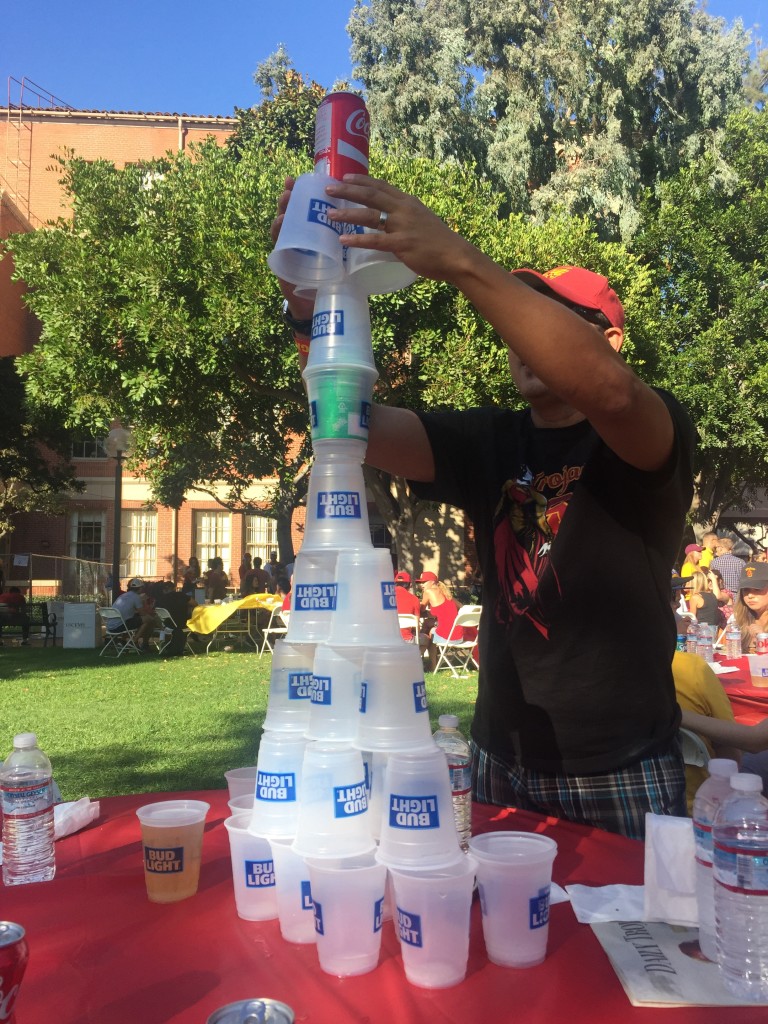 « Prev:USC Own It Conference 2016
The craziest week:Next »