Here's a quick review of the last two Goodies boxes as I wait for my June one!
I totally forgot to take a picture of the April box since I got caught up filming the unboxing, so here's an awkward screenshot from the video.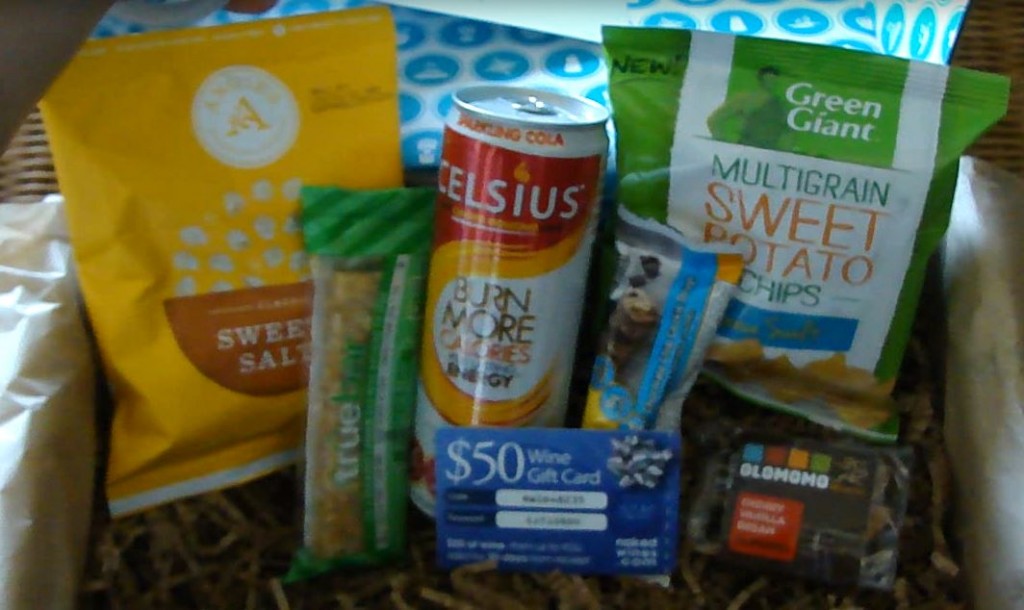 It came with Angie's Popcorn in Sweet & Salty Kettle Corn, True Bar Coconut Cashew bar, Celsius Sparkling Cola energy drink, Zone Perfect Chocolate Chip Cookie Dough bar, Green Giant Multigrain Sweet Potato chips, Olomomo Cherry Vanilla Dream Almonds, and a $50 gift card for nakedwines.com. The kettle corn was a little sweet for my taste, but great for anyone who likes their popcorn sweet. The sweet potato chips tasted quite good, though they were a bit greasier than I expected. The Celsius drink tastes funky to me, probably due to whatever they use to sweeten it, plus I don't drink energy drinks, so it was just "meh" to me. The Zone Perfect bar was a bit too dense and energy bar tasting (vs. like a snack bar). I haven't tried the others yet and I have no use for the gift card since I don't drink! I think they probably could have included one more salty item rather than so many sweet treats, but otherwise it was good to try out these snacks.
Then there was the May Taster's box, which was my favorite so far (probably due to the candy ;)):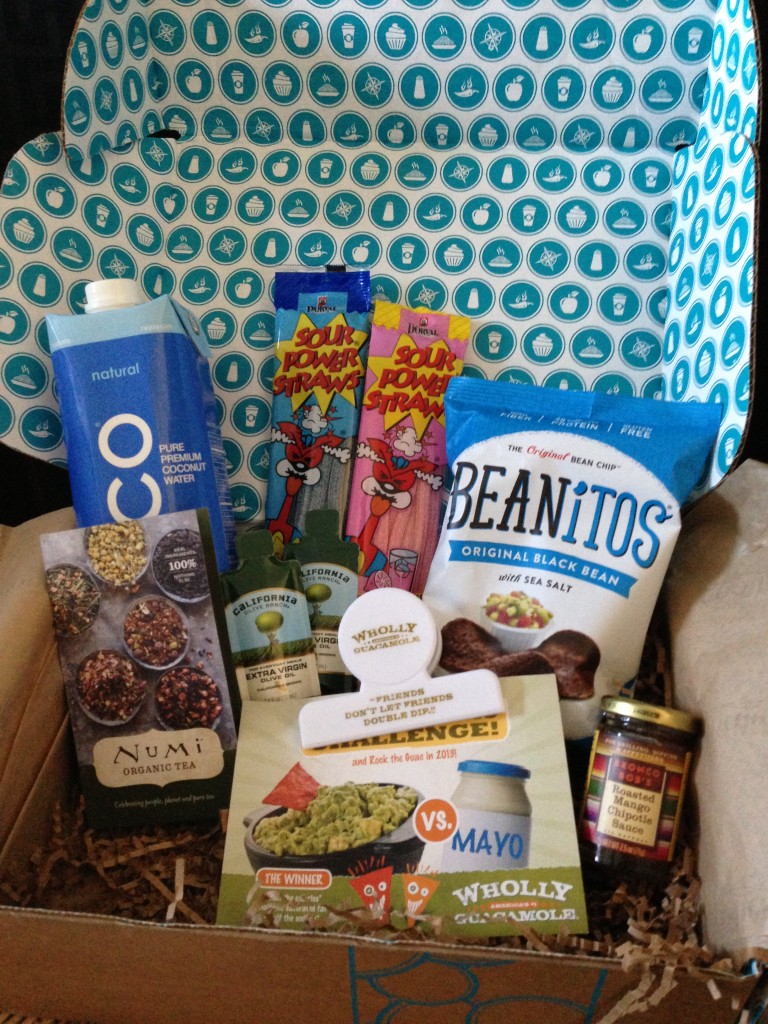 This was also the most varied box of products, with not only snacks and drinks, but dips/sauce and kitchen items! It came with Zico Coconut Water, Sour Power Straws in Pink Lemonade and Blue Raspberry, Beanitos Black Bean chips, Numi Moroccan Mint tea, California Olive Ranch Olive Oil packets, Wholly Guacamole chip clip and coupon, and Bronco Bob's Mango Chipotle sauce. Oh yeah, there was also supposed to be SuperSeedz Sea Salt Pumpkin Seeds, but mine was missing and I just got it – haven't had a chance to try them yet. As for the rest, I tried to enjoy the coconut water but I'm just not into it, the sour straws were yummy (pink lemonade all the way!), the black bean chips were kind of bland, and I haven't tasted the others yet. I'm looking forward to cooking with the olive oil and sauce, once I figure out what I can actually cook, haha. The chip clip has been quite useful for my snacking and I do believe I've had the Wholly Guacamole brand, which is good.
I'd say the May box was their best yet and I hope they continue like this for the coming months!
« Prev:365great Day 92: rays
365great Day 93: my ring:Next »