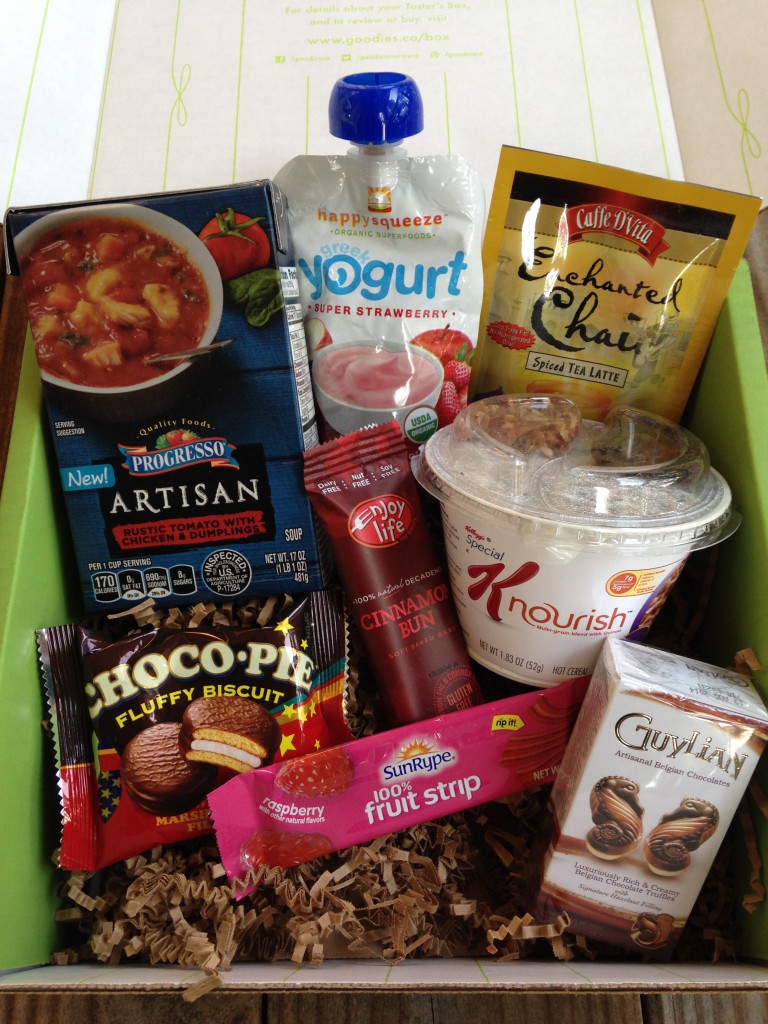 This was my favorite box yet! Not only did it come with a ton of items, I'm interested in every single one. The selection was pretty broad, with everything from a hearty soup to a sweet dessert treat. This box included Progresso Artisan Rustic Tomato with Chicken & Dumplings soup, happysqueeze Greek yogurt super strawberry organic superfoods, Caffe D'Vita Enchanted Chai Spiced Tea Latte, Special K Nourish hot cereal, Guylian Artisan Belgian Chocolates, SunRype raspberry fruit strip, Enjoy Life Cinnamon Bun soft baked bar, and an Orion ChocoPie fluffy biscuit.
I've never had soup from a box, so the Progresso Artisan soup should be interesting. It looks good and the perfect kind of hearty you'd want on a chilly night. I had the happysqueeze Greek yogurt strawberry mush thing this morning and quite liked it. I could definitely tell it was an apple sauce sort if base. It was fun and super easy to suck/drink it and I'd get some to have on days when I need a boost. I can't wait to try the Caffe D'Vita Tea Latte. It looks delicious and I've never tried anything like it before. All the tea lattes I've had so far have been from coffee shops so I'd love to make my own. I thought the Special K Nourish hot cereal was an oatmeal thing, but then I was surprised when it had some salty undertones. It tasted decent but I'd prefer it sweet. When it came to the Guylian Belgian Chocolates, I had to hold back from gobbling up both pieces. I like the little bit of grittiness in these treats and the luxuriously smooth texture. The SunRype raspberry fruit strip was a nice fruit leather that isn't too sweet. I didn't find it very easy to tear though – that would have made it even more fun to consume! The Enjoy Life soft baked bar had a lovely texture that was soft with crispy bits. The flavor was a bit overwhelming for me, with something I couldn't quite place. If you like very fragrant stuff, this would be excellent for you. And to round it all out was the Orion ChocoPie fluffy biscuit that was delightful. It's very soft with a marshmallow center that is sort of firm and a soft crumbly biscuit sandwich. I enjoy these and finished it right away.
All in all a wonderful box that had yummy products I'd totally purchase. Loved it! What do you think of this selection?
« Prev:365great Day 228: Neal's Yard Remedies
365great Day 229: blissmobox:Next »