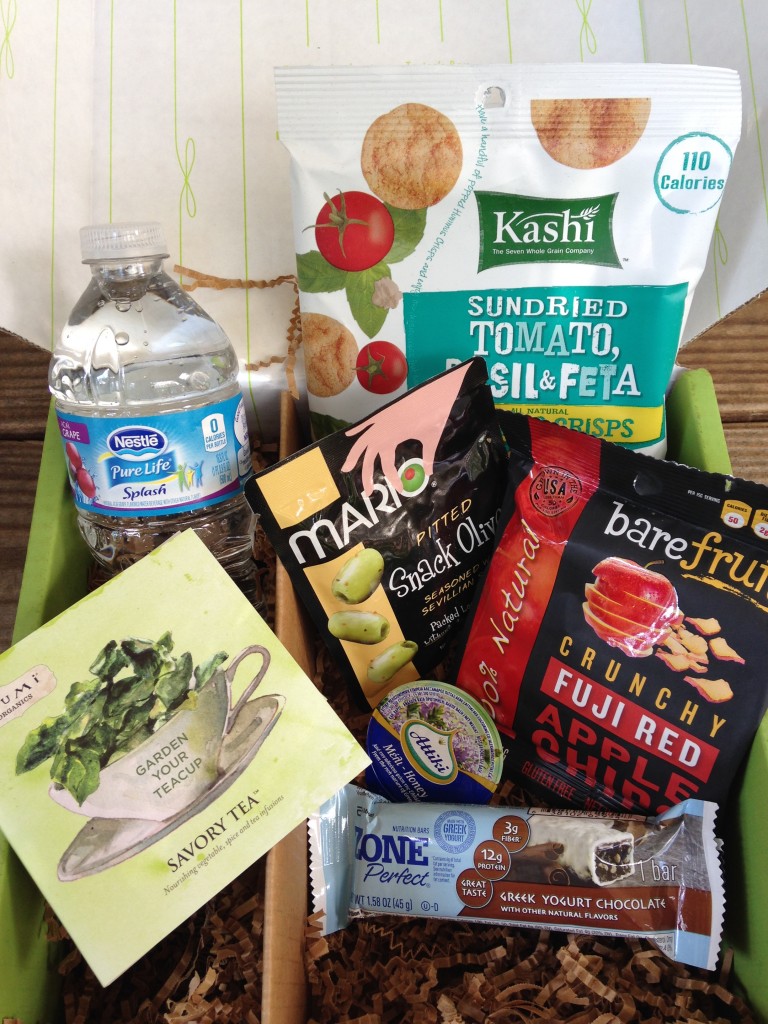 Here's my September Taster's Box #3, which included a bottle of Nestle Pure Life Splash in Acai Grape, Mario Pitted Snack Olives, barefruit Fuji Red Apple chips, Kashi Sundried Tomato, Basil & Feta Hummus Crisps, Numi Savory Tea in Spinach Chive, Zone Perfect Greek Yogurt Chocolate bar, and Attiki honey. You can find my unboxing video online soon.
I was super surprised by the Nestle Pure Life Splash since I didn't expect it to have such a strong flavor. I thought it'd be like those waters at hotels where they put some fruits in there to give it a hint of flavor. Instead it's this sort of indescribable drink that is like drinking water with the taste of juice. Pretty good! I'm not really a fan of olives, but I gave Mario Pitted Snack Olives a chance. Since they're seasoned with spices, I thought they might taste kind of like a pickled vegetable and I love almost anything brined! Unfortunately, I still don't like that olive taste though I did like the firm texture of the olives. It tasted a bit bitter to me to though and I can't say I'll ever want to eat olives, no matter how they're flavored. On a completely different note, the barefruit Crunchy Fuji Red Apple chips are something I really like. It's not new to me but it's something I enjoy so I certainly enjoy having a little bag to bring to work! Out of the apple types, this is my absolute fav too. Then there's the Kashi Sundried Tomato, Basil & Feta Hummus Crisps, which are yummy! They have a stronger flavor than the sea salt ones I got to try for free from BzzAgent but I like them both depending on whether I want a strong taste or something more mild. When it comes to the Numi Savory Tea I must admit I'm intimidated. Spinach and chive tea?! I don't know about that… I'll have to try it out soon before I lose the nerve, haha. Next up is the Zone Perfect Greek Yogurt Chocolate bar that is quite good. I don't normally eat bars, but I could see myself eating this regularly after a workout (if I ever worked out!). And then there was the Attiki honey that had me confused at first – was it supposed to go with something? I guess it's a stand-alone sample and I'm not sure if it's normal that mine is less than half full. It's pretty good with a more intense flavor than the honey I'm used to. That must be the thyme they used to make the honey with!
This time the box was ok for me, with some items I already knew and a few I'm not so sure about. There were a few I do enjoy and would definitely get more of though! What did you get in your Goodies box? What are your thoughts on these snacks?
« Prev:365great Day 191: volunteering
365great Day 192: dumplings:Next »