I was checking my Alexa rank today, wondering what sort of influence people might think I have as a blogger and I was pleasantly surprised to find that I'm ranking in the UK! If you're not familiar with Alexa ranks, it basically tells you how trafficked your website is. So the number is telling you that you're in the top ## of active websites.
I typically hover in the 2 million mark globally and 700-800k in the US. Two years ago, I was randomly ranking in Turkey at around 100k (with 60,491 as my best). Since then I haven't ranked in a foreign country as far as I know. But today, what a cool thing to see that nearly HALF my traffic is from the UK and I'm 177,368th in line.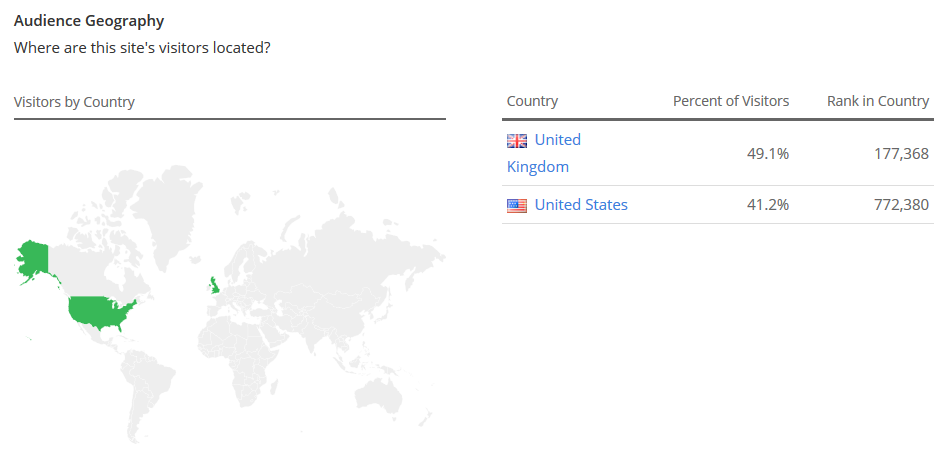 Most US-based bloggers will see at least 80% of their traffic come from the US, so there must be something in the air to make all these Brits visit my site. Pretty cool and a fun little fact to make me smile. If I ever find myself focusing on building my blog more, I'll aim to bring my global rank back down below 1 million. The best I ever had was 884,613 two years ago (whoa, on Panda's birthday, I just noticed :)). My best US rank was 180,889 about a month before that. I'd love to beat those numbers again one day. It's fun to see traffic grow and watch the ranks improve!
So wherever you are, I'd love to see you stick around.
« Prev:Do it for yourself
Treatsie January 2016 review:Next »