Hmm, I guess they reverted back to printing out inserts. This box is similar to a combination of two previous boxes (my very first one with sprouts and one with almond milk). I like that sprouts are completely different ones and the focus was a unique theme of raw foods.
The Homegrown Collective GREENBOX is $39 per box + $9 shipping (or as discounted as $429 for an entire year, with options in between) and comes with fun and easy projects to live a more sustainable lifestyle. Boxes are sent monthly with no option to skip. They offer a referral program you can apply to join.
Project #1, growing sprouts/sprouting: Wow, there are so many different sprouts to try! I've really only had bean sprouts and alfalfa sprouts before (pretty sure brussel sprouts aren't actually sprouted). I'll have to test each of these to see which is tastiest. Maybe they all are, and that would be great. These would be super easy to throw in a salad or atop my regular meals. Seeds are powerful things and I have no doubt that sprouts offer great health benefits.
Project #2, chocolate almond milk: While I am not a fan of almonds, especially anything made from them, I'm curious how a chocolate milk would be. I started to try to make the original one I had from the other box, but I left the almonds sitting too long and it grew mold so I had to throw them away. I haven't quite gotten around to retrying just yet, but I will!
These are simple projects yielding all sorts of edible results. I would have liked to see one project using some of those seeds and making a face mask or something from them. Otherwise, this box was good, with a variety of easy plants to deal with.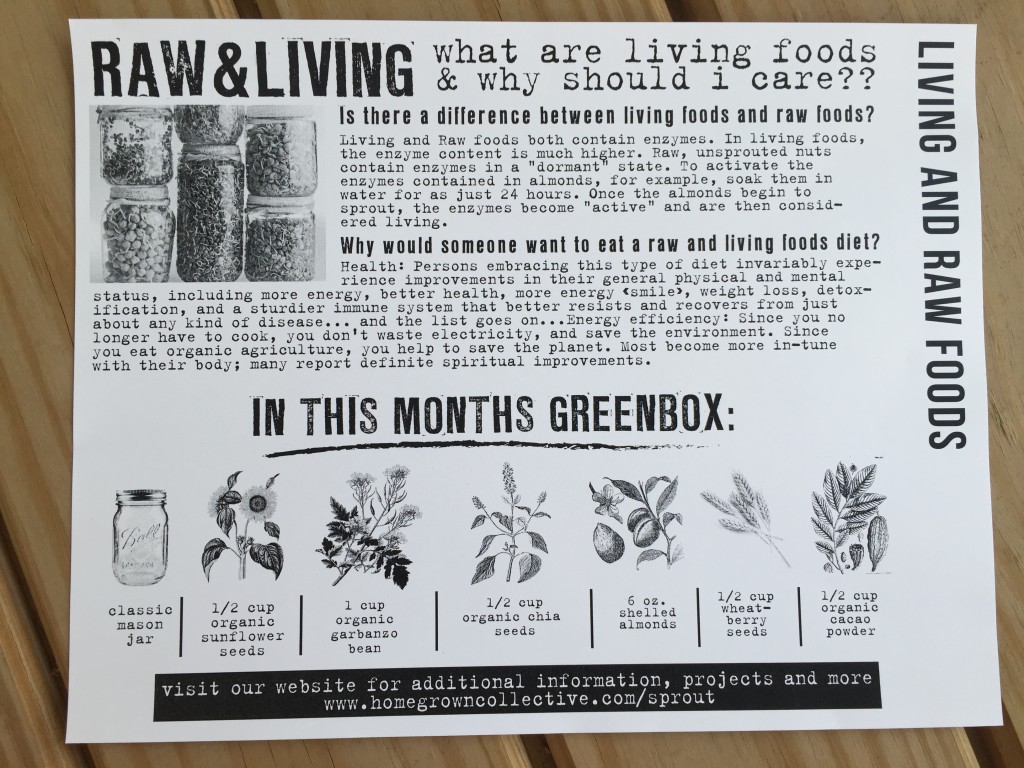 Interested? Subscribe to the Homegrown Collective get your own projects!
[This post contains affiliate links. Signing up through them helps support my subscription and I'd be ever so grateful. 🙂 All opinions are my own and I received no compensation for this review. I just purchased this box and wanted to share what I got!]
« Prev:Julep May 2015: The Set Sail Collection review
Sleeping positions:Next »