Now this is a theme I've seen before. In fact, it was exactly a year ago! I like that the projects are slightly different from the first time around, though I think once my annual subscription is up I'll have to take a break since I'm starting to see repeats.
The Homegrown Collective GREENBOX is $39 per box + $9 shipping (or as discounted as $429 for an entire year, with options in between) and comes with fun and easy projects to live a more sustainable lifestyle. Boxes are sent monthly with no option to skip. They offer a referral program you can apply to join.
Project #1, honey lip balm: This simple recipe for lip balm is all you need for soft lips! I like that there are the tubes and tubs to use. I didn't realize until later that the essential oils were meant for this one. I have a ton of lip balms, but this might be just the thing I can make for Panda so he doesn't always complain of dry lips in the winter.
Project #2, honey & sugar scrub: This time around, the sugar was not included. Luckily, I have the bag from last time and raw sugar isn't hard to find at the supermarket. I think the essential oils could be useful in this as well. I love a good scrub!
Project #3, beeswax wood butter: Sweet! Last time we did wood coasters, which I still use pretty much on a daily basis at home. Now I get some cooking utensils, which will be great for the meals we make. I even used some of the wood butter I made previously on the kitchen cabinets, which helped give them a nice luster (and hopefully be more resist to the steam and oils from our cooking). I'm excited to add these to my collection of tools.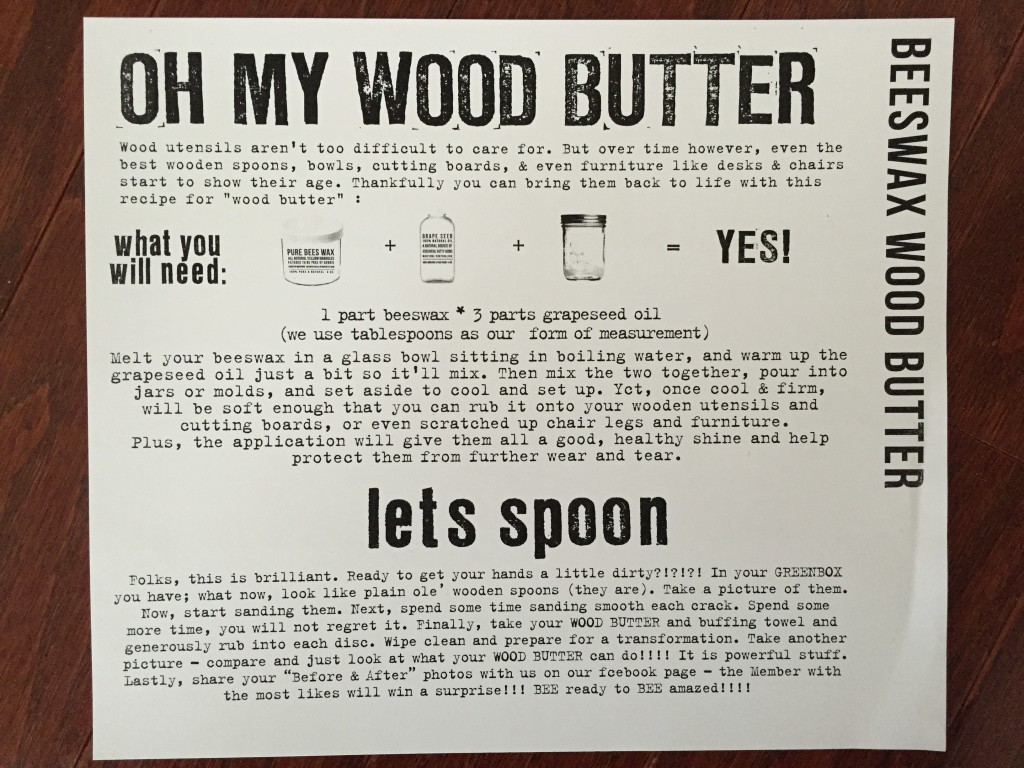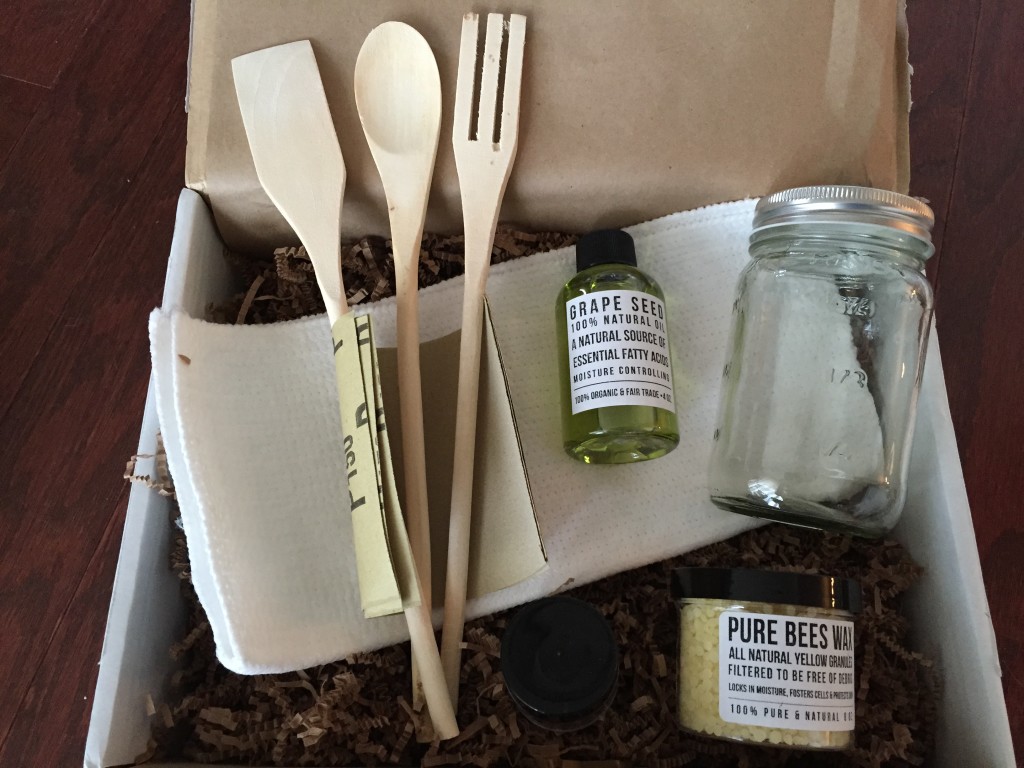 I couldn't quite understand what the peppers are for and I wasn't sure about the essential oils until I reviewed the recipes in depth, so I took a picture of these mysterious extras separately. I still don't see a use for the peppers, but I can use them for other things!
I would have enjoyed these a lot if they were new to me. I do appreciate that it wasn't identical to the last box of this theme, but some greater variation would also keep me interested. We'll see how many more repeats come along.
Subscribe to the Homegrown Collective to get your own projects to try. You'll be going green in no time.
[This post contains affiliate links. Signing up through them helps support my subscription and I'd be ever so grateful. 🙂 All opinions are my own and I received no compensation for this review. I just purchased this box and wanted to share what I got!]
« Prev:How to: make a browser tab act as a desktop program
Yogi Surprise March 2015 review:Next »