This weekend, I got the first Homegrown Collective GREENBOX of the year! When I first saw the theme of DIY Detoxify, I thought juice cleanse and I was skeptical, but as it turns out, I love this box too (big surprise there, haha – I've loved all their boxes!). Also, I'd like to mention how insanely good they are at packing these things… I never know how everything fits back in once I unpack them. Lucky for me, I don't have to do that part. 😛
The Homegrown Collective GREENBOX is $39 per box + $9 shipping (or as discounted as $429 for an entire year, with options in between) and comes with fun and easy projects to live a more sustainable lifestyle. Boxes are sent monthly with no option to skip. They offer a referral program you can apply to join.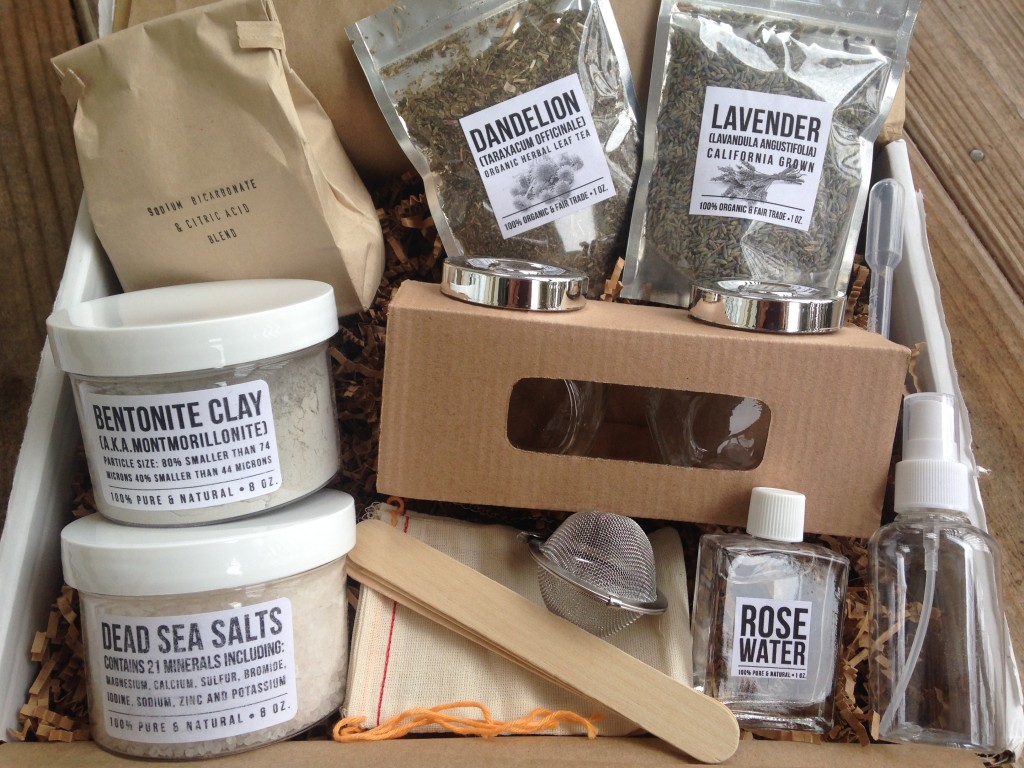 Project #1, dandelion leaf herbal tea: I always thought you could do something with those dandelions in the yard and lookie here! What a fantastic way to enjoy what is commonly viewed as an annoying weed. I'm totally trying this at work as soon as we have the hot water machine again. I wonder how it tastes. I can't imagine it'd be sweet, so maybe a bit tart or bitter? For whatever reason, that's what I'd expect dandelion to taste like, but I'll find out soon enough.
Project #2, dead sea salts & lavender fizzing bath soaks: Ooo yes, FIZZING! Seriously, who wouldn't like a little bubbling in their bath soak? It makes things so much more interesting and entertaining. I absolutely must go to the Dead Sea at some point to float in it myself, but until then, I'm glad I have some salts from there to enjoy the detoxing effects. This is like a science experiment and beauty treatment all in one. And being a nerdy gal, I love both those things!! It was fun to watch the pouch floating around as it sizzled, then sink when the fizz was gone.
Project #3, bentonite clay & rosewater mask: Ok, I have an unhealthy obsession with masks. I don't use them nearly as much as I'd like, but I'll almost always get them anyway. I don't know why I love them so much, but I can't help it and I'm thrilled with mixing my own! I've never heard of bentonite clay, but I think most types of clay are pretty awesome (like when I discovered kaolin clay). This one sounds fascinating with its electrical charges and whatnot. I really liked spraying on the rose water to keep the mask on for longer without the tightening getting too crazy. Feels (and smells) lovely!
Then came the final info card talking about all the great detoxing going on with this box: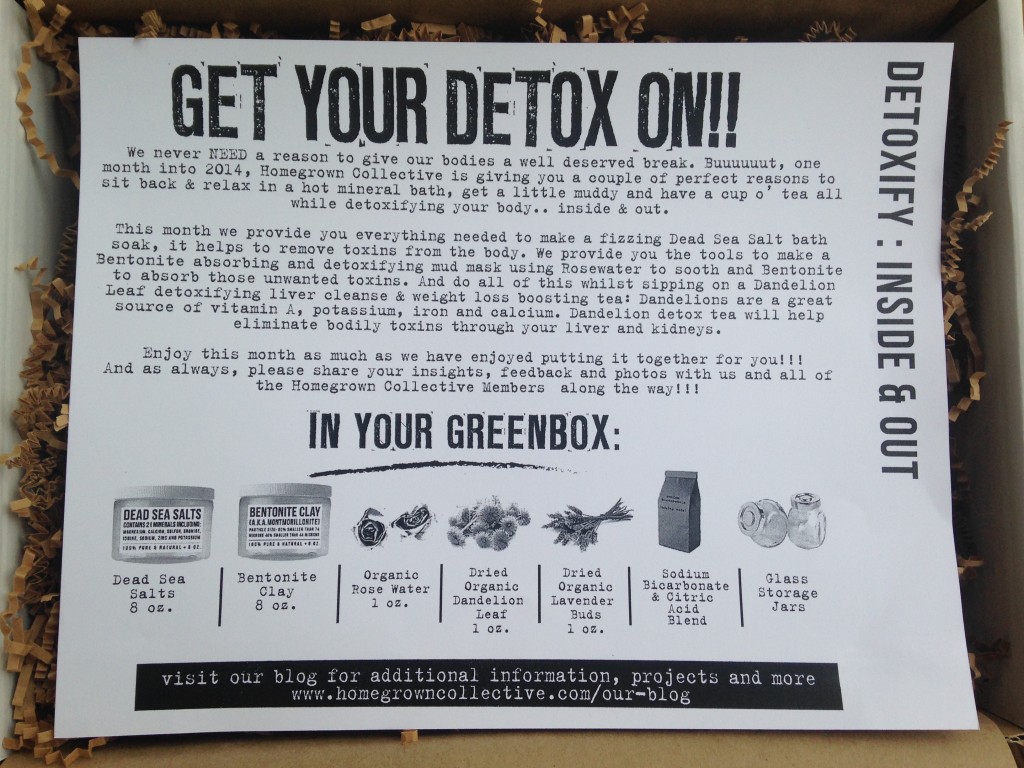 What are you waiting for? Subscribe to the Homegrown Collective so you can stop being all jealous of my awesome stuff. 😉
[This post contains affiliate links. Signing up through them helps support my subscription and I'd be ever so grateful. 🙂 All opinions are my own and I received no compensation for this review. I just purchased this box and wanted to share what I got!]
« Prev:365great Day 326: travel buddies
365great Day 327: Fabletics:Next »