Ooo, another soap box! Almost a year ago, we got a similar box, but the recipes are mostly different this time. I like that they used the same three base soaps, but came up with some more soap types to try out. The charcoal one is the same as last year, but that means I get to try it with both possible bases (white and clear). I want to try using some of the fun molds I've gotten, like stars or ducks.
The Homegrown Collective GREENBOX is $39 per box + $9 shipping (or as discounted as $429 for an entire year, with options in between) and comes with fun and easy projects to live a more sustainable lifestyle. Boxes are sent monthly with no option to skip. They offer a referral program you can apply to join.
Project #1, DIY charcoal soap: As mentioned, this soap is the only repeat from the last box. Since you can try it with two different soap bases, I look forward to being able to make both! Yeah, I still haven't made the soap from the last round… I just have so many bars waiting to be used! I'll make these when I finally work through some of the backlog I've managed to accumulate.
Project #2, DIY rosemary mint soap: I don't think I've had a rosemary soap before, so this is a cool one to try. I certainly enjoy cooking with rosemary and I like the benefits that it is purported to have for the skin. Detoxifying soaps are my fav!
Project #3, DIY cacao chocolate soap: For me, this is the most likely candidate for the luffah and I can't wait to try it. I will look for some extra ingredients to incorporate as well, just to make things more exciting. It's so much fun to get full control over how your soap will be made! I wasn't sure when the cinnamon sticks were supposed to be used, so I figure this one would be the perfect fit. I'll probably shave off some and then break off some bits to mix in.
I prefer using soap over body wash, so I'm more than happy to get another box of them. With these pre-made bars, it's super easy to customize them the way I like and have fun creating something unique. These ingredients should sit pretty well, so I will hold off on making them until I'm closer to using them. I've got a drawer that's full of other soaps at the moment!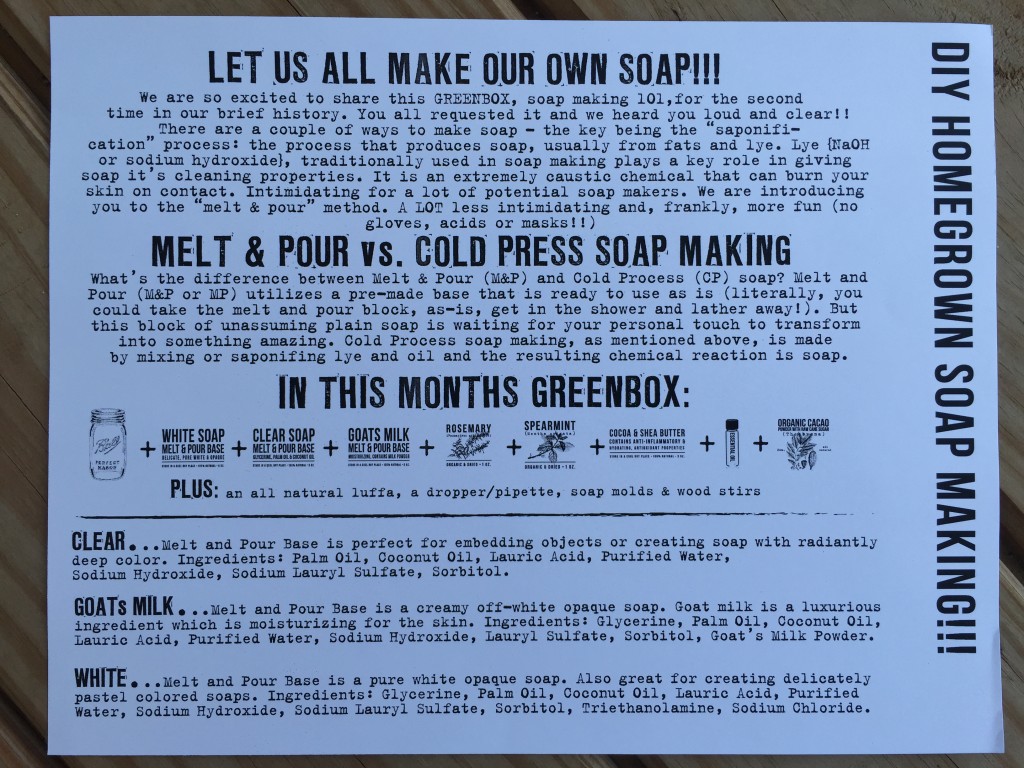 Want your own? Subscribe to the Homegrown Collective to start getting projects too!
[This post contains affiliate links. Signing up through them helps support my subscription and I'd be ever so grateful. 🙂 All opinions are my own and I received no compensation for this review. I just purchased this box and wanted to share what I got!]
« Prev:Yuzen Autumn 2015 edition review
A string of travel troubles:Next »