Woo hoo, the main projects of this box will be most welcome with some bread! I love carbs of all kinds, but especially a nice piece of bread dipped in olive oil and vinegar. I didn't realize it at first, but the grapes part of the theme is referring to the balsamic vinegar! I just never made that connection before. These projects are super easy and I can't wait to outfit my kitchen with more awesome gear.
The Homegrown Collective GREENBOX is $39 per box + $9 shipping (or as discounted as $429 for an entire year, with options in between) and comes with fun and easy projects to live a more sustainable lifestyle. Boxes are sent monthly with no option to skip. They offer a referral program you can apply to join.
Project #1, foot soak & scrub: I could totally use a good foot treatment. My poor feet are always abused and achy. I love how this remedy for softer feet is so good it's basically edible! Using the olive oil and something granular, like salt or sugar, I can scrub my feet and soothe them. Then a combination of herbs and salt in hot water make for a healing soak. They included a pumice stone so I can really smooth out those heels. This is going on my list of things to do this weekend, for sure.
Project #2, olive oil & vinegar infusion: The focus of these sheets is definitely more towards the oil infusion and I'm more used to seeing infused olive oil. I don't really know which herbs might work well with vinegar, so I'm hesitant to try that. I'll have to do some research and see if their blog provides more insight on that front! When it comes to the olive oil, the possibilities are teeming! I don't want to go crazy mixing too many flavors, but gosh I want to have all sorts of goodies in there. I'll have to make a few batches and see what combo I enjoy most. [update: check out the completed project!]
Can I just say I was super excited about the adorable strainer and the bottles?! Thank you Homegrown Collective for providing me with all the kitchen extras I could hope for! I don't know if these count as two or three projects, but I look forward to them all. I get so happy about the knick knacks and the concept of the projects that I don't even care about the value so much. After seeing the info card about infusion, I wish they'd also included a project for making a salve, ointment, or rub!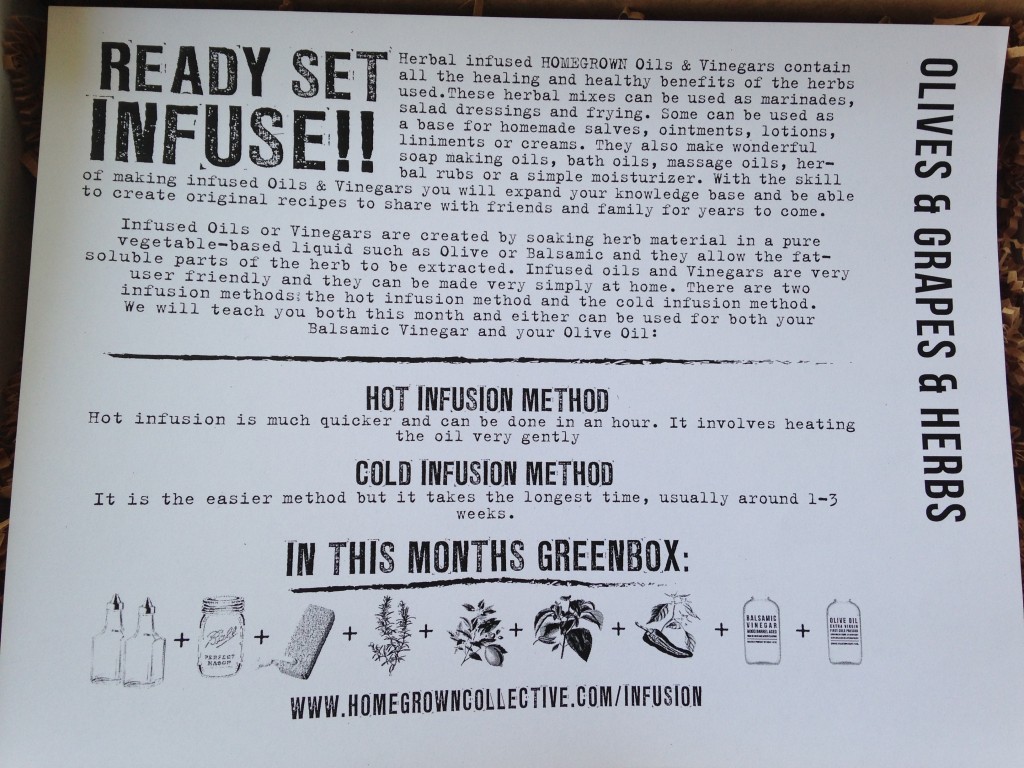 Ready to embark on your own green project adventure? Subscribe to the Homegrown Collective now to join in the fun!
[This post contains affiliate links. Signing up through them helps support my subscription and I'd be ever so grateful. 🙂 All opinions are my own and I received no compensation for this review. I just purchased this box and wanted to share what I got!]
« Prev:Julep June 2014: The Three Wishes Collection review
Adventures with a new neighbor:Next »