This mysterious package seemed to have gotten lost along the way, but it finally made it to me when we were out in Hawaii. I was really excited to get it and finally see what it had in store. I'm loving how useful all of this is.
The Homegrown Collective GREENBOX is $39 per box + $9 shipping (or as discounted as $429 for an entire year, with options in between) and comes with fun and easy projects to live a more sustainable lifestyle. Boxes are sent monthly with no option to skip. They offer a referral program you can apply to join.
Project #1, activated charcoal: It seems quite strange to brush teeth with charcoal powder, but I'll trust them on this one… as soon as I work up the nerves to not freak out that my mouth is black and foaming. I wonder what it will taste like. I'll have to take a picture of my teeth now (certainly a lot more yellow than they used to be back in my teenage years) and compare after however many number of brushes with this craziness. As for the face mask, I'm far more comfortable with putting charcoal on my face. I love using soaps with it and I'm pretty sure some of the face masks I've tried have contained it, so I hope this one is a good formula for me!
Project #2, pacific sea salt: How cool! Smoking my own sea salt?! Where do they come up with these fascinating ideas? I do not have a grill, but Panda does have a set of grilling tools he got as a reward from work, so perhaps these should be compelling reasons for us to get a grill. I'll have to see what (if any) are allowed in our community, or perhaps there's a public one somewhere that I can use for a  few hours. That could be a fun thing to do come spring – picnic & grilling! I love how this is an edible project, which is pretty unique so far.
Project #3, bentonite clay: While we've received bentonite clay beforeqqqqqqqqqq`qqq`, I'm happy that they included new ways of using it for very different purposes. I'll definitely try it in the bath (I hate those bath soaks that stain the tub, so since this isn't supposed to stain, that would be awesome) and on my hair and skin too! The recipe for hair is perfect for the coming cold, as hair will dry out more and probably get brittle without intense treatment.
I'm always impressed with the themes that they come up and the creativity they have to offer all types of projects, from personal care to home care and more. I've yet to be disappointed by anything from this company, which is just fantastic. It's totally up my alley both as an environmentally-conscious person and a new homeowner! Now I just need to actually get off my lazy weekend butt and start doing these projects. I even put together a list of what I need to do (and it is plentiful). I should set a goal of doing one each week…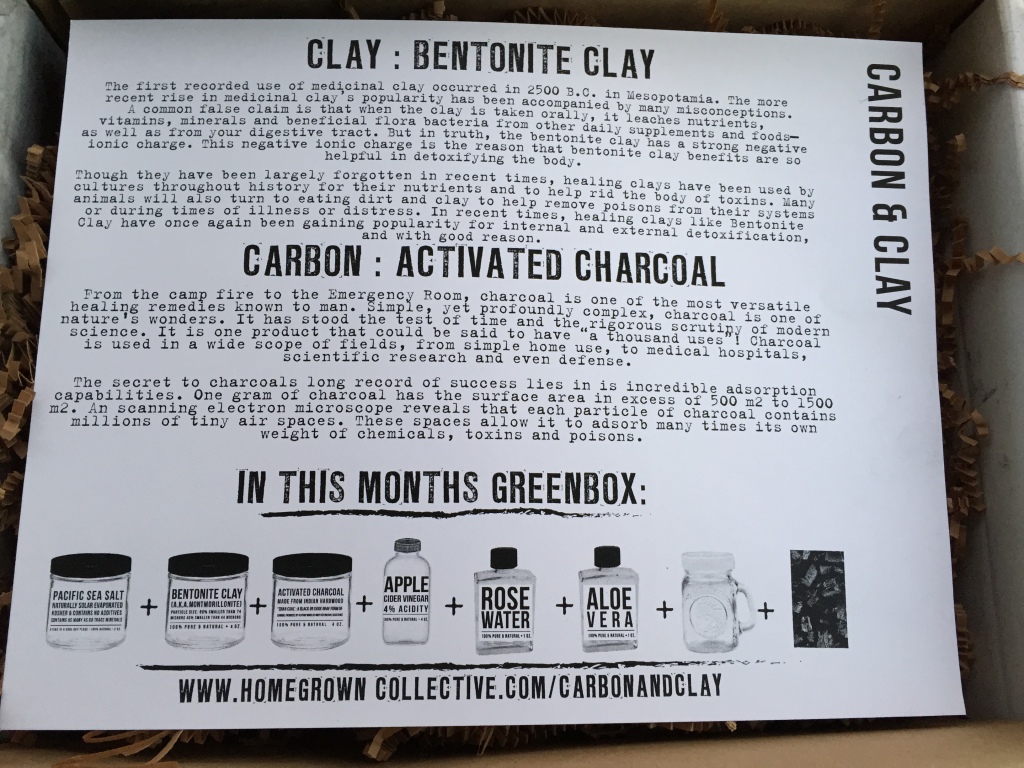 If you want in on this cool stuff, subscribe to the Homegrown Collective now! Your home, your family, and your health will thank you for it.
[This post contains affiliate links. Signing up through them helps support my subscription and I'd be ever so grateful. 🙂 All opinions are my own and I received no compensation for this review. I just purchased this box and wanted to share what I got!]
« Prev:Working remotely in Hawaii
Beauty Box 5 November 2014 review:Next »