I'm super sad I missed out on the August Homegrown Collective box. Mitchell of Homegrown kindly reached out to me when my annual subscription was about to end and offered me a discount. I was waiting for a new credit card I wanted to use to renew my subscription and I guess the payment didn't make it in in time for last month's box. I'm happy to be getting boxes again though!
The Homegrown Collective GREENBOX is $39 per box + $9 shipping (or as discounted as $429 for an entire year, with options in between) and comes with fun and easy projects to live a more sustainable lifestyle. Boxes are sent monthly with no option to skip. They offer a referral program you can apply to join.
Project #1, charcoal & cedarwood soap: I'm a huge sucker for soaps of all types and I can't wait to make these! This charcoal one will be particularly useful for me since I've recently gone through yet another round of annoyingly large and painful breakouts. I just can't seem to keep my acne at bay. This soap will be great at helping to calm down all that craziness. Before I knew what the little jar of black charcoal was, I thought it was just an empty jar painted black on the inside. I opened it to look inside and nearly spilled the powder everywhere! Whoops.
Project #2, dead sea salt & lavender soap: This will be a more standard soap and I just love that I'll get to mix in those dried lavender flowers. That's going to be fun to use! I think I'll probably cut the luffa in half and use one piece for this soap so I can get some exfoliation from it too. What fun! I love lathering up in the shower and this soap will certainly make it enjoyable.
Project #3, oatmeal, luffa & tuberose soap: Another great soothing soap that will be good for my skin. I really enjoyed my oatmeal soap from a brand I discovered at Green Festival DC 2012. I hope this soap foams as well as that one did! I'll be using the other half of the luffa in this soap. I'm also really happy to have a grater, so now I can use it for future kitchen needs if they arise. As always, I love the tools that come with these projects.
I have a ton of soaps I'm working through but I always want more. These are totally going to have a cool factor because I get to make them myself! I had been meaning to get a soap-making kit and try it out sometime, so this will be a great start. There's pride in being able to make something!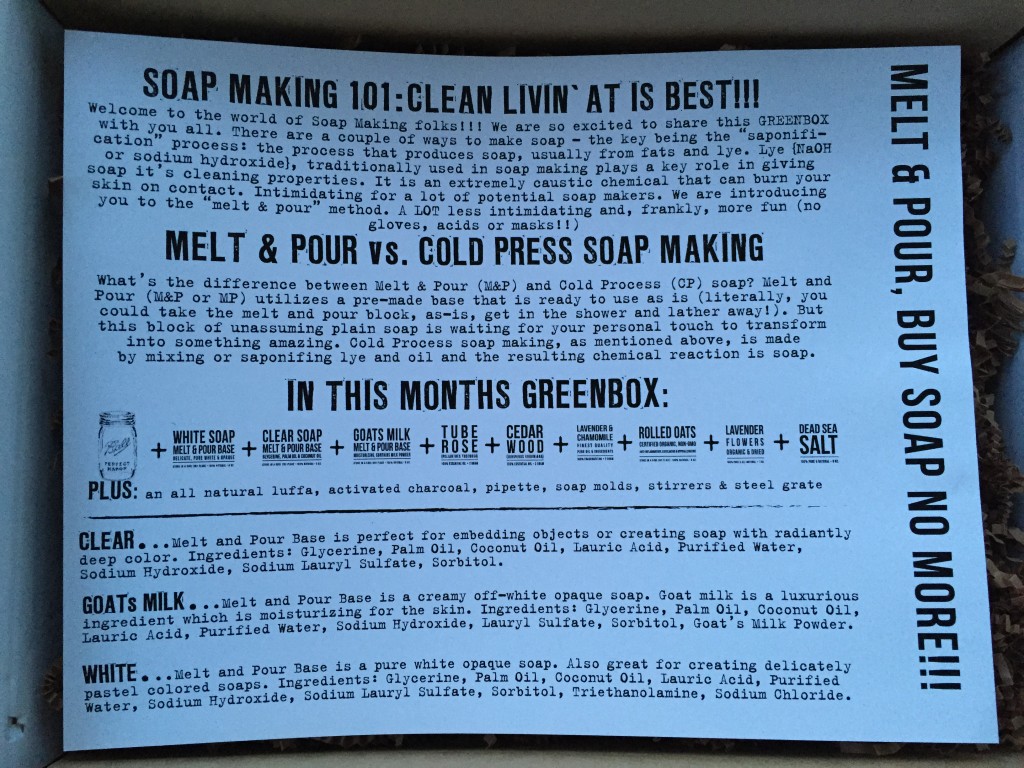 Honestly, you should be getting the Homegrown Collective for yourself, pronto. I've been with them a year and I still can't get enough of the cool home projects they've sent to help me live a greener life.
[This post contains affiliate links. Signing up through them helps support my subscription and I'd be ever so grateful. 🙂 All opinions are my own and I received no compensation for this review. I just purchased this box and wanted to share what I got!]
« Prev:Chalkfest
Pepper Lunch HK review:Next »