After a disappointing run last month, I was glad to get a bag that was pretty decent this time. The products actually made sense for my preferences for the most part and I can see myself trying all the products if I don't end up trading the ones I don't really want.
Ipsy is $10 per glam bag and comes with 5 or so beauty/skincare products. Bags are sent monthly with no option to skip. There's usually a waitlist to get the subscription. They offer a referral program that earns you points towards free products.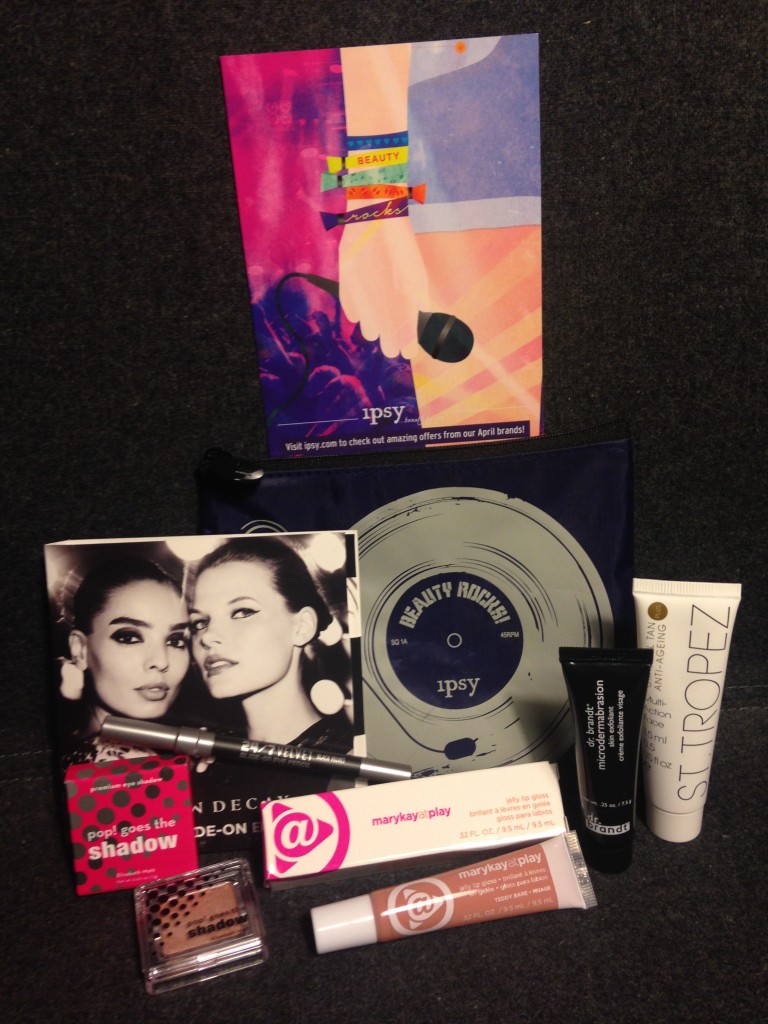 Urban Decay 24/7 Velvet Glide-On Eye Pencil – This didn't apply as easily as I'm used to. I had to press harder than with other eye pencils and then I ended up pressing too hard and making a fatty line. I did like the "velvety"ness once it was on, but I don't know if I could achieve the nice line I'd want to. It was pretty smudge and waterproof at least.
Elizabeth Mott pop! goes the shadow in Champagne – Since I don't ever use eye shadow, I'll be saving this for a trade. I love the shiny look of it and I was tempted to touch it just to see what sort of consistency it has, but I resisted. If I don't manage to trade this, it just might be an eye shadow I'd try out here and there.
Mary Kay at Play jelly lip gloss in Teddy Bare – I'm cool with gooey lip glosses, so I liked this. The nude color is great for a natural look or to go on top of a bolder color. It has pretty awesome staying power, which is nice since I don't like having to reapply something on my lips all day (and if I don't, they dry out easily).
dr. brandt microdermabrasion – Well, I'm fascinated with microdermabrasion so I'm really happy I got this. Since it has a seal, I'm going to keep it in my stash while I work through some other scrubs I have. I wonder how it will compare to the derma e microderm scrub that I absolutely love.
St. Tropez Gradual Tan Plus Anti-Aging Multi-Action Face – I'm just not into tanning products, so I shall definitely be putting this up for trade. If I was interested in trying them, this seems like a nice brand to use. I'm sure there are ladies out there who'd love to trade.
It was nice to get a bag with different dimensions and I like that shade of purple, but the design is meh. At least there are products I'm excited about and others I'm moderately interested in this time. If you want to trade for any of my items, check out my eDivv shop.
[This post contains affiliate links. Signing up through them helps support my subscription and I'd be ever so grateful. 🙂 All opinions are my own and I received no compensation for this review. I just purchased this bag and wanted to share what I got!]
« Prev:Julep Speckled for Spring Mystery Box with Kimberly review
Good Friday:Next »