Ipsy can be so unpredictable with its hits and misses. This month I really enjoyed it, just as I've been contemplating cancelling. I'm still going to unsubscribe as soon as I get the free product I redeemed with my points. It turned out perfectly because I had nearly 1500 points and felt bad wasting 500 of them since most products are 1000 points. Luckily, when I went to check this time, there was a free mystery bag available for 1500 points! I just had to earn some more to get me to 1500 and I was able to claim it. I'm excited to see what it offers.
Ipsy is $10 per glam bag and comes with 5 or so beauty/skincare products. Bags are sent monthly with no option to skip. There's usually a waitlist to get the subscription. They offer a referral program that earns you points towards free products.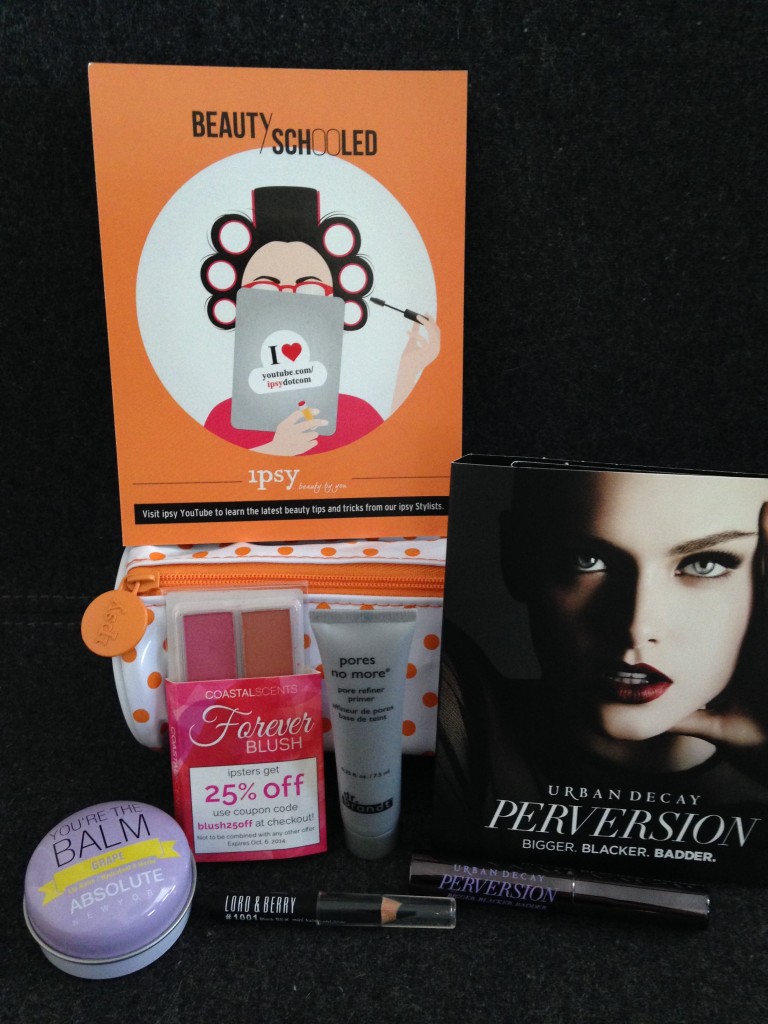 Absolute New York You're the Balm lip balm in Grape – This is quite a large tin that will last for ages. The purple color is fantastic and there's a little bit of glitter in there too. I like the lightness of the grape scent, though I wish I could smell or taste it more when it was on my lips. This responds well to body heat and begins to melt into a hydrating sort of gloss. A little dab was enough to spread on my lips.
Coastal Scents Forever Blush duo samples in Fresh & Elegant – Again, why do I ever get blush when I indicated NO interest? And these are pretty small samples. Oh well, going in my trade bucket.
Dr. Brandt pores no more pore refiner primer – I totally expected this to be clear, but it has a nude tint to it. It applies well and certainly does the job of mattifying. I'm not sure if the pore refining is supposed to help heal my skin over time or if it's just to reduce the appearance of pores when it's on. If it's the latter, then it did a good job. I'd consider getting this if I ever run out of the current primer tubes I have.
Lord & Berry kajal kohl eye pencil – Oh, this is fabulous. I just used a little on my lower lid to help make it look like I actually had some sort of lash action going there. It was so easy to apply and felt great. Certainly didn't irritate my inner eye and felt perfectly fine. I'm a fan and I'd totally get this again if I ever find I actually manage to use up the endless supply of eye liners I have already.
Urban Decay Perversion mascara – For statement lashes, this will be my choice. Sometimes I want my lashes to stand out more and this one gets the job done. It does get dry after a day of use though, and I'm forgetful and rub my face a lot, so I kind of ended up with raccoon eyes later in the day. Got to be careful with that. The packaging on this is sick too. Totally slick, elegant, and cool.
This almost makes me consider keeping my subscription, but I really don't need to keep accumulating products. I'd like to focus on actually using them for awhile. One day I'll update my eDivv shop and put in the blush samples.
[This post contains affiliate links. Signing up through them helps support my subscription and I'd be ever so grateful. 🙂 All opinions are my own and I received no compensation for this review. I just purchased this bag and wanted to share what I got!]
« Prev:Tea time
Beauty Box 5 August 2014 review:Next »