Ick, what a strange-looking Ipsy bag this month. I will try to give it to someone or use it to package off some items next time I do a trade. Product-wise it was also very meh for me this time. I'm debating whether I should just unsubscribe and redeem a free product that I don't really want with the points I've earned or try to wait around for one I do like.
Ipsy is $10 per glam bag and comes with 5 or so beauty/skincare products. Bags are sent monthly with no option to skip. There's usually a waitlist to get the subscription. They offer a referral program that earns you points towards free products.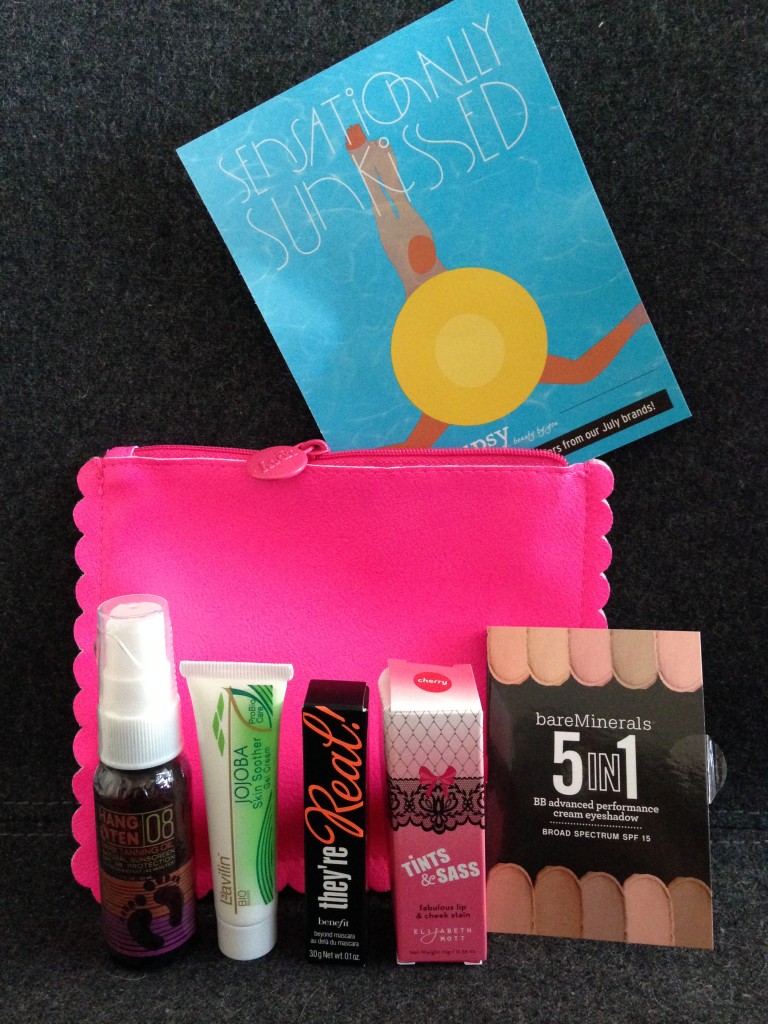 Hang Ten Dark Tanning Oil – I have no idea how to use tanning oil, nor do I feel any need to try. If I want to tan, I just go outside for a bit. Otherwise, I'm perfectly happy with my skin tone, whatever shade it might be! This is definitely an item I'm not opening and putting up for trade.
Lavilin Jojoba Skin Soother Gel Cream – For something with gel in the name, I did not expect the consistency that was more like sunscreen. Looked like sunscreen, felt like sunscreen a bit, and is it just my imagination? Smelled like sunscreen too? It didn't mention any SPF properties so I have no idea, but I guess I'll use this up sort of as a normal lotion.
Benefit they're Real! beyond mascara – Mascaras must be super popular since we keep getting them. I better start applying daily if I want to ever get close to using up my supply. These bristles looked scary because they are so pokey, but application was just fine and they help my lashes pop well, without giving my raccoon eyes. I'll keep using this for sure!
Elizabeth Mott Tints & Sass fabulous lip & cheek stain in cherry – I don't plan on staining my cheeks anytime soon, but the lip staining aspect of this intrigued me. I've been getting bolder with my choice of lip color, so I'll play around with this one too. The application was less staining that I thought, thankfully – I was afraid it'd super stain my lips the instant anything touched them! But it took a little rubbing to get a nice shade on and I like the look and feel of it.
bareMinerals 5 in 1 BB advanced performance cream eyeshadow in Divine Wine – This is pretty boring to me. I don't like to use eye products, so what's the point of putting something on that is basically nude? If I'm going to that trouble, might as well be something fun and interesting. I guess it's supposed to be like sunscreen for the eyes? I don't know, I'm not really into it. I'll try trading but if it doesn't go I might consider trying it.
Not impressed at all this month and if it weren't for the points I accumulated, I'd be unsubscribing right now (see how rewards programs lock people in?). I'll get these up in my eDivv shop eventually so I can trade for stuff I'd actually appreciate.
[This post contains affiliate links. Signing up through them helps support my subscription and I'd be ever so grateful. 🙂 All opinions are my own and I received no compensation for this review. I just purchased this bag and wanted to share what I got!]
« Prev:Beauty Box 5 July 2014 review
One rotten apple…:Next »