Here comes the second artist-partnered design for an Ipsy bag. I like the tropical look and the colors, though I don't know if they make sense together. Still, I'm a fan! The products they matched me with were hit and miss. I'll surely be trying to trade some.
Ipsy is $10 per glam bag and comes with 5 or so beauty/skincare products. Bags are sent monthly with no option to skip. There's usually a waitlist to get the subscription. They offer a referral program that earns you points towards free products.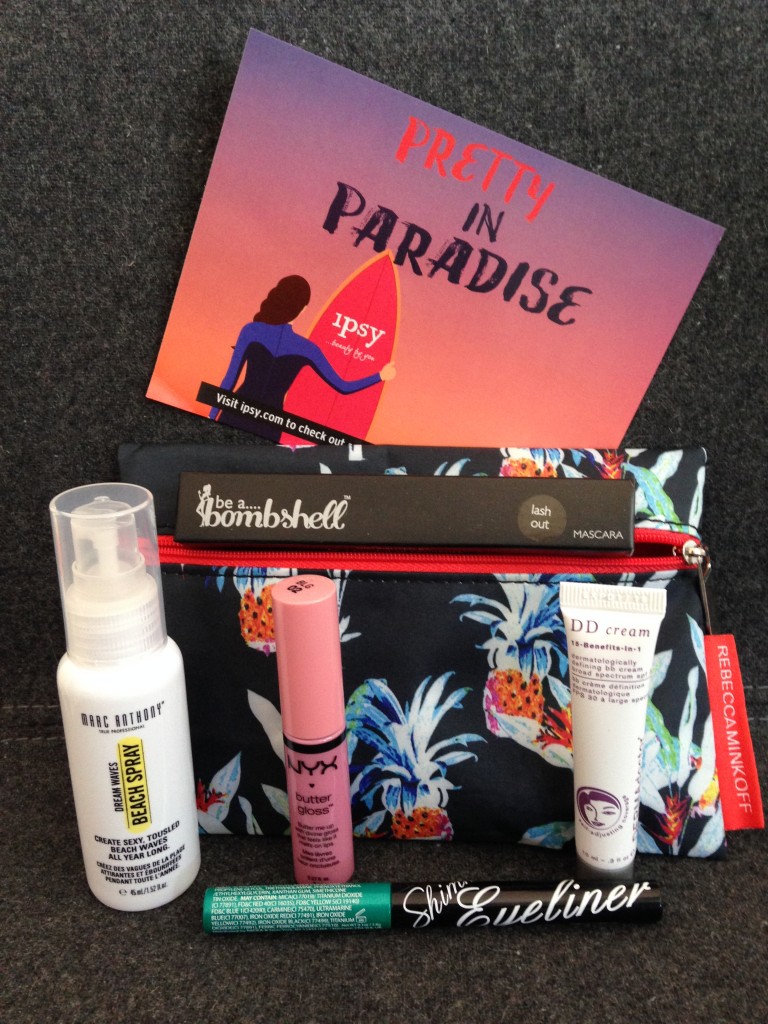 Marc Anthony Dream Waves Beach Spray – This smells like summer with some sort of coconut-y influence. I'm still working on how to get a good beach wave look that works for my hair. It seemed quite effective at helping me get more volume and that tousled effect, but then I have a tendency to run my hands through my hair and it kind of defeats the purpose. Still, I shall use this and spruce up my hair a little this summer!
NYX butter gloss in Éclair – I'm definitely into lip glosses, so I'm glad to have this one. It's a nice smooth consistency that applies a nice thin layer. Not too shiny, a little bit sticky, and quite moisturizing. Good lip product to keep around, but I don't know if I'd buy it myself. There are just so many choices out there.
be a… bombshell lash out mascara – I have so many tubes of mascara now I practically need to apply it all day every day to make a dent in using them. It's a pretty standard-looking type in terms of the brush and thickness/goopiness of the mascara. When I took a look, I also happened to sniff it and I didn't like that smell, so I'm going to trade this. Other than that I wouldn't mind keeping it around for my own use.
DERMAdoctor DD cream – Much as I've hoped these creams would be sufficient on their own, I find that I still need to help it along with some powder. They just don't provide enough coverage for my breakouts and also leave my skin rather shiny. I'm a sucker for these items even though they don't exactly work for me. Still, they provide a nice base upon which I can apply my powder, so I'm definitely testing this over time to see how it holds up against the other half dozen or so BB/CC/DD creams I've tried.
Nicka K New York Shimmer Eyeliner in Green – Wow, green eyeliner?! Intense. Not something I'd go for and certainly something I'll be trading. What a very bold selection to go with. This is the first non-nail polish I've received from this brand and I won't be using it.
This month the items were an ok fit for me overall. I liked about half the items, but there always seem to be other products they offered that would have made much more sense for me. Does IpsyMatch ever consistently work?? If you want to trade for any of my items, check out my eDivv shop don't be discouraged if I don't reply to divvys at first. Sometimes I need a hiatus and until they offer a "vacation mode" I don't have a way to let other traders know when I'm taking a break.
[This post contains affiliate links. Signing up through them helps support my subscription and I'd be ever so grateful. 🙂 All opinions are my own and I received no compensation for this review. I just purchased this bag and wanted to share what I got!]
« Prev:Beauty Box 5 June 2014 review
A year in:Next »