Ok, Ipsy is back in my good graces with this one. I love the cute little bag and the products are some of the better fits for me. I'd use all but one! I didn't peek at all this month, so everything was a complete surprise and I am quite pleased. Yay for feeling excited about a bag again!
Ipsy is $10 per glam bag and comes with 5 or so beauty/skincare products. Bags are sent monthly with no option to skip. There's usually a waitlist to get the subscription. They offer a referral program that earns you points towards free products.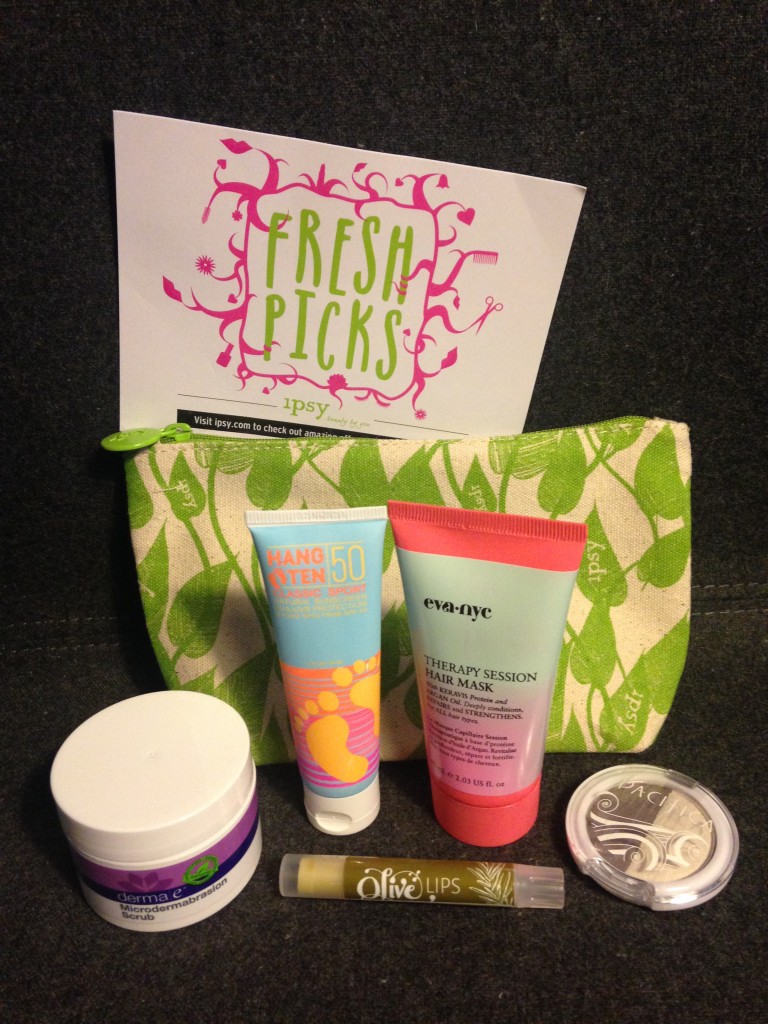 derma e microdermabrasion scrub – Ooo! I had no idea this would be back in circulation and I'm so glad it is because I love it. I didn't get this the last time it was offered and I actually wanted it so bad I got it in a trade, but I'm perfectly happy receiving it and having another one to use. I love the citrus scent, the little scrubby beads, and the creamy texture. I have been made a big fan of derma e and I look forward to trying some of their other products when I finally use up my current skincare items.
Hang Ten Classic Sport SPF 50 – The packaging on this is cute and retro. I'm liking the neon look, which totally reminds me of LA and summer. It's the more liquidy type of sunscreen and it doesn't smell like sunscreen when I first put it on, but as I rub it in I get a little more of that scent that reminds me of childhood summers. After rubbing it in, it's a little sticky and gives my skin a little sheen to it. This is perfect to bring in my bag or leave in the car so I can apply it whenever.
eva nyc therapy session hair mask – I like the light scent of this and I'm definitely appreciating the size of the tube! It's really refreshing to receive an item that isn't your usual beauty product, since I'm really up to my neck in lotions, cleansers, soaps, creams, etc. A hair mask on the other hand, is just what I need to add to my collection! This is a very rich, creamy formula that is like a thicker conditioner. I can't wait to try it out!
Olive Lips Refreshing Rosemary Moisturizing Lip Balm – Oh wow, olive and rosemary? How wonderfully different from other lip balms. I'm not super into the scent, but it's not bad either. This is super moisturizing to keep those lips from drying out. I find the little tube to be great; it's adorable and a better fit for the size of my lips. I like keeping a tube in just about every place I might be for awhile, so I could always use another one to place in one of my many spots.
Pacifica Mineral Eyeshadow Duo in Moonbeam & Unicorn – I'm tempted to try this out because they're just beautiful. You can't tell from the picture, but the left half (moonbeam, I presume) is this deep purple and the right half (unicorn, then?) is a gorgeous white with gold flecks! Totally fun and just the kind of shades I like. But alas, I just don't use eyeshadow, so should I just trade it instead? I might have to sit on this awhile. I mean, everyone loves Pacifica so I'm sure I can trade it off, but maybe I should just give it a go myself.
I think in general the theme this month really offered itself to types of products I like more. I'd love to see this trend continue, with fresh products that aren't the typical boring makeup stuff. If you want to trade for any of my items, check out my eDivv shop.
[This post contains affiliate links. Signing up through them helps support my subscription and I'd be ever so grateful. 🙂 All opinions are my own and I received no compensation for this review. I just purchased this bag and wanted to share what I got!]
« Prev:Beauty Box 5 May 2014 review
Would you rather: career vs. family:Next »