I'm pretty pleased with the Ipsy bag this time around, partly because there's an extra beyond the usual 5! I do think IpsyMatch could have matched me up with something I'd love a lot more, but I'm getting more open to trying some products I don't usually use.
Ipsy is $10 per glam bag and comes with 5 or so beauty/skincare products. Bags are sent monthly with no option to skip. There's usually a waitlist to get the subscription. They offer a referral program that earns you points towards free products.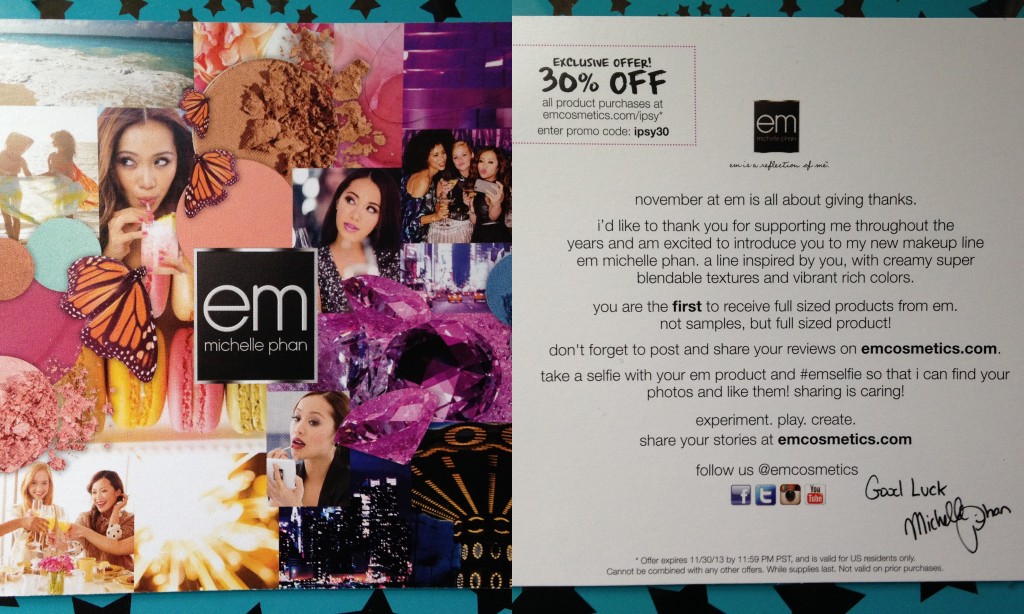 The Nailtini Lacquer in Champagne looks kind of dark at first, but it applies in a lovely shade that is really subtle and nice. It's perfect for work when I don't want to draw attention to my nails but I want them to have some color. It goes well with my skin tone and blends in quite well yet offers a nice sheen to my nails. I like it a lot and I'll definitely be using it a lot throughout the holiday season!
I'm still debating whether I should open the Pixi Beauty Bronzer in Summertime…I've never used bronzer and I don't want to keep adding to my routine. At the same time, I'm kind of curious how it would look and if I'd like it. I guess since I already have it I might as well try it right? Not like I'd buy one for myself. But I don't know about adding yet another thing to put on my face – wasn't the point of BB cream supposed to be that I wouldn't use all this? I'm still searching for the perfect all-in-one product for that.
I really like the presentation of the Cailyn Mineral Eyeshadow in Champagne, what with its cute sponge tip and loos powder consistency. I gave this a try and while I don't like wearing eyeshadow, I do like having something like this to put on my skin for a bit of a golden sparkle. It's really more of a novelty item for me and not something I'd put on the way it was meant to be. I'm enjoying playing around with this and just being silly with it.
Everyone got a bonus item from the em michelle phan line of cosmetics and I got the pillow plush cushiony lip balm in strawberry – perfect! Out of all the products, this would probably be the most fitting for me. I love the subtle strawberry scent and the nice rich texture. It applies well, has a bit of a red tint, and feels nice. The packaging is cute though I think it would have been cool if the lid had a mirror instead of the white background so you can get a glimpse of your lips with it.
The be a bombshell lip crayon in hot dang* is a fun bright red! I never go for something so vibrant and prefer much more neutral colors that blend in with my skin tone better, but I decided to have some fun with this. I don't know if I'll ever wear it out since red lips attract too much attention to that area for my liking, but hey now I have just the right thing to apply if I ever need to make a perfect red lip print on something! It's really smooth and easy to glide on to your lips.
Finally, there's the Starlooks Gem Eye Pencil in Amethyst. I'm tempted to open it since I love purple, but I really don't see myself using it. Apparently it can be an eyeliner or eyeshadow. I can see myself trying it for kicks but not actually using it when I go out. Ah, dilemmas. So far I haven't opened any of the Starlooks items that have come in Ipsy bags so maybe it's time to try one. I mean, how could I resist amethyst??? One of my favorite gemstones and words…
This might be the second time that I won't be trading anything from my bag! Would you keep all these items? What did you get in your bag? Sign up for Ipsy if you like what you see!

*Yes I changed this word because I don't curse. I don't care if it's the name or not. 😛
[This post contains affiliate links. Signing up through them helps support my subscription and I'd be ever so grateful. 🙂 All opinions are my own and I received no compensation for this review. I just purchased this bag and wanted to share what I got!]
« Prev:365great Day 250: parasailing
365great Day 251: fractals:Next »