When I saw an email from Juice Beauty about their new brightening pads, I was immediately intrigued. I love wiping my face with cleansing products and lately I've started to take note of the dark spots and unevenness I have. At their original price point, I wasn't so sure about getting them. So, I do what I always do. I waited.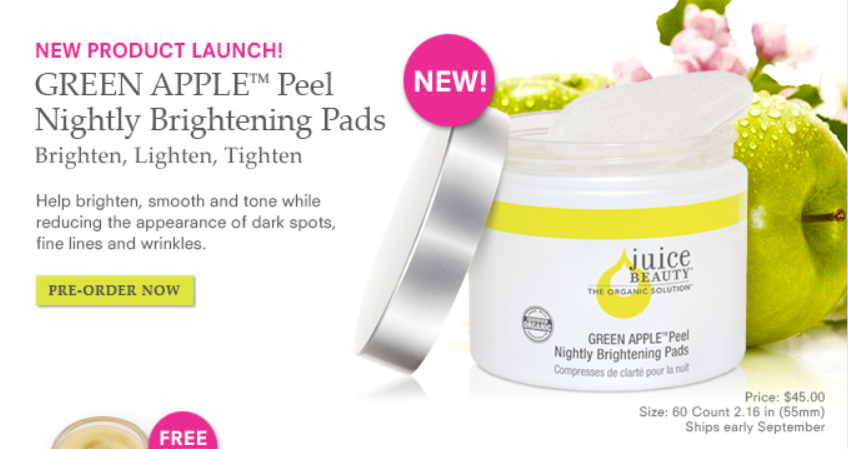 Lo and behold, come Labor Day weekend, I see an offer for 15% off and free shipping (use code LABORDAY through tomorrow!). While I would have already gotten free shipping with this pre-order offer, that 15% is what made all the difference. While still pricier than I would prefer, I was convinced that I should at least try one jar. I'm waiting on a new credit card to arrive and I was hoping it would make it to me by Saturday so I could use it for this transaction, but the mail came and went with no card.
Today, I went to place my order and found that it was no longer pre-order status for this product. Not a huge deal, since the price is the same. The only thing I lose out on is the deluxe sample of the Green Apple Peel Sensitive – no worries, I've gotten plenty of samples of that from Yuzen! Instead, I got the normal sample set with my order (a trio of cleanser, serum, and moisturizer). I much prefer saving $6.75 to getting more product I won't get a chance to use up.
I can't wait to get these pads and try them out! If there are any Juice Beauty products you're interested in, definitely take advantage of their Labor Day sale too. 🙂
« Prev:Ipsy Mystery Glam Bag review
Treatsie August 2014 review:Next »