Ah, another mystery box. I've been waiting on this one to arrive for ages! When I got the shipment notification, it said it would arrive between Tuesday and Thursday of last week… and I just got it. I'm not sure what happened but I haven't had a box get delayed like this before and I'm not pleased. But it's finally here and time to evaluate it based on the merits of its contents and not how long it took to arrive! I chose this based on the "so fresh & so clean" clue with a picture of the cleansing oil and konjac sponge combo that I've had on my wishlist.
Julep mystery boxes are $10-40 per box and come with a mix of polish colors and beauty products. These are one-time orders and do not require a subscription.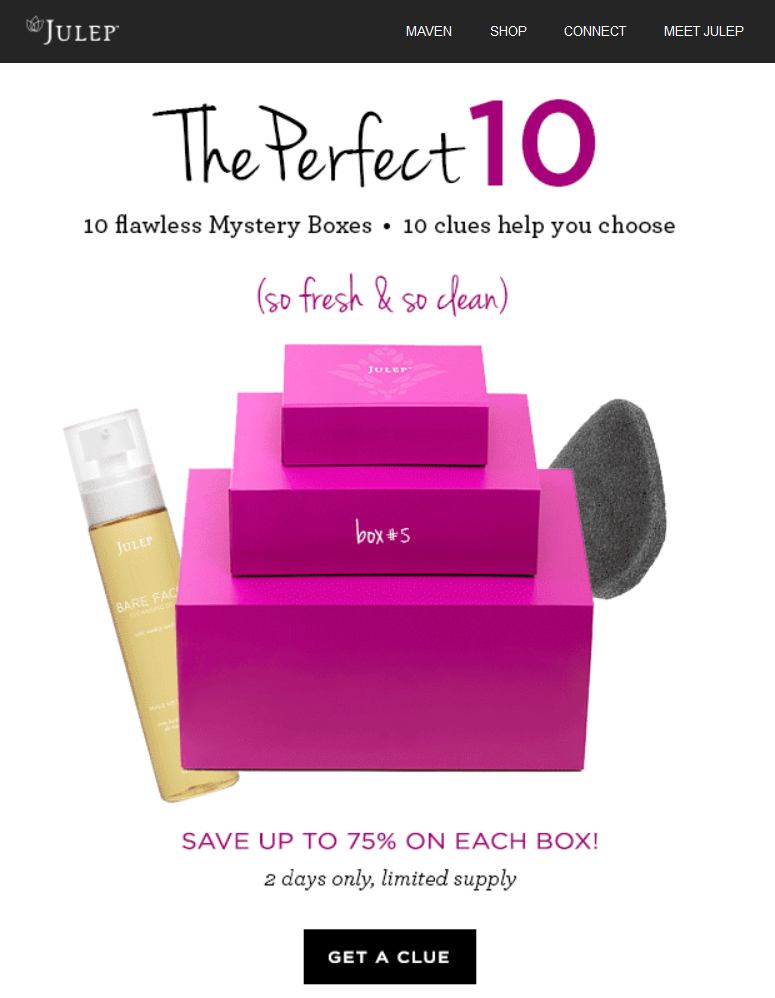 This box was a nice value, especially with the bonus Bare Face Cleansing Oil I got for free with code OILPERK. I'm pleased with the variety and value, though I'm going to need to contact them about the faulty product I received. Why are those bottles so leaky? Still, I like what I got and look forward to using it all. The oil warmed up my face with rubbing and I just imagined it melting away the oil on my face as I did that. I hope it works! So what do you think of this box?
Estimated value: $102 (Nail Color @ $14 each: $42, Bare Face Cleansing Oil $28, Konjac Sponge $12, Buff Lip Scrub Pen $20) or $81.60 at Maven prices (20% off)
Join as a Julep Maven to get polishes sent to you monthly! Use code FREEBOX or FREEMAVEN to get the first box free (you pay shipping).
[This post contains affiliate links. Signing up through them helps support my subscription and I'd be ever so grateful. 🙂 All opinions are my own and I received no compensation for this review. I just purchased this box and wanted to share what I got!]
« Prev:Our kind of weekend
Beauty Box 5 June 2014 review:Next »