Let's do a recap of the things I enjoyed in July!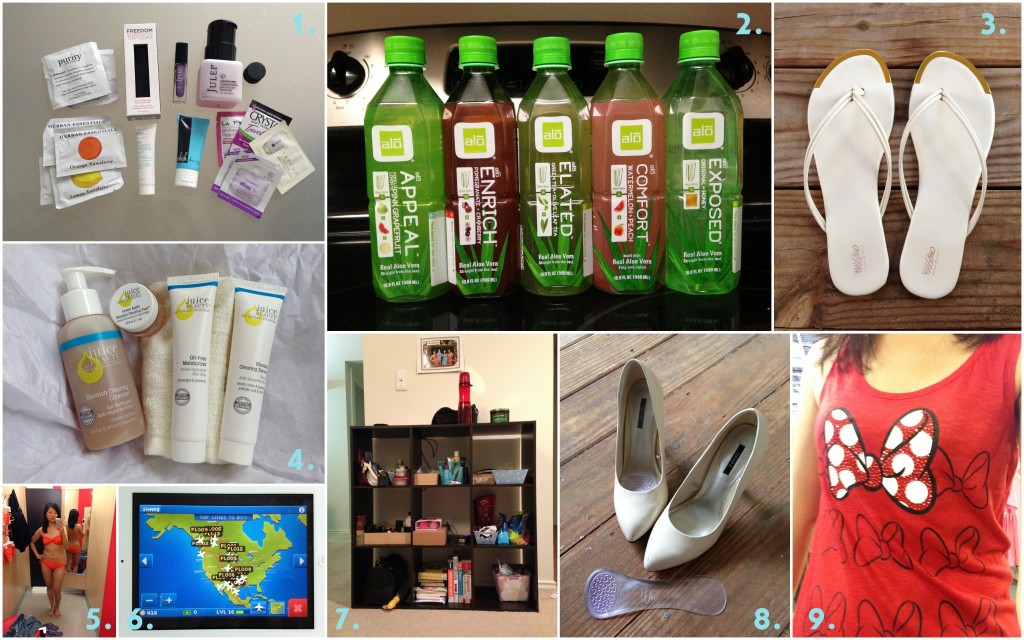 1. Julep products – Ok, so this is actually a picture of the trade in which I got a bunch of my most recent Julep products. I've actually yet to purchase any Julep products since I've gotten much of what I want through trades. Still, if they start selling the green tea blotting papers on their site, I might have to spring for it. I've yet to find someone willing to trade! At least I've gotten to try their gel top coat, multiples shades of polish, and the cool nail polish dispenser shown here. I'll definitely continue to try to acquire their products and one of these days I might just subscribe.
2. ALO drinks – I first tried these when they came in my March Goodies box. I really enjoy the bits of aloe floating around, as well as the light fruity flavor of the drink. So when I saw them at Whole Foods, I was pretty happy. I waited until they went on sale and took advantage of the cheaper price, plus the box discount that Whole Foods offers, buying a dozen. I got a total of 5 different flavors to determine which ones I like the most. I've now narrowed it down to the original watermelon+peach I got from Goodies and the pomelo lemon+pink grapefruit. Depending on if I want a sweeter or more tart taste, I alternate between the two.
3. Mossimo flip flops – I eyed these at Target for just about two weeks before they went on sale! Of course I had to jump on that the moment Panda told me. The gold tips of these flip flops are so nice and the overall look is casual yet fancy. I love simple things that make you look good but don't require upkeep – that's why dressed up flip flops, tinted lip balms, and summer dresses are my friend. Each makes you look like you put in a lot more effort, but they're pretty effortless. 🙂
4. Juice Beauty skin clearing system – I get emails from Juice Beauty since they're a brand I wanted to try. When I saw an offer for a 30-day skin clearing kit, I couldn't resist. I mean, my skin needs help, I've been wanting to try this brand (especially the green apple peel), and they have a money back guarantee! Might as well try it, right? I've got to admit that the bamboo face towel was a big draw too. I can't get enough of cute little super soft towels! I got the box on the 10th and have been dutifully using the products as directed. I'll be sharing my experience in another post.
5. Mossimo bikini – The last time I bought a bikini was in Thailand about four years ago and that set was quite worn! I finally decided to get a new set this summer so I could enjoy the pool without oddly droopy swimwear. I had hoped to use our Disney gift cards in Orlando to find a cute Minnie Mouse bikini, but apparently Disney's adult swimwear consists of boring black and white pieces best fit for older generations. So, where else would I turn but Target? They had a ton of styles to choose from and I'm most picky about the shape of the bottom, so once I picked that out I just found a top that matched. This one was super cute with the little twist in the front. I also got a reversible triangle top that I can pair with the bottoms, since this top is better for lounging and not too much movement.
6. Pocket Planes – Many years ago, I started playing Pocket Frogs, where you grow and breed frogs in an effort to "collect them all." Every now and then I get back into it and the last time this happened, they showed me an ad for another game from the same company. I decided to give it a try and now I've been playing Pocket Planes consistently. I'm not sure what the draw is, but I sure do want to conquer the world and build airplanes at every available location. As you can see I've done pretty well in North America, but have yet to venture far from that. And so the flying continues.
7. ClosetMaid Cubeicals organizer – When I "moved" out here to live with Panda last month, it was the first time I knew I'd be staying for a long time. I finally started to feel like I could make this place home, so my first order of business was to get a piece of furniture I'd wanted. I then found this perfect cube shelving solution that I can use to store my stuff and as a pseudo desk when I'm sitting on the bed. We moved it out to the living area when Panda's dad came to visit and I've yet to decide where it will go in our new place, but no matter what it makes my clutter a little less crazy.
8. Dr. Scholl's For Her – I got not only the high heel insoles pictured, but massaging gel insoles as well! Both were free – the high heel insoles came in my Sunkissed VoxBox from Influenster and the massaging gel insoles came from BzzAgent. I've enjoyed trying these out in my shoes and I found the high heel ones particularly helpful in my recent interview, when I wore those shoes. Not only did they make it less painful to walk in the heels, they helped my feet fill them in better. Without the insoles, my feet would have slipped in and out of the shoes as I walked since they're more spacious than my feet require.
9. Minnie tank top – I found myself wearing this shirt quite a lot in July! It's the perfect summer shirt – loose, light, soft. I also love the design that is cute without being too over-the-top. It was the very first item I knew I was going to buy with the Disney gift cards we had. As soon as we were down in Orlando, I made sure to track down my size in a store and claim it. I may not be a huge Disney fan, but I do enjoy my sweet tank!
Alright, that wraps up July for me. Have you tried any of these products? What would you have highlighted in your July favorites?
« Prev:365great Day 147: Hukkster
365great Day 148: squirrels:Next »