You know, I feel like a lot of the boxes put out some of my favorite stuff in the winter. Still, I'm not going to re-subscribe to this when my pre-paid months are over. I like having snacks, but there are always so many bags of things I haven't eaten that I need to regulate more.
Love With Food is $12 per box (or as discounted as $120 for an entire year, with an option in between) and comes with 8 or more snack products. Boxes are sent monthly with no option to skip. They offer a referral program that earns you points towards products or boxes.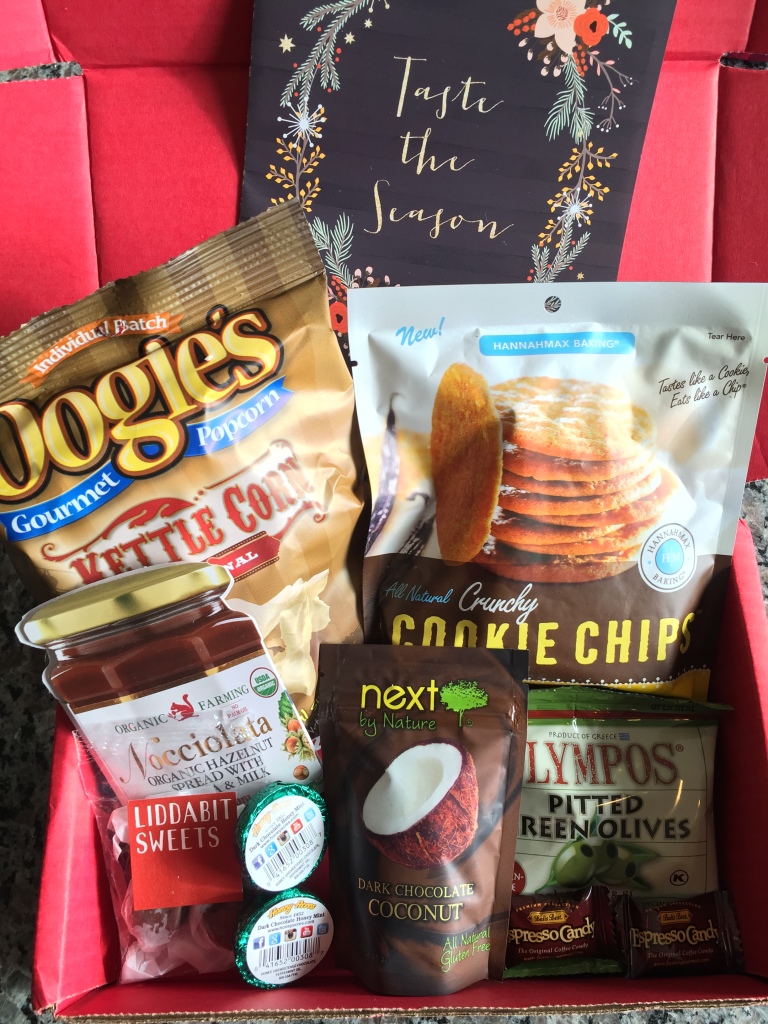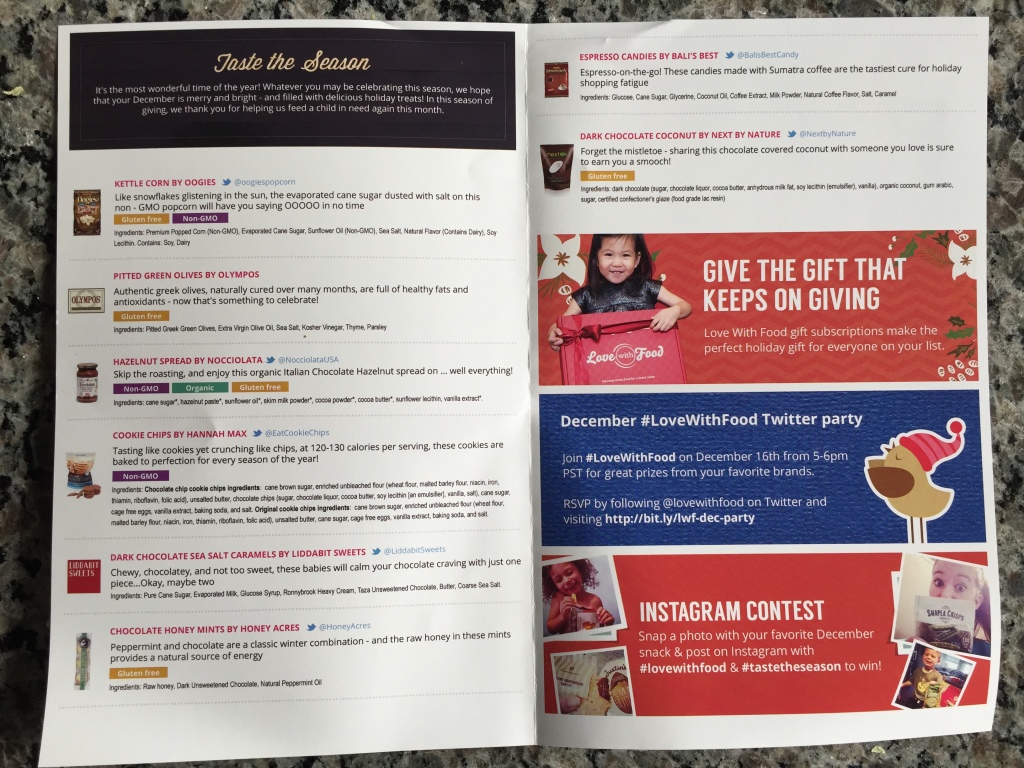 (click to enlarge and read messaging)
I ended up bringing a bunch of these on my trip and leaving some for my friends to try. The Oogies Kettle Corn is in my backup stash for when I need a snack on the go. I like kettle corn every now and then, but it's not the type of thing I crave. Now the Hannahmax Cookie Chips – oh those are fantastic and the very sort of thing I can eat a whole bag of without realizing it. They're totally addicting and provide an awesome sweetness with some crunch. Both the Liddabit Sweets Chocolate Sea Salt Caramels and the Honey Acres Dark Chocolate Honey Mints were nice chocolate treats for a bite-size boost of sugar. I was very curious about the Next by Nature Dark Chocolate Coconut snacks, which are kind of like eating a crisp Almond Joy (without the almond). Or wait, there's a dark chocolate version without the almond isn't there? I don't know the name of that, but imagine if that bar was more like a chip. It's a nice snack to have around if you like coconut flavor!
I decided not to keep the Nocciolata Hazelnut Spread because I already have an entire jar that I haven't even used yet. The Olympos Pitted Green Olives are not to my taste (no olives are) so I'll find them a happy home. And since I don't like anything coffee, the Bali's Best Coffee Candy shall be shared with someone else who likes those types of things.
Another decent box that I mostly enjoyed. I love having options when I need to be traveling, whether on a plane or in a car. What items do you like from this month?
[This post contains affiliate links. Signing up through them helps support my subscription and I'd be ever so grateful. 🙂 All opinions are my own and I received no compensation for this review. I just purchased this box at the special offer price and wanted to share what I got!]
« Prev:Petit Vour December 2014 review
Hello Kitty craze:Next »