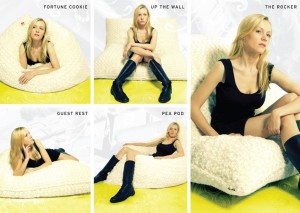 This weekend I finally got the LoveSac PillowSac!  I mentioned back in May 2009 that I've wanted this thing for ages (about 8 and a half years by now) and now it's here.  Originally I had wanted a SuperSac, the 6-foot diameter LoveSac, but after my friend lent me his indefinitely, I started to focus more on the PillowSac, which is cool because it is quite versatile.  I like that you can get the Rocker and set it up to be a rocking couch, or lay it out flat to be the size of a full mattress.  In addition, there are the fun shapes like fortune cookie and pea pod.  🙂
I've been following the Deals section of the LoveSac site, where they had an entire Fushia Berry Chenille set for $499 (more recently discounted to $399 for Valentine's Day specials).  I liked this set because it came with the PillowSac and cover, a Rocker, and two throw pillows.  Purple's my favorite color and I thought this unique pattern would be fun.  However, it's absolutely tacky and impossible to match with anything, so I held off, not sure about that pattern.  Then, about three weeks ago, the Red Herringsuede one showed up for Valentine's Day, also at $399, but without the throw pillows.  Now I couldn't decide between the two.  The purple set had a better deal, but the red set is far easier to put in a room.
Click to see the deals: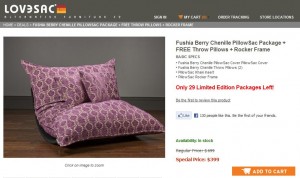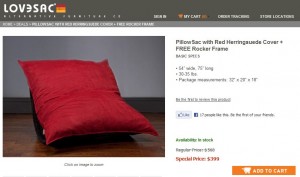 So, that's how I ended up at the LoveSac store with Panda this weekend.  I figured I could take a look at the materials and decide once and for all which one made more sense.  Thank goodness I did too!  I had thought that the Herringsuede is a type of faux suede, but instead it's actually a herringbone pattern renamed.  After seeing that, I would have rather had another more exciting texture.  Luckily enough, the store had a black Velvish PillowSac cover that it was selling for a discount because this cover was discontinued and it was their last one.  Even more fortunate was that they had an open PillowSac selling for a discount because it was not completely brand new and in the packaging.  The reason for that was it was used in a L'Oreal commercial that Beyoncé shot recently.  Pretty cool, huh?
So when I heard the price of the PillowSac and cover, I was pretty sold, but I wanted the entire set I'd seen online, Rocker and throw pillows too.  I asked the saleslady about that and she was able to offer slight discounts for both.  She had a couple of throw pillows to choose from and I thought the Red Herringsuede would actually be a great contrast on the black.  Having pillows that don't match the PillowSac itself made things much more lively and exciting, otherwise those pillows sort of blend right in.  In the end, I'd be paying about $27 more at the store for a much more customized set with a cool back story.  And so that is how I ultimately got my new PillowSac set!
« Prev:The vertical life
Urth Caffé animals:Next »