Nearly seven years ago, not too long after I had moved to California, I discovered a shop in the mall that I've never forgotten.  It was a cozy-looking place, with cushy Lovesacs strewn around the room and a couple of TVs positioned throughout.  Lovesac?  What's a Lovesac, you ask?  Well, first picture what a beanbag looks like.  Then take that image and imagine something that feels so soft yet still firm and supportive.  Whereas traditional beanbags are filled with random little balls or, literally, beans, Lovesacs are stuffed full of foam – Durafoam, to be exact.  It's designed to never go flat and a quick fluffing can plump out any Sac that has started to mold to your body from too much lounging!
So in my local mall, there was a Lovesac store, where people would go in just to chill and rest up.  It was a very relaxed atmosphere and Katana and I would find our way there whenever we were at the mall.  The Sacs are the most comfortable fluffs of foam to lay or sit on and they fit anything, from your pet to at least three adults.  They also come with a variety of accessories, including SodaSacs for having drinks handy as you sprawl on your Sac, or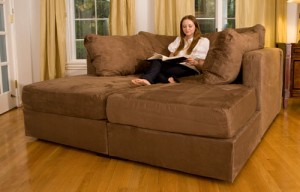 even TubeSacs for those who want some pillowed neck support.  There's a whole line of removeable covers as well, with textures like Twill, MicroSuede, Velvish, and Phur.  Colors and designs also allow people to customize to their heart's desire, from the basic solid earthy shades to the custom order fabrics of different patterns.  Their newer products include an oversized PillowSac that can be used in a multitude of ways and an ottoman doubling as a seat or footrest.  And most recently, they've come out with Sactionals for any sort of sectional combination you can come up with.
I've had my eye on the SuperSac for awhile now, with its six-foot diameter that comfortably fits two people.  It's so big that it can fit "3 adults or 14 kids" as the description touts and weighs about 70 lbs.  In high school, I dreamt of the day when I would have my own apartment and could buy myself one of these to be used as a couch, bed, and chair.  I would just need a lap table and it could be used as a desk too!  Alas, about two years ago I was just checking up on the LoveSac of my choice when I found shocking news – LoveSac was no more!  I was devastated and regretted not buying them before they disappeared from the face of this planet.  Then this summer, purely by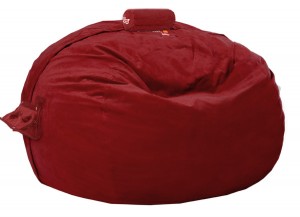 serendipity, I ran into my friend walking in the hallway with one of his friends and that guy had on a LoveSac shirt!
It turns out that this friend's friend works for one of the LoveSac shops that has since reopened.  They are much more dispersed now, with only two stores in California, but I'm so happy they're up and running again!  I immediately went to the website to see what had changed (and hopefully find that what I wanted hadn't changed).  There's no longer a pre-starter page that assures visitors that this is not a pornographic or otherwise inappropriate site.  Some of their smaller sizes seem to have gotten a facelift, with names like GamerSac and MovieSac.  They expanded the type of alternative furniture they offer and changed the logo, but other than that it was (thankfully) still the same company I had been obsessed with so many years ago.  I was relieved to find they were back in business and excited to figure out when I could get one for myself.
As of yet I still don't know when I'll be able to settle down enough to get one, but I'm hoping within the next year.  🙂
« Prev:Self-taught
A peculiarity:Next »