This month's theme is "bon voyage" to get you travel ready. It features a bunch of items you can bring along to take care of yourself while on the go.
Petit Vour is $15 per box (or as much as $30 for international subscribers) and comes with vegan beauty, skincare, and other personal care products. Boxes are sent monthly with no option to skip. They offer a referral program that earns you points towards free boxes (email contact@petitvour.com to say I referred you if you sign up!).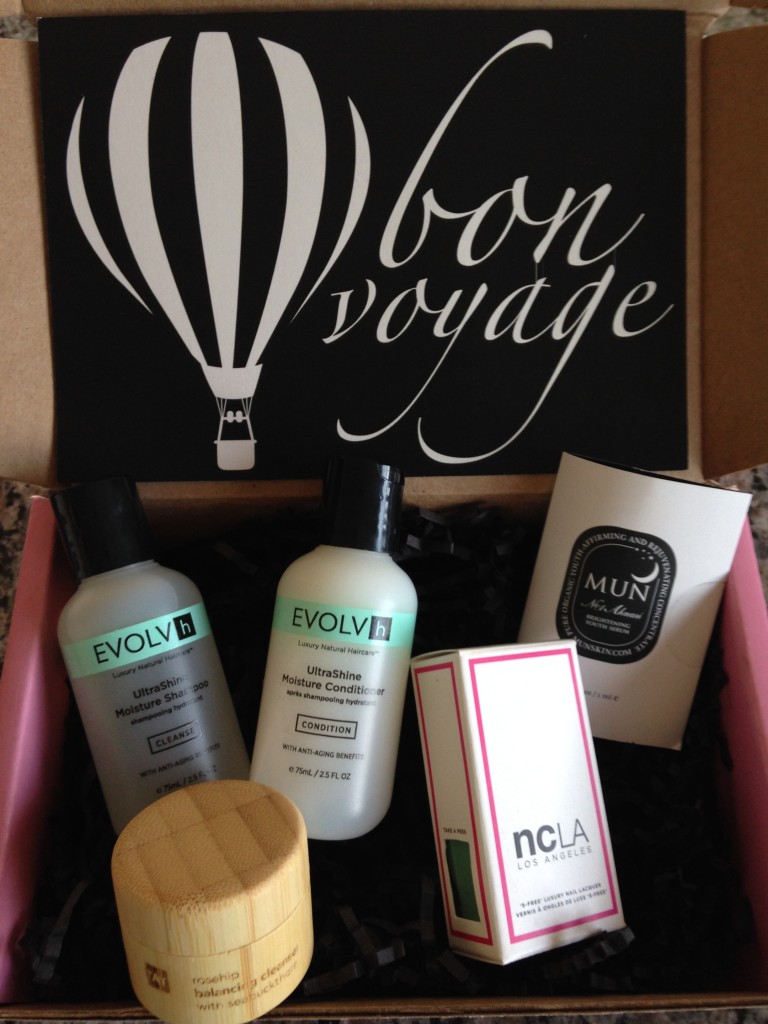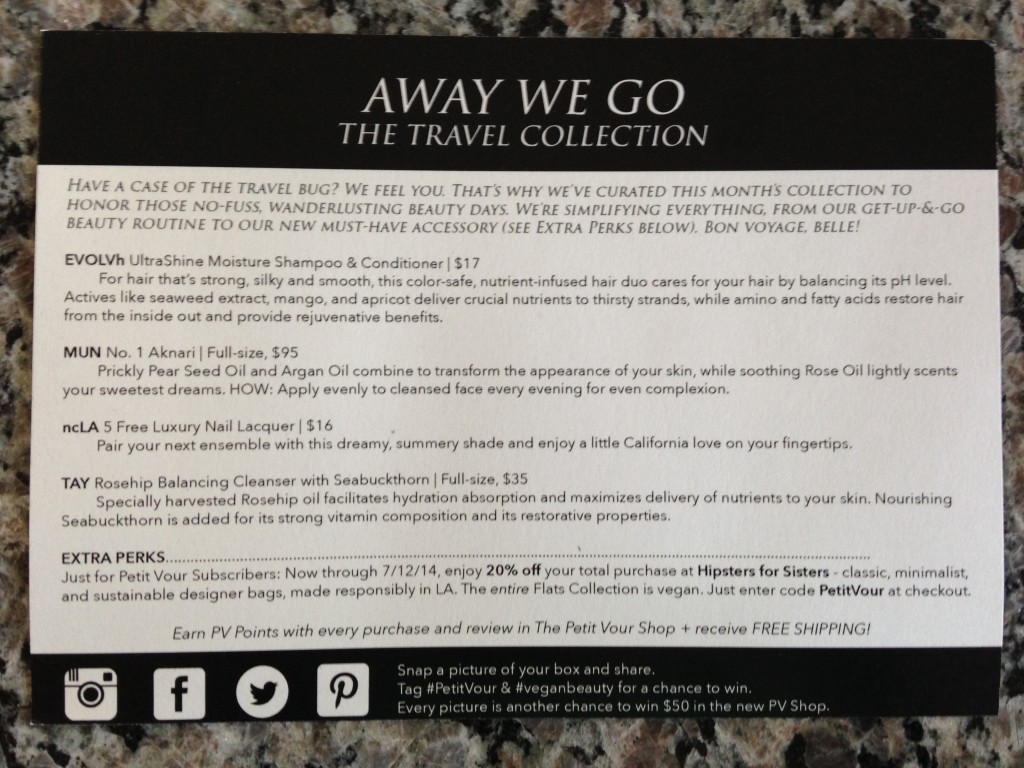 EVOLVh UltraShine Moisture Shampoo & Conditioner – If you want to feel like you just came out of a salon, you need to try this shampoo. It lathers fantastically well and smells so luxurious! All day long I kept getting a whiff of it (a sweet sort of scent) and thinking I just stepped out of a professional haircut. Definitely one of the nicest shampoos I've tried. The conditioner has a more refreshing scent and it didn't make my hair super slippery like I'm used to. Maybe it was getting absorbed into my hair? It worked pretty well, though I had a little chunk of hair that didn't smooth out on its own without a hairbrush.
MUN No. 1 Aknari Brightening Youth Serum – I'm not sure if this sample is enough to really get a sense for how this serum performs… at first use it feels nice and smells herbal, so it's promising. I did have trouble getting enough out of the tiny tube and it took awhile to apply the amount I wanted. We'll see if I notice anything by the time I finish it up.
ncLA 5-free Luxury Nail Lacquer in Santa Monica Shore Thing – I've heard of this brand and got their nail wraps in a previous Petit Vour box, but this is my first time trying their nail polish. I got the shade Santa Monica Shore Thing, which is a creamy minty green. On the nails, it's a slightly darker shade than what you see in the bottle and two coats provides a nice even color. It's a more liquidy formula that applies well and smells rather like Julep's polishes… somewhat apple-scented, I'd say.
TAY Rosehip Balancing Cleanser with Seabuckthorn – Immediately fell in love with this – not only is the packaging fantastic, it smells lovely and feels great. I'm a fan of this brand based on that.
Once again, Petit Vour delivered with nice products that I will use all of and would be the sort of thing to bring on my summer vaca. I really enjoy their curation of beautiful, luxurious, vegan products. What do you like best from this month's items?
[This post mentions a referral program. Signing up and emailing contact@petitvour.com to say I referred you helps support my subscription and I'd be ever so grateful. 🙂 All opinions are my own and I received no compensation for this review. I just purchased this box and wanted to share what I got!]
« Prev:Sunday stroll
Fabletics Norwalk Tank + Kingston Sweatshirt review:Next »