My very first Petit Vour box arrived! I like what I see and will keep them around for awhile.
Petit Vour is $15 per box (or as much as $30 for international subscribers) and comes with vegan beauty, skincare, and other personal care products. Boxes are sent monthly with no option to skip. They offer a referral program that earns you points towards free boxes (email contact@petitvour.com to say I referred you if you sign up!).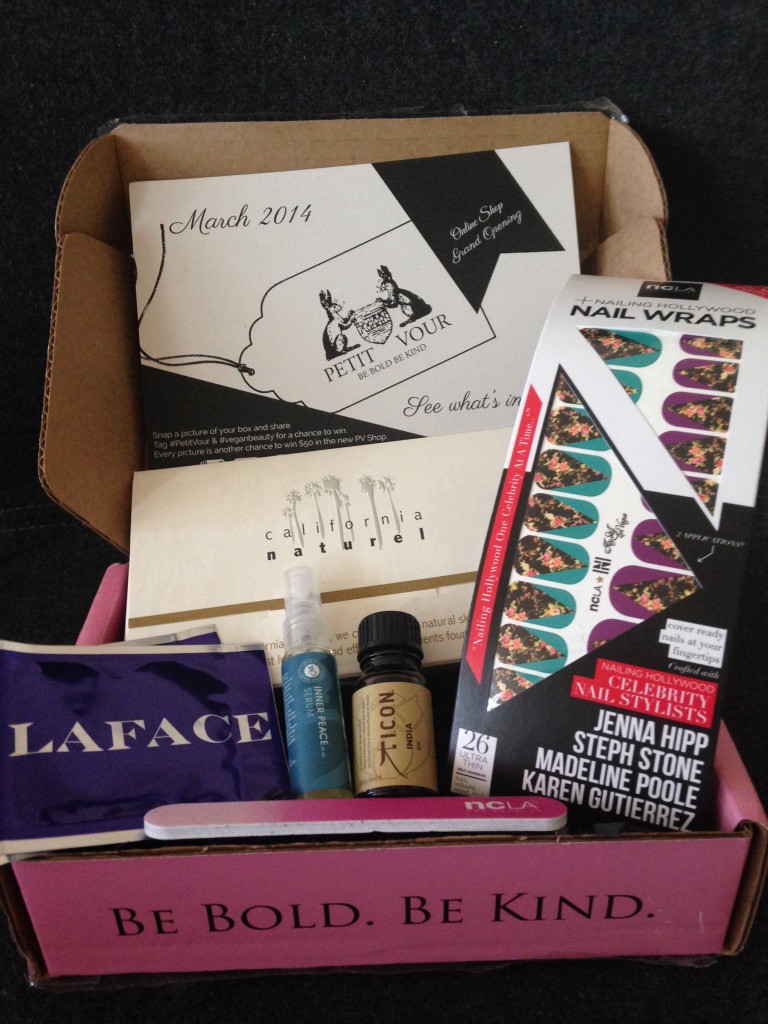 Laface Hydrating & Firming Body Lotion – This applies pretty well, but I'm not really into the scent. My skin does feel really good after applying it and it's noticably softer and more hydrated. I'd have to use it more to see if there are any firming effects.
Lotus Wei Balancing Serum – Sweet! I've had other Lotus Wei products, but not the serum yet and I love serums. This scent is very calming and it's supposed to promote inner peace. It applies a bit greasy, but very little goes a long way and I just kept rubbing it in. There's a slightly cooling sensation on more delicate skin.
I.C.O.N. India Oil – Oh wow, this smells nice. There's something very cultural feeling about it and I enjoyed getting the dryness out of my hair. I'll have to make more use of this during the rest of these dry months. Feels great!
NCLA Nail Wraps & nail file – Well, these are… bold. I've never tried nail wraps before, so I sure hope I can apply them ok. I definitely appreciate getting the nail file too, since I don't usually use them and would not have access to one. I think I'll have fun with these even if they're totally not my style. I never knew you're supposed to apply clear nail polish first! Good thing I read the instructions.
California Naturel Skincare Set – The packaging on this is super cool, but then it opens to three little samples. Still pretty cool, but I thought it might be more exciting. There's a cleansing gel, balancing complex, and nourishing cream. The gel is for all skin types and cleansed pretty well. Didn't notice anything particularly different about it. The complex is for combination to oily skin and it immediately helped with my oily face. It's quite watery but I love it! Finally, the cream is for dry to normal skin and I wasn't a huge fan of the scent. Pretty good at moisturizing though.
What do you think of this box?
[This post mentions a referral program. Signing up and emailing contact@petitvour.com to say I referred you helps support my subscription and I'd be ever so grateful. 🙂 All opinions are my own and I received no compensation for this review. I just purchased this box and wanted to share what I got!]
« Prev:Treatsie March 2014 review
Grocery shopping:Next »