I've used a Venus razor since I started shaving some 12-13 years ago. I don't shave often, so those first couple of replacement heads that came with the handle have lasted me all this time. While I have supplemented my shaving with a few disposable razors and whatnot when I was at hotels, I've pretty much been a one-brand gal. Enter the Schick Hydro Silk razor, which I was given to try (for free!) as part of a BzzAgent campaign.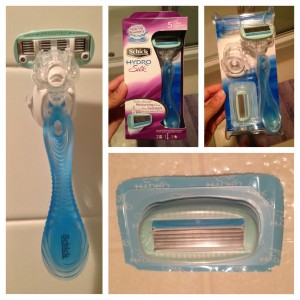 With five blades spaced pretty close together, you get a very close shave and I was actually able to navigate my knees and ankles without fear of nicking myself!  They have a strip of "moisture serum" that is supposed to sort of melt from the heat of your shower, but I didn't really notice it coming off to hydrate my skin. Still, my legs didn't feel dry so it must have worked, right? Also nice is a little suction cup hanger so you can keep your razor within reach, yet out of the way in your shower.
After trying the Schick Hydro Silk razor, I definitely have a very positive impression of Schick. Prior to this, I hadn't really known much about the brand or thought of it as highly as I did Gillette, but now that I've experienced one of their products, I'd put them on par with Gillette.  In fact, they might just be my go-to brand for my shaving needs now. That will be determined as I continue to put their razor to the test over the next few years!
« Prev:Cat addictions
Adventures in cooking:Next »