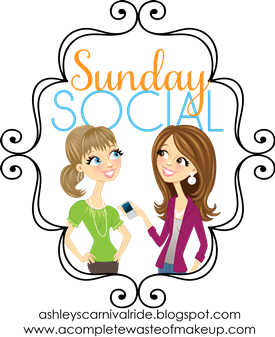 Joining in on Sunday Social ON Sunday this time! Yippee!
1. What is your favorite kind of surprise?
I'd have to say mystery boxes. While it's cool to get surprised by a party (my amazing best friend did that for me before) or other unexpected event, I don't really like being put on the spot. I'd much rather dig into a fun package with special treasures to be found. I'm pretty easy to please so I'm sure I'd be delighted with just about anything. Oh, and sweet little notes or messages are awesome too.
2. Flowers or chocolate?
Chocolate! I mean, I just love to snack and unless the flowers come in a pot, they just can't compete with delicious treats. I have never been interested in bouquets of flowers – why would I want something that dies in a few days? A potted plant may not look as romantic, but it is so much more meaningful to me than a dead (or dying) plant. But I digress… I'm all about chocolate anyway. 🙂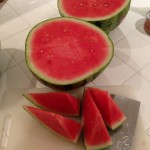 3. What is your favorite summertime activity?
Hmm… does eating watermelon count as an activity? I mean, living in California there are few things you can only do the in the summertime, but watermelons just don't taste that great until it's the right season! If I lived out east I'm sure it'd be exciting for the pool to open up or to be able to wear flip flops and more light clothing. Luckily, I can do that any time of year here.
4. Do you have any vacations planned this summer?
Absolutely! It kind of happened by accident, but Panda and I will be doing a mini vacation to Orlando. I unknowingly got roped into a timeshare presentation thing, but hey I'm down to learn more about it and get a nice break with my beau. This will help us last until late August, when the big vacation is planned! I would have been sad if we didn't take some sort of vacation during the height of the summer months.
5. Favorite summer holiday?
4th of July. In certain states, it's so much fun to play with fireworks. And in other states it's fun to find a place to watch a fireworks show in the summer heat. I enjoy watching fireflies around this time too, and of course there's the whole celebrating our nation part that's pretty darn cool. That and Panda and I seem to be able to enjoy this holiday together every year.
6. What is your dream vacation?
Probably a 2-3 month giant getaway with Panda. I'd want to take him all around the world to my favorite places and explore some new countries with him too. This would involve a tour of Australia, New Zealand, Thailand, Hong Kong, China, Japan, Greece, Italy, Switzerland, Sweden or Denmark, and hopefully a lot more. I'm not one to stay put in one location for extended periods.
« Prev:Back to Bruin
Ipsy May 2013: Spring Fling:Next »