I've been using these two sets of products for the past two weeks or so and I can finally go out for the day without a single worry about how long my phone might last and when (not even if) it will die on me. You see, whenever I went out and needed to use navigation, the camera, and some other apps, my iPhone battery would quickly drain. At best I'd get about 4 hours of use out of it. Certainly not enough for a full day out, where I'm trying to get places and take pictures/videos and maybe play some games too.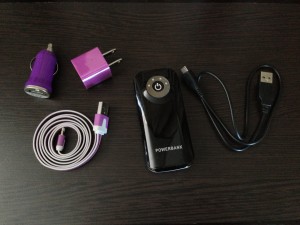 When Panda showed me a deal on this site called nomorerack*, I was intrigued. The site looked legit enough and the prices were excellent. I figured for about $30 it was worth the risk to order them to try out. I decided on the Powerbank 5600mAh Cell Phone Battery Backup Emergency Power Source to recharge my battery on the go and the 3-pack 8-pin to USB noodle cable set for iPhone 5 to connect to a car or building's power source. This way I could charge up in the car while driving, but I could also have an external battery source when I couldn't just plug in somewhere. It has freed up my phone usage so much and I can now wear out my phone however I please! I never have to worry whether my phone can last the day anymore.
Powerbank 5600mAh Cell Phone Battery Backup Emergency Power Source
The external battery was something I had been considering, so when Panda saw a deal for it, he sent me the link and I began to explore what nomorerack had to offer. At first I was looking at the 2600mAh models, which are about the size of a tube of lipstick. Upon doing some research, I found that 2600mAh is about enough to charge up my phone once over, but when you factor in some of the energy lost in conversion, I feared I'd only get a 75% charge out of it. Better than nothing, but not good enough. So, I opted for the 5600mAh one that could charge my phone twice over, or maybe a little bit less than that. At the least I was sure I could get one full charge out of it. The size is still very compact and really doesn't make much difference to me compared to a lipstick-sized one.
So far I've been able to consistently get 1.5 charges from it, but I'm hoping that a few more uses will help maximize the performance to just about two charges. Even if it doesn't improve, I am very happy with having that extra charge because it actually extends the time my phone can be used beyond just twice as long. So let's say I'm out all day and my phone dies after 3 hours of use. Usually, that would have been it for me, unless I could tether myself to a wall outlet for an hour. Well now I can use my Powerbank to charge back up over the course of an hour and a half or so, during which I can be using my phone. Then it can last me another 3-4 hours, totaling 7.5-8.5 hours! At that point, if I'm still out, I can charge it for another 30-45 minutes and use it for maybe one more hour after that. That's a good 9-10 hours compared to the 3-4 I was getting before. Awesome!
3-pack 8-pin to USB noodle cable set for iPhone 5
Then there's the 3-piece set of charging accessories I have. I had gotten a very cheap car charger before, only to find that it got rejected by my iPhone. I was afraid that might happen with this one as well, but so far so good. That means that whenever I'm in a car I definitely have a power source to charge up my phone. Also, I absolutely love the flat noodle cable. My original cable was getting kind of beat up and this different design looked like it might be more effective against the bending pressures put upon it when plugged in. I love how it rolls up a lot easier than the round cables and is less likely to tangle. What a great design! And finally, I have an extra USB plug charger head to use for charging my phone and the Powerbank. To top it all off, I got this set in my favorite color!
As you can tell, I am very pleased with both these purchases. If you struggle with the battery power your portable devices, I'd definitely recommend getting either or both of these sets of accessories. It frees you up to spend the entire day out and about as you please! On a similar note, nomorerack offers a ton of awesome products and I would definitely recommend buying from them if you're in the market! Excellent quality and performance on the products at highly discounted prices. In fact, nomorerack will be making an appearance later as the 365great of the day. 🙂
*referral link – if you're interested in signing up, send me your email and you can get a $10 credit to use (I believe the order minimum is $30)